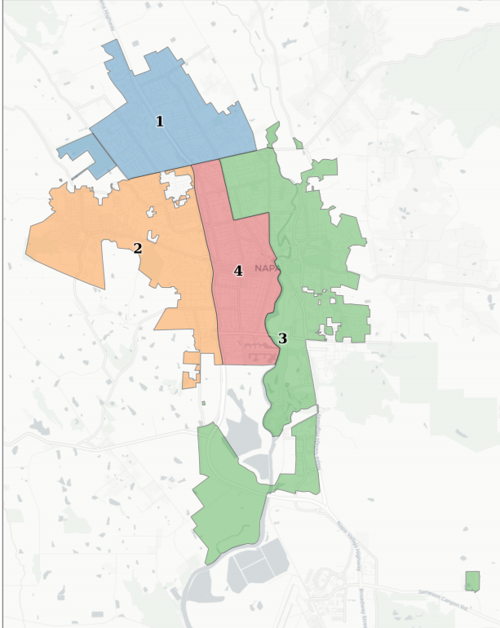 The Napa City Council approved district-based council elections that will start with this November's election of two new council members.
"I hope, in time, you'll look at this reform as a key part of your legacy," Scott Rafferty said to City Council during Tuesday night's public comment period. He spoke of the council's unanimous vote to establish an ordinance implementing district-based elections and adopt an electoral map.
Rafferty, a Walnut Creek-based lawyer, wrote the petition that started the four-month process which reached its conclusion Tuesday night. On behalf of the Napa County Progressive Alliance, Rafferty's letter claimed Napa's at-large election, in which every city resident could vote for all open council seats, violated the California Voting Rights Act by diluting the local Latino vote.
The map adopted by Council comes after a 90-day process strictly guided by state law requiring four public hearings, including an opportunity for the public to comment on draft district maps.
The proclaimed intention of the suit that precipitated the districting process was to provide Latinos with influence at the polls more representative of their 41% share of Napa's population. To date, the only Latino resident to serve on City Council was Alfredo Pedroza, who won an election in 2012 before moving on to the Napa County Board of Supervisors in 2016.
State law mandates a majority minority district only need be created when it can be done so without violating other rules requiring contiguity, identifiable and recognizable boundaries and roughly equal population size. That could not be done in Napa, according to demographer Paul Mitchell.
"The city has pockets of Latino density, but none that are large enough […]," he said at the same April 28 meeting. "The population is dispersed."
Under the new district map, Napa will be divided into four districts which broadly mirror existing neighborhoods and geographic boundaries. It draws a north Napa district above Redwood Road/Trancas Street, another for west Napa west of Highway 29, one district through the center of the city and another for east Napa stretching south to include Stanly Ranch.
The mayor will continue to be elected by all city voters. Incumbent Jill Techel is not running for re-election this November. Councilmembers Doris Gentry and Scott Sedgley have announced their candidacies for mayor.
Council also approved a sequence of elections. Vacant seats from districts 2 and 4 covering west and central Napa will be up for election this November. Seats representing districts 1 and 3, held by Councilwomen Liz Alessio and Mary Luros, respectively, won't be up for election until 2022, allowing the two incumbents to serve the remainder of their four-year term.
Though the map adopted – originally known as Map A in the four finalist presented to Council – wasn't the first pick of the Progressive Alliance, the organization still felt "pleased with the outcome."
"This will level the playing field for candidates not backed by moneyed interests," a spokesperson said during public comment. She also repeated the group's desire for the unincorporated Napa County "islands" to eventually be annexed to the city and factored into the district map.
California law requires the district map to be based on data from the most recent decennial census which took place in 2010. The city will adjust the map based on the new population numbers from the 2020 Census in time for the 2022 elections.
Concerned about COVID-19?
Sign up now to get the most recent coronavirus headlines and other important local and national news sent to your email inbox daily.