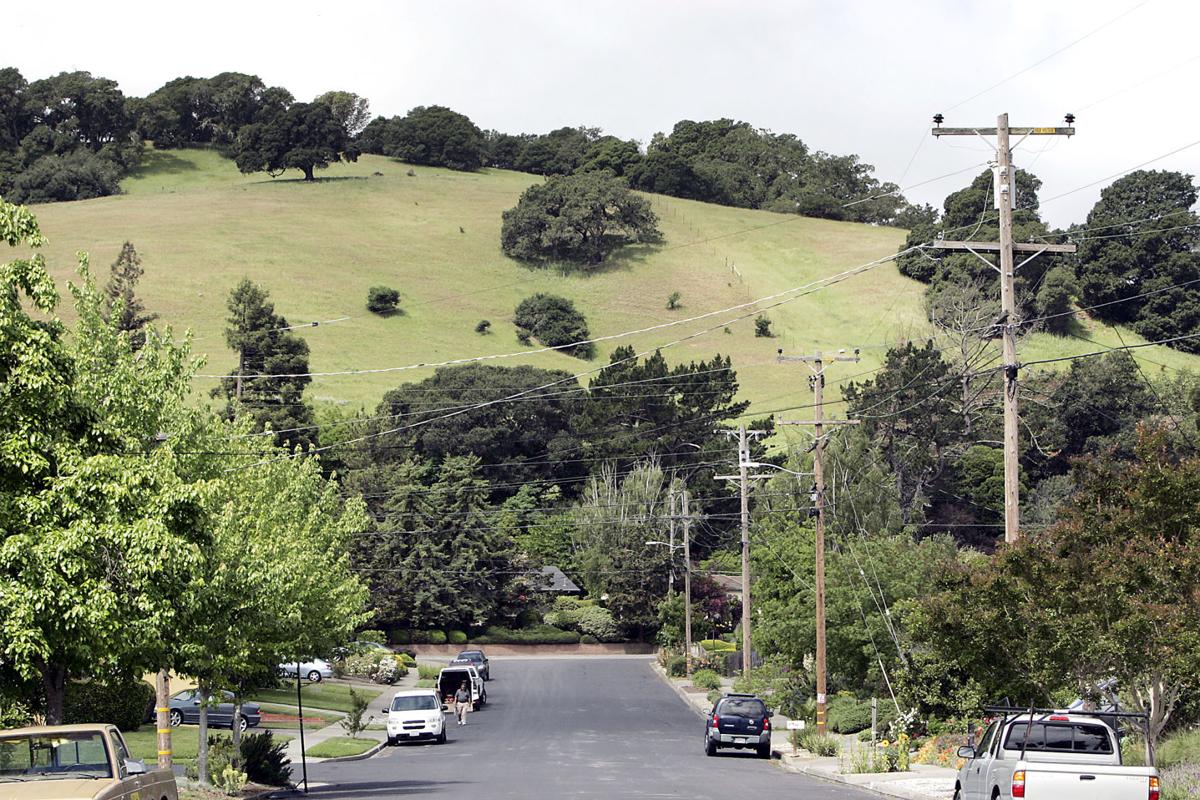 Fifteen years after being blocked by Napa, 10 years after losing a lawsuit to undo the veto, the developer of a hilltop housing development fiercely fought by its would-be neighbors has been dealt another setback by the city.
Napa Oaks II, a cluster of 51 houses high above the city's southwest, failed to gain the endorsement of the Planning Commission on Thursday. Before yet another near-capacity City Hall audience of residents opposed to the project, the city's land-use authority declined to support the rezoning that Davidon Homes of Walnut Creek needs to open up the 80 acres of oaks and hilly pastures to large-scale home construction.
The fate of Napa Oaks II – a larger version of which the City Council rejected a decade and a half ago – will rest with a final vote by the present-day council, expected early next year. But the years of neighbor worries about the effect of its homes on storm drainage, fire safety and traffic were reflected in the skepticism of the slim 3-2 majority that asked council members not to accept the project in its current form.
Commissioners Alex Myers and Michael Murray, dissenting, voted to accept a zoning change for the Napa Oaks II property, where homes currently must be on lots no smaller than 20 acres. But theirs were lonely voices in a debate that had reawakened two weeks earlier in a marathon 5 ¾-hour hearing in which planners heard out 45 speakers, nearly all of them committed to keeping homes and streets out of the heights overlooking Old Sonoma Road, Casswall Street and the vineyards of Congress Valley to the west.
"I've got to feel really good when I walk out that door tonight" in order to bend zoning law to allow so many homes between an established neighborhood to the east and prime wine country on the west, declared Gordon Huether, one of the three to reject Napa Oaks. "In my 12 years on the commission, this is one of the worst that I've seen."
Only a housing plan with the highest standards for design and sustainability – and especially the protection of the nearby oak forests – should even be considered for an area zoned specifically to remain open land, he told an audience of more than 60 mostly anti-Napa Oaks spectators. Against that high bar, Huether said, Davidon's offer to protect wooded acres on and north of the site, and to create a half-acre public park and two miles of trails, is too small a gain for too much loss – especially for homes whose expected price tags of $1.2 million to $2 million would be far out of working families' grasp.
"The open space doesn't resonate with me, and you know why? Because we already have 80 acres of open space there," he said, dismissing the trails as "small potatoes" and the park, which would double as a trailhead, as "a postage stamp."
"To say this helps alleviate our housing crisis, I don't buy that; this crisis has as much to do with affordability as inventory. I don't think that building 51 executive homes addresses the crisis, certainly not enough to warrant a General Plan amendment. I don't think we've run out of executive houses between one and two million."
Myers, on the other hand, considered the balance of land preservation and new homes reasonable and cautioned that spurning Davidon could later open the field to another developer less interested in open space.
"When you preserve 79 acres for 51 homes, I think that's a fairly good trade-off," said Myers. "It's very possible that the next project that comes along (if Napa Oaks II is never built) would not preserve so much land."
Because of the lengthy public comment session at planners' original meeting Dec. 7, no new spoken remarks were taken on Thursday. But the doubts and fears of those who earlier spoke against Napa Oaks' design were reflected in Commissioner Paul Kelley's questions about safety on nearby roads, and the ease of escaping a wildfire or other disaster.
In particular, Kelley called the existence of only one full-time entry to the housing subdivision – from Old Sonoma through a new roundabout at Lilienthal Avenue – a dangerous chokepoint in an emergency. Although Davidon has proposed a gated second entrance only for emergency vehicles along with fire-resistant construction meant to let homeowners shelter in place, the lightning-quick spread of October's North Bay fires that killed 44 people has shown that the possibility of a fast escape must come first, he said.
"Nothing is going to stop a firestorm like the ones we've witnessed," said Kelley. "This site needs two points of egress. And I shudder at the shelter-in-place option; that's just not cutting it for me. If there's a firestorm, you'd better get the hell out of there."
In the end, Kelley, Huether and Beth Painter won out, handing the latest rebuke to a project that has united numerous homeowners in resistance since emerging in the 1990s as an 83-home layout overlooking residential streets, vineyards and Harvest Middle School.
The conflict arose with a new city general plan in 1998 that mapped the hill into a "resource area" choking off any attempt at large-scale homebuilding by requiring 20-acre lots. Davidon's attempt to reopen the property for 63 homes fell to a City Council veto in 2002. Three years later, the developer sued Napa to reverse the denial, but a Napa County Superior Court judge upheld the decision.
In its bid to revive Napa Oaks, Davidon filed a new plan in 2015 further shrinking the build-out to 51 houses sprinkled over areas already graded and leveled by former landowners in the 1960s – a concession it predicted would ensure most homes were not visible from the neighborhoods below. The company also promised to leave more areas unbuilt, minimize tree removal and increase tree plantings, and even partner with the Napa County Resource Conservation District in an educational Acorns to Oaks children's program to further fortify local woodlands.
Such offers had little apparent effect on the project's foes, who packed a Davidon-sponsored forum in November and returned earlier this month to urge city planners to stand firm against the builder.
"The community doesn't want it, and they've been saying it for years," said Huether. "The supporters you heard (Dec. 7), they were Chamber of Commerce people and a couple of Realtors. Everybody else doesn't want it."