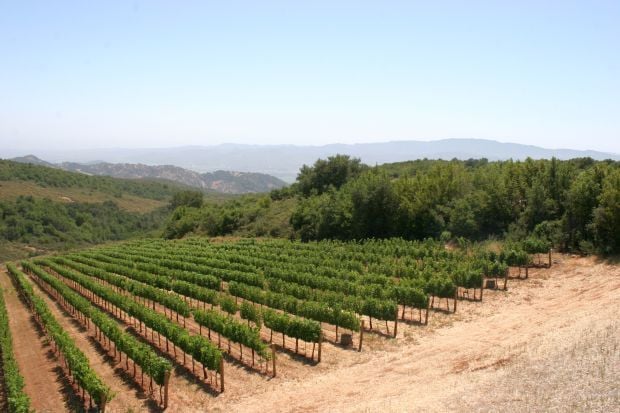 Napa County's proposed, carbon-cutting climate action plan is back with a new twist – install solar panels on all new or modified commercial rooftops in unincorporated areas.
A possible rooftop solar requirement for new commercial development is included in the recently released environmental impact report for the climate action plan. It's listed as the "environmentally superior alternative."
More solar panels generating electricity for local businesses would mean less greenhouse gas emissions, the report said. Nor did the report see any downsides to the idea, whether aesthetic or otherwise.
Solar panels on new homes is another issue, one that the climate action plan doesn't address. But then, it doesn't need to. The state is already requiring new California homes built after 2020 be solar-powered.
On Wednesday, a revised Napa County climate action plan and environmental impact report will go before the Planning Commission not for approval, but for public comments. The meeting is at 9 a.m. in the county administration building, 1195 Third St. in Napa.
"There is strong consensus that global climate change is occurring; seasons are shifting, average temperatures are increasing, precipitation levels are changing and sea levels are rising," the proposed plan said.
Napa County's response is dozens of proposed steps to cut greenhouse gas emissions. These steps would affect only the unincorporated area that county government has jurisdiction over, not the cities.
Requiring new water heaters at homes be powered by electricity or alternative energy, supporting the use of farm equipment powered by electricity or alternative fuels and increasing participation in Marin Clean Energy's 100-percent renewable option are among the ideas.
The county has worked on its latest attempt to complete a climate action plan since 2015, with various versions issued. The end – passage by the Board of Supervisors—could finally be in sight.
You have free articles remaining.
"We're tentatively looking at the end of the year," Planning, Building and Environmental Services Director David Morrison said.
One potential variable is the proposal that a regional Napa County climate action approach be created, he said. Then the county and its cities would work together on strategies to cut greenhouse gas emissions.
The county Board of Supervisors and Napa City Council will at their separate meetings on Tuesday discuss the issue. The results could be a working group with the other local cities to develop shared greenhouse gas emission reduction goals and standards.
Meanwhile, the county continues crafting its own plan.
Some community members have called on the county to place a moratorium on new wineries and new vineyards. That would gain time to study how much greenhouse gas emissions are generated by Napa County global wine distribution and tourists traveling to Napa County wineries from beyond the region.
But the draft environmental report rejects the idea of tracking trans-regional greenhouse gas emissions. This conclusion is backed by the Governor's Office of Planning and Research, which the county consulted on this issue, it said.
A growth moratorium for further climate action plan work would delay implementing the county's greenhouse gas emission strategies, the report said.
The proposed climate action plan does more than suggest ways to reduce greenhouse gas emissions. It also sets reduction targets based on state standards for 2020, 2030 and 2070, using 2014 emissions as the baseline.
Napa County's target for 2020 is to cut greenhouse gas emissions by 2 percent. The plan envisions topping that goal with a 12-percent cut, largely due to statewide carbon-cutting steps.
The proposals in the county's climate action plan would have more time to kick in by 2030. The county envisions meeting the targeted 40-percent reduction by that year, with a 42-percent cut predicted.
But the county would have to go beyond the climate action plan to meet the targeted 77-percent reduction by 2050, given the plan predicts only a 43-percent cut by then. The plan questions whether a local government can meet this target based on local actions alone.