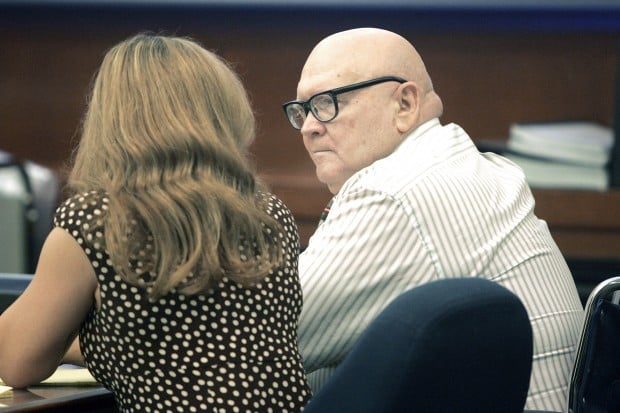 Almost four decades after Anita Andrews was found lying in a pool of blood at the old Fagiani's Cocktail Lounge on Main Street, her killer was identified, tried, convicted and sentenced in Napa County Superior Court, ending the saga of one of Napa's most notorious murder cases.
On Sept. 30, Roy Melanson was convicted of killing the 51-year-old Andrews in July 1974 at the Main Street bar the single mother co-owned with her sister, Muriel Fagiani. 
On Oct. 27, Napa County Superior Court Judge Ray Guadagni sentenced Melanson to an "indeterminate" life term for Andrews' murder under California's laws of 1974. Melanson has appealed his conviction, court records indicate.
Melanson, 74, had been identified as the prime suspect in November 2009, thanks in part to a DNA match from a cigarette butt left at the crime scene. A convicted killer with a long criminal history, Melanson was serving a life sentence in Colorado for the August 1974 murder of a 25-year-old hiker, Michelle Wallace, when the DNA match was made. 
You have free articles remaining.
On July 10, 1974, Andrews, the divorced mother of two, was tending her family's bar when she was stabbed repeatedly. Her sister, Muriel, discovered her partially naked body the next morning after her sister failed to show up for work at Napa State Hospital. Andrews' Cadillac, which she parked in front of the family bar, was gone. It was never been found.
The case languished for years until the DNA match was made. A Napa Police detective traveled to interview Melanson, who was extradited from Colorado in September 2010 before he was indicted for murder in the Andrews case.
Melanson, a drifter, did not testify at his trial on the third floor of the Criminal Courthouse, a short walk from the former Fagiani's lounge. Witnesses for the prosecution included present and retired police detectives, DNA experts, a daughter of Andrews, and a man who entered the bar that night and recognized Melanson, seated at the bar, hiding his face. 
Andrews' daughters, Donna Hawkins and Diana Brown, described their pain in letters to the court before the sentence was pronounced.
During the trial, the jury walked across Third Street to visit the old bar on Main Street. The building, which was sold in 2007, is being renovated into a restaurant. 
After the sentence, Melanson was returned to a Colorado prison, according to the Colorado Department of Corrections' website. He is up for parole in the Wallace case in September 2012.
Get local news delivered to your inbox!
Subscribe to our Daily Headlines newsletter.