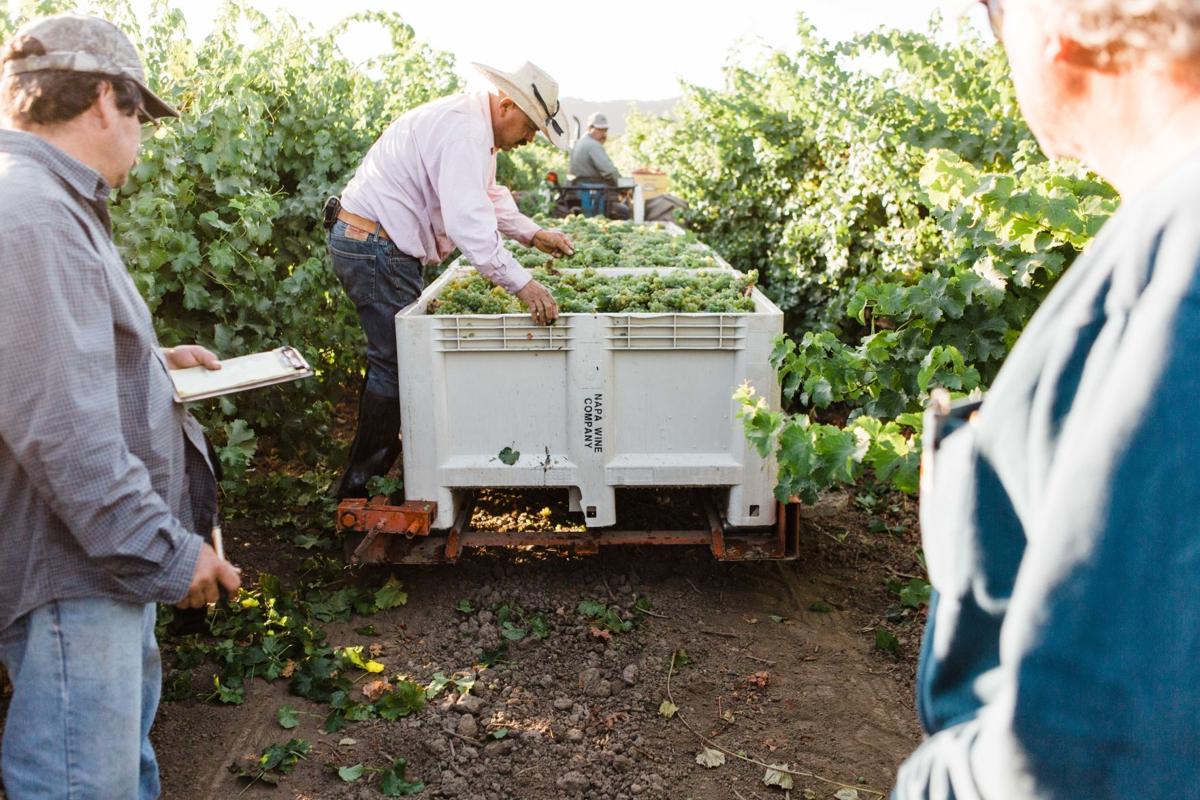 Significant clusters of coronavirus cases have in the last few weeks been reported among the North Bay's farmworker community – and public health officials say those populations remain at risk.
Napa County has partially attributed its recent uptick in COVID-19 cases to clusters among residents of congregate living facilities, including the county's three farmworker housing centers. Napa County Public Health Officer Dr. Karen Relucio reported at the Board of Supervisors meeting July 2 that the county had conducted testing on about 70 percent of the centers' 180 residents, or about 125 men.
Relucio said in a written statement Tuesday that the county had received 30 positive test results – a positivity rate of almost 25%. Those who tested positive or had close contact with a positive case have since been relocated, either to a motel or emergency isolation trailers provided by the California Office of Emergency Services, Relucio wrote.
Residents of the centers do work with non-residents, some of whom come from different counties in the North Bay. The county is working to notify close contacts of residents who tested positive regardless of whether they are Napa County residents, according to Relucio.
As many as 40 percent of Napa County's farmworkers commute into the county from elsewhere, according to Giovanni Peri, a professor of economics at the University of California, Davis who specializes in labor economics and has previously worked with the Napa Valley Grapegrowers to conduct studies of the growers' member base.
"Napa is a relatively expensive place to live, and the wages are relatively high," Peri said. "Some of these workers are mobile – they go where the work is, where the opportunities are, and Napa County is no exception."
Neighboring Solano County has attributed part of its own recent uptick in coronavirus cases to "a large outbreak among farmworkers in the vineyards in Sonoma and Napa who are residing in Solano," according to the California Department of Public Health. There have been "at least 60" cases among the group working in wine country, Solano County Public Health Officer Bela Matyas confirmed.
Many of the individuals working in vineyards are young men who have come to the North Bay alone to send money home to their families – part of a mobile workforce like the one Peri described. COVID-19 typically spreads through these groups, which Matyas described as "a relatively insular community," not because of vineyard work, but due to their living and transportation arrangements.
"Within the group we're working with, it's not uncommon to have eight to 10 people living in a one bedroom apartment," Matyas said, adding that lower wage workers typically live in large groups to cut costs. "They are typically transported in very tight quarters in a van. While they're working is actually when they're likely most physically distanced."
Solano County has been working with area vineyard management companies to encourage workers to get tested, Matyas said. Napa County's Relucio said in June the county was aware of "at least 10" clusters among separate vineyard management crews. Not all of those positive cases are included in Napa County's case count – cases are reported by the individual's county of residence.
Exact case counts are further muddied by fear of testing among individuals, Relucio said.
"Some (workers) are undocumented, and the ramifications of testing positive can be very frightening," Relucio said, citing privacy concerns related to contract tracing and fears of losing wages. "They have needs we try to fulfill: food, temporary housing or resources for mental health – it's very heavy work, and it's so important, because they're the fabric of our economy."
Agricultural workers are granted protection under the federal CARES (Coronavirus Aid, Relief, and Economic Security) act, according to Supervisor Alfredo Pedroza, including two weeks of paid sick leave.
"We're making sure that employers are communicating to their employees about what their rights are," Pedroza said. "We recognize the financial (implications of quarantining) – but there's protection for that."
Testing capacity in Napa County increased dramatically in May after Napa partnered with Project Baseline, a collaboration between CORE, a disaster response non-profit, and Verily, the healthcare arm of Google's parent company. The county at the beginning of July began utilizing mobile testing units in order to broaden the geographical scope of testing availability and to offer additional testing at the farmworker centers, according to county spokesperson Elizabeth Scott.
Still, testing availability seems to have worsened in recent weeks, according to Carneros Vineyard Management Owner Andrew Avellar. One of his full-time employees began displaying COVID-19-like symptoms three days ago, he said in an interview Wednesday – that individual, who lives in Napa County, still has not been able to secure a test for themselves. And Avellar, after calling the testing site, was informed that test results could take as long as seven days to come back.
"That kind of delay makes it very hard on us to manage our workforce," Avellar said, adding that his chosen protocol for the time being is to quarantine anyone displaying symptoms. "If we want to get a hold on this, we need results quickly, we need testing available quickly."
His employee has remained quarantined at home, leaving only to attempt to secure a test in Sonoma County. The line for testing was two hours long, the employee told Avellar – and though the employee waited, they never made it to the front.
There have been five hospitalizations related to the outbreak at the Farmworker Housing Centers, Napa County said. There have been additional hospitalizations among the group commuting to Napa and Sonoma, Solano's Matyas said, despite the fact that most cases have been among relatively healthy young men in their 20s and 30s. No fatalities have been linked to either outbreak.
"You get enough people sick, and (even among young people) someone's going to come down with a bad case," Mathias said, adding that there have been additional hospitalizations still among less-mobile farmworker populations who tend to live in multi-generational family units.
The three North Bay counties have been in regular contact to discuss reduction efforts, Matyas said. But all are aware that the clusters are not the product of workplace spread – the problem is that workers are forced to live large numbers to a single room, partially as a result of their wages.
"The real solution would be for these companies (or contractors) to arrange for better housing for these folks," Matyas said. "I'm not saying that's feasible fiscally – I'm sure it's cost prohibitive. But to solve this problem, you have to get to the root of it, which is crowding in the home. The other stuff is so cosmetic by comparison… that it won't impact the outcome."
The upcoming harvest season, during which demand for labor peaks in the North Bay, could further worsen conditions among farmworkers. Carneros Vineyard Management typically sees its staff double in size during harvest, from 40 to 80 employees, according to Avellar. He utilizes labor contractors who bring workers in from as far away as Woodland in Yolo County – some members of the mobile agricultural workforce. Vendors often arrange to transport workers in the kinds of vans over which Matyas expressed concern.
Avellar said his company is taking every possible step to ensure the safety of its employees while they're at work, but is well aware of the risks that transportation and housing could pose.
"We make sure our work environment is safe, but I know at the end of the day, they're going to get in their van, and they'll all be together as they head back home," he said. "I have no idea how to control that – we don't have housing here we can put them up in."
The company has not yet entered discussions with its contractors as to how it will transport workers to and from the North Bay. The logistics are a "constant, daily worry" for Avellar, who said his priority is to help and protect his employees.
The pandemic "isn't going away quickly," Matyas said. Farmworkers will remain prone to high levels of disease so long as conditions remain the same, he added – circumstances that could hurt the health and safety of workers and prompt a regional labor shortage.
"There's no way to tell this story without illuminating the inequities that exist, and we are clearly dealing with a group that is highly inequitable to other people," he added. Contractors and employers do have control over their workers' "destiny and health," Matyas said, but "at the same time, they're trying to sell product, and they're businesses."
"This (pandemic) just helps illustrate the difficult contradictions that exist in our lives, and how the impact that they have on people is highly differential," he added.
Watch Now: Explaining California's new gig worker labor law