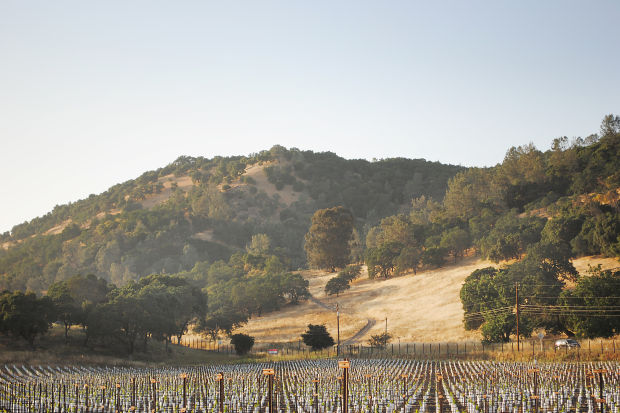 The Land Trust of Napa County, the Rodgers family and Bettinelli Vineyards announced the closing of six conservation easements on the Rodgers' Upper Ranch property between Silverado Trail and Lake Hennessey.
The easement will permanently protect 442 acres in its wild state, while allowing for the development of about 100 acres of vineyard, the Land Trust said.
The Rodgers' Upper Ranch property includes more than 250 acres of blue oak, coast live oak and mixed oak woodlands overlooking both Napa Valley and Lake Hennessey.
The property rises steeply from Silverado Trail, south of Highway 128, and can be seen from many places across Napa Valley. Protection of the property through the easements will ensure that these scenic views of oak woodlands and scattered rocky outcrops can be enjoyed by residents and visitors far into the future, Land Trust said in a news release.
"Besides the natural values on the property, the land is in a very important location," said Doug Parker, CEO of the Land Trust, "because it abuts protected land on the northeast, Napa municipal watershed lands around Lake Hennessy, and extends from there all the way down to the Silverado Trail, across from vineyards that the Beckstoffer family has already protected with the Land Trust."
"The Rodgers have loved and called Napa home through several generations," said Anna Duncan Hickey of the Rodgers family. "My great grandfather, John M. Rodgers, purchased the Upper Range, as we call it, 73 years ago. It is unique in character and authentic Napa charm. If you were around in the days of our family's Rockinar Diary, you would have seen cattle being driven through Yountville, up Silverado Trail and onto The Range."
Established in 1976, the Land Trust has 1,700 active members and supporters. In its 38-year history, the Land Trust has worked with landowners to complete over 150 real estate projects, protecting more than 53,000 acres of land – 10 percent of Napa County.
Owners who put easements on their properties can qualify for tax breaks.
For more information, visit the Land Trust of Napa County website www.napalandtrust.org, or contact the Land Trust of Napa County at 707-252-3270.