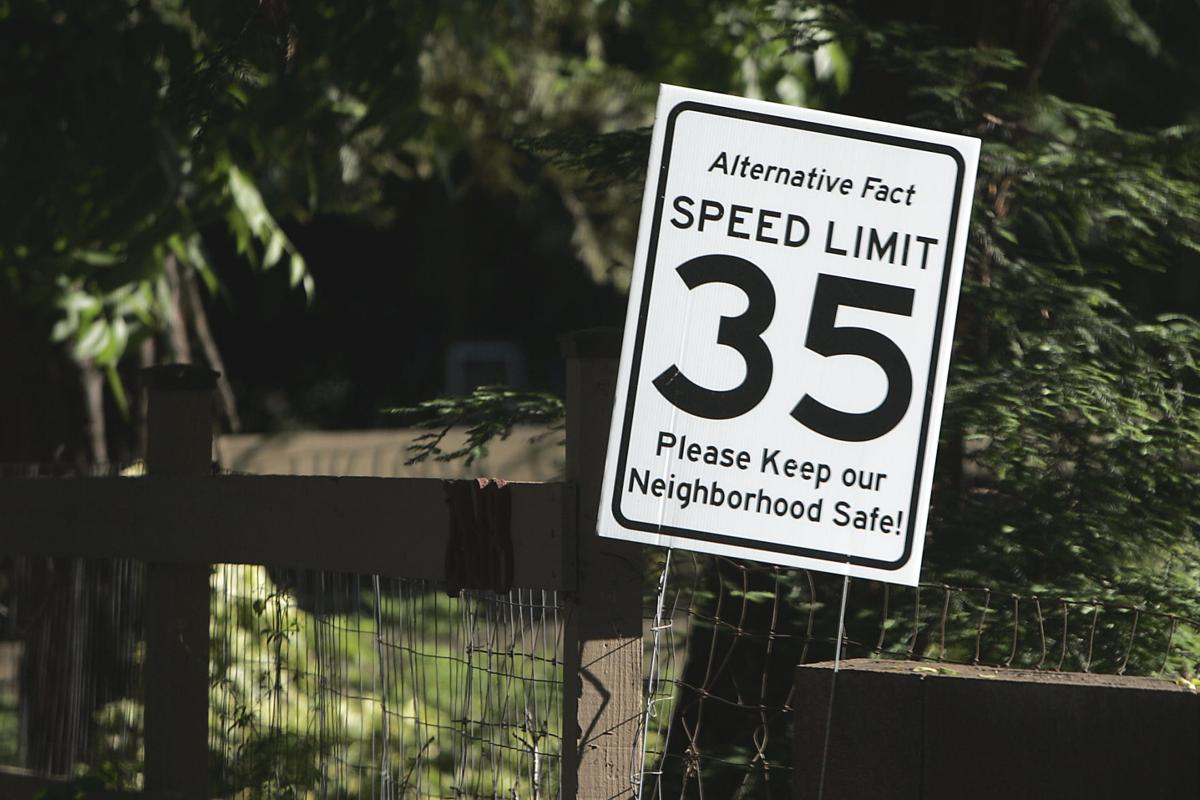 Napa County supervisors are putting the brakes on several recent, rural speed limit hikes, though some rural residents say they need to do still more.
Supervisors had misgivings from the start about raising speed limits in February. But county officials said the limits must be set in a certain way under state law to be enforceable by the California Highway Patrol using radar.
Among the more controversial February changes was hiking the limit on First Avenue in the Coombsville area east of Napa from 40 mph to 50 mph. This two-lane road runs through rolling hills with vineyards and rural homes.
Concerned residents responded by putting up facsimile speed limit signs labeled "alternative fact" recommending drivers stick to 35 mph to keep the community safe.
On Tuesday, the Board of Supervisors lowered that new, 50 mph First Avenue speed limit. The new limit between Hagen Road and Lupine Hill Road will be 45 mph. The new limit between Lupine Hill Road and Coombsville Road will be 40 mph. They also lowered limits at three other rural locations.
The challenge was finding the legal justification. Otherwise, public officials said, the county would simply be putting up speed limit signs that the CHP couldn't enforce using radar, given the state would consider the areas as speed traps.
As of February, supervisors weren't satisfied with the legal restraints. Supervisor Alfredo Pedroza said he's concerned about speeds on narrow, rural roads that have pedestrians, people dropping children and driveways.
"I'm going into this with the goal of safety," Pedroza said.
For Tuesday at least, the Board of Supervisors found itself accepting the formula dictated by the state, while also directing staff to take a second look at still more rural road speed limits.
"It's counter-intuitive, the way the process works," Supervisor Diane Dillon said.
California communities set limits after doing traffic studies to learn how people actually drive on a road. Limits are based on what the state calls the "prevailing speed" – the speed 85 percent of drivers drive at or slower than.
Communities can reduce the speed limit below the prevailing speed, if justified by collision records or road conditions not readily apparent to drivers. But the reduction is to be only 5 mph.
In February, county officials saw no justification for setting a First Avenue limit lower than 50 mph. That changed after Supervisor Belia Ramos held a March 29 town hall meeting with concerned First Avenue residents. Residents said they must frequently cross the road because trash pickup and mail service is provided on only one side.
That newly revealed condition "not readily apparent to drivers" became a key factor in the county's latest recommendation, along with new speed studies. Public works officials told supervisors Tuesday that the 50 mph limit on First Avenue can fall to 45 mph in one section and 40 mph in another.
"We do believe that's the farthest we can legally go," Public Works Director Steven Lederer said.
First Avenue resident Franz Wartenweiler noted there are hills and a curve on First Avenue near Hagen Road, where the 45 mph limit is now to prevail. He wanted the limit in that area to also be 40 mph.
"I think it would just be more sensible that you just have one speed limit instead of two all the way along First Avenue," he said.
In February, the Board of Supervisors changed speed limits at 25 locations, mostly increases and some decreases. On Tuesday, in addition to the First Avenue changes, it made the following revisions:
- East Third Avenue from Third Avenue to the end from 40 mph to 35 mph.
- Hardman Avenue from Silverado Trail to Atlas Peak Road from 50 mph to 45 mph.
- McKinley road from Atlas Peak Road to end from 45 mph to 35 mph.
Resident Kathy Felch told the Board of Supervisors it should revisit other rural speed limits. In doing so, the county should consult with residents about what unapparent safety conditions might exist.
Atlas Peak Road resident Michael Setty wrote that he's surprised the county in February raised a limit on a section of that road from 45 mph to 55 mph. The road has a large number of runners and pedestrians, tourists in vehicles who are confused sometimes trying to find their accommodations, blind driveways and slow curves.
Supervisor Ryan Gregory asked how the CHP would enforce the speed limit if it couldn't use radar. Napa CHP Capt. Chris Childs said officers would have to follow a car for a certain distance to gauge the speed.
"The minute you're behind someone, what do they do?" Gregory asked.
"Slow down," Childs said.