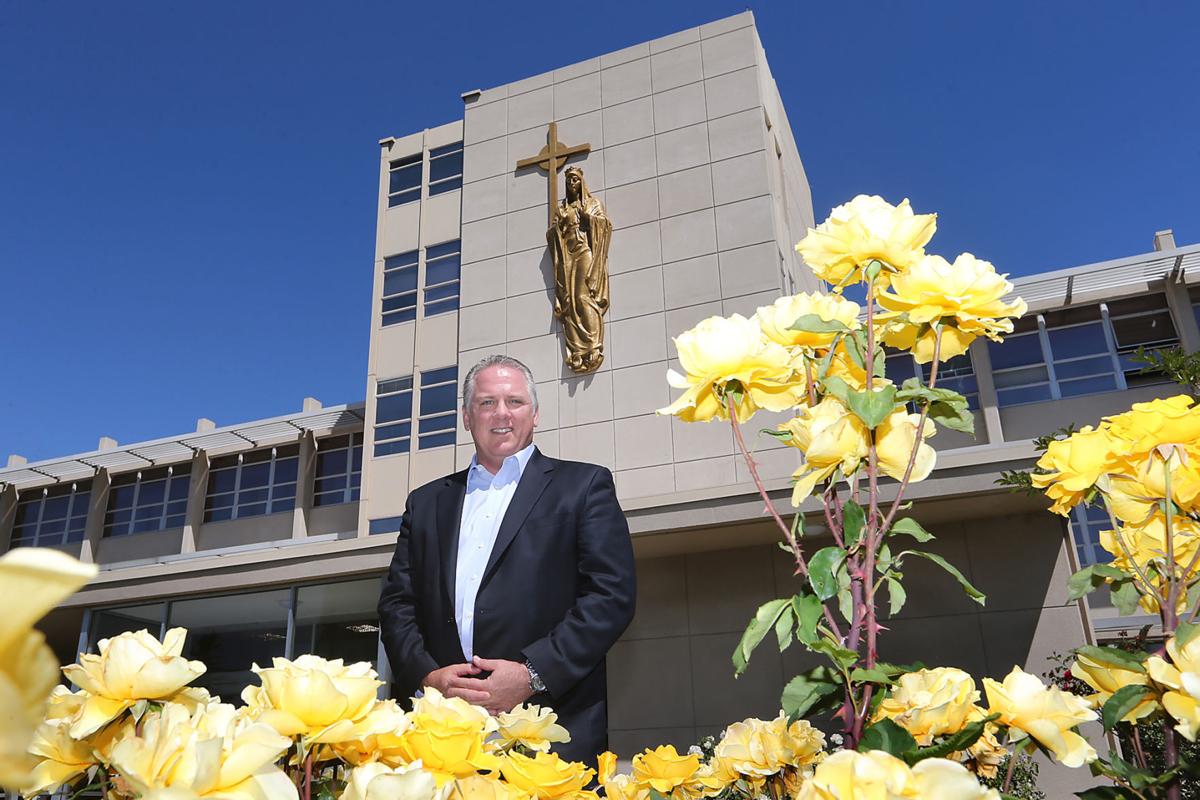 Larry Coomes says that when people find out he works at the Queen, some assume he's a doctor.
But Coomes isn't responsible for the health of the patients.
He's responsible for the health of the hospital.
Coomes is the new CEO of Napa's only medical center, one that helps tens of thousands of people within its hospital and ER each year.
"Job one is to make sure I provide the best possible facility where physicians want to practice, employees want to work and where patients choose to come for their health care," said Coomes.
In March, Coomes took over the helm of the medical center from retiring CEO Walt Mickens. Today he's the leader of an estimated 1,000 employees, more than 300 physicians and 42 hospital departments.
"Health care is such a dynamic, changing industry," said Coomes. "It's very complex and I love that."
As a hospital CEO, "You have to make sure that it's running efficiently and delivering the best level of care."
Coomes, 48, said he didn't originally plan to enter the health care industry. After his undergraduate studies, the Chicago native worked in the auto industry for Ford and then Porsche. He also earned an MBA from Duke University.
Eventually he realized "I was no longer passionate about the auto industry."
Newly engaged to his wife, Shannon, who is a nurse, Coomes said he began considering health care. "It seemed like a fascinating business," he said.
To be honest, "I felt health care was behind the times," he said. Much work was still done on paper. "There weren't a lot of standardized procedures. At a lot of the facilities there hadn't been a focused effort to upgrade facilities and buy new technology."
Coomes, a self-described problem-fixer, said the industry "seemed like it needed a lot of change. I knew I could provide leadership to the industry."
His first job was as chief operating officer at a 195-bed hospital in Boca Raton, Florida, the West Boca Medical Center. By 2015, Coomes was the CEO of Tenet Health's Palm Beach Gardens Medical Center in Palm Beach, Florida.
Moving his family, including his wife and young son, across the country to Napa was a big deal, he said. But "after 13 years in Florida, we were looking for a change."
Mickens, who had hired Coomes for his job at the West Boca Medical Center, recruited his former colleague once again, and convinced him to make the move to Napa. He first joined the Queen in December 2015 as COO.
"It just seemed like a great opportunity," said Coomes. But it was the community that sealed the deal, he said.
"Everyone who I had met in Napa was fantastic, very welcoming. Plus we like wine and food. You can't beat that."
Shannon Coomes is a cardiac nurse who is working to help develop a cardiac rehab program for St. Joseph Health Medical Group.
The CEO said one of his favorite things about his work is being the face of the Queen. "You have an opportunity to set the tone of the organization," he said.
Building relationships is one of his strengths as a leader, said Coomes.
"It doesn't matter if someone is a housekeeper or neurosurgeon, I have an ability to build those relationships," he said. "It builds loyalty and a great culture."
Citing Coomes' "positive energy and desire to engage the medical staff," Andrew Nothmann, MD, chief of staff for Queen of the Valley Medical Center, said the CEO has "already impressed the medical staff at the hospital."
"Under his leadership, there has been a renewed sense of teamwork among the physicians and administration at the hospital," Nothmann said.
Under Coomes' leadership, "We are hopeful that we will be able to expand the range of medical services available to our community," he said. "We also look forward to becoming the primary healthcare facility for the many members of our community that have out-migrated to Kaiser primarily for financial reasons and lack of an option to choose the Queen."
Coomes has been very effective in leading the Queen's progress as a regional referral center for many of our surrounding communities, added Nothmann.
With Coomes' experience in healthcare management, "he has been an excellent addition to the Queen's executive team from the day he started," said Ed Farver, chair, Queen of the Valley board of trustees.
"A dynamic leader with a strategic view of healthcare, he analyzes, plans, and tackles problems quickly and effectively. We are fortunate to have someone of Larry's caliber to lead the Queen."
"With health care changing rapidly, Larry will be looking to keep the Queen in the forefront of this transformation through such things as community partnerships, new services, facility improvements and overall community wellness," said Farver.
Coomes said his least favorite part of the job is keeping up with the many regulatory requirements of healthcare while running a streamlined organization.
"There are a lot of administrative requirements we need to keep up on and I think sometimes it can slow us down," he said.
If he could change the system, "I'd want reform that would ease up the burden on hospitals. There are a significant amount of policies and procedures that have good intentions but the administrative burden may sometimes exceed the benefit of what we get from it."
The CEO described his management style as "visible, open and honest."
"You never have to guess what I'm thinking," said Coomes. "You may not always like the answer I'm giving you but you'll understand why."
He described himself as reliable. "You can count on me. I tell you I will do something, I will do it. I have very high expectations for myself and others."
Yet, "a lot of things are often beyond our control," admitted Coomes. "Sometimes you have to be very patient. Even if you have a good plan sometimes it can't be done as quickly as you would like."
Coomes said he likes to be light-hearted and have fun on the job. Using humor can help diffuse stressful situations, he explained.
"I like to smile and laugh a lot. I think that provides a better tone at work than being too serious."
The CEO has an open door policy. Literally — the back door of his executive office is typically left open.
"It gives people an opportunity to catch me directly," he explained. "If you need something from me, don't make an appointment. Come by and see me or catch me in the hallway."
Coomes said that some people still think of the Queen as a small community hospital. The truth is, "We offer every service that a larger hospital offers except for organ transplants."
In fact, "We have the same services available that you'd typically expect to find at a major academic center like Stanford or UCSF."
Among other programs, the hospital offers open heart surgery, trauma center care, neurosurgery, a robotic surgical program and orthopedic and spine surgery.
Those services are made possible thanks to generous donors and the community, he said. "They are the real driver that allows us to invest in the programs we do and buy the equipment."
According to Coomes, the most common complaint he hears about the Queen is about hospital bills.
"There is a lot of misunderstanding about how hospital billing systems work in conjunction with how insurance companies pay," said Coomes.
To help those who are confused, the Queen has staffers who can speak to individuals one-on-one and explain health care charges, he said.
"When someone's in the hospital, it's one of the toughest times in their life," Coomes said. "We try to make that the best experience possible. We try to hit it out of the park 100 percent of the time and sometimes we're just not able to."
The good includes positive feedback. "I love to get those phone calls and letters — when someone goes out of their way to write about a great experience, it's just really rewarding."
With the rapidly changing health care landscape, it is significantly harder to run a hospital today than even five or 10 years ago, said Coomes.
"All hospitals are under significant cost pressures, rising drug and labor costs and other supply costs," he said. When you combine that with constant reductions of payments for services by insurance companies, it makes it harder and harder, he said. "We operate on a very thin margin, as do most hospitals."
As with other hospitals, a shortage of nurses and other staff is a challenge. "It's expensive to live in Napa," said Coomes. "We have to be able to recruit and retain staff here. It's a huge challenge. We need to draw more nursing and ancillary staff to the area."
The Queen has worked to achieve greater pay parity for employees, especially when compared to wages paid by other hospitals in the greater Bay Area.
"That is an issue that has now been corrected," said Coomes. A "significant amount" of staff has gotten raises in the past nine months, with the goal to bring them up to competitive market rates, he said.
Coomes sees many opportunities for the Queen, especially now that its parent company, St. Joseph Health, is part of Providence Health & Services of Renton, Washington. The news was announced in 2016.
One of the big benefits of teaming with Providence is the benefit of scale, said Coomes, including purchasing power with supplies and anything that has to do with new programs. "Being part of a larger organization will help the Queen become more competitive," he said.
Another advantage to becoming part of Providence is that "our organization will have a seat at the table when they're structuring the new health care plan," to replace the Affordable Care Act.
The Queen is investing money in renovating the facility. The hospital cafeteria and nursing units are undergoing renovations and the hospital will start a renovation on the emergency department.
Other opportunities include adding new services for the community such as wound care and hyperbaric medicine. The hospital also just launched telepsychiatry and remote evaluation services and is in the process of becoming a certified primary stroke center.
Notably, the Queen is bringing back occupational health. That service was closed in 2014. At the time, the hospital said the program was no longer sustainable.
"We're constantly reviewing the programs to make decisions about what fits the community," Coomes said.
Some critics of the Queen might wonder if the hospital has gotten too big or spread itself too thin. In February the hospital announced a plan to cut costs, including some jobs.
The Queen cited cutbacks in payments from the government and the challenges of the Affordable Care Act for the reductions.
The goal is to "align expenses to revenues … to create a more sustainable environment" wrote Coomes in February.
"You always want to review your service lines and be sure you're proving a need for the community," Coomes said this month. "If we get to the point where we don't see a community benefit to a service line, that's when you'd consider closing it."
The Queen is immersed in an appeal regarding a recent National Union of Healthcare Workers election. In 2016, hospital workers voted to join the union, but the Queen has filed appeals regarding that election.
Other St. Joseph hospitals have already agreed to contracts with the same union.
Asked if it looks like the Queen was dragging out the contract process with appeals and money spent on attorneys, Coomes said, "We respect the rights of all of our employees but we want to make sure the process was done fairly and properly."
"Details still need to be ironed out," he said. "There are two sides of every story."
Coomes said he couldn't comment further on the union election because of pending litigation.
Coomes said the hospital still retains guidance from the Sisters of St. Joseph of Orange who founded and once ran the hospital.
"The Sisters of St. Joseph are still leading us today—sitting on our board of trustees and working with us to provide services to the most vulnerable members of our community," he said.
"We keep our values and our mission, as set forth by the Sisters, at the core of everything that we do and we are very proud of our heritage."