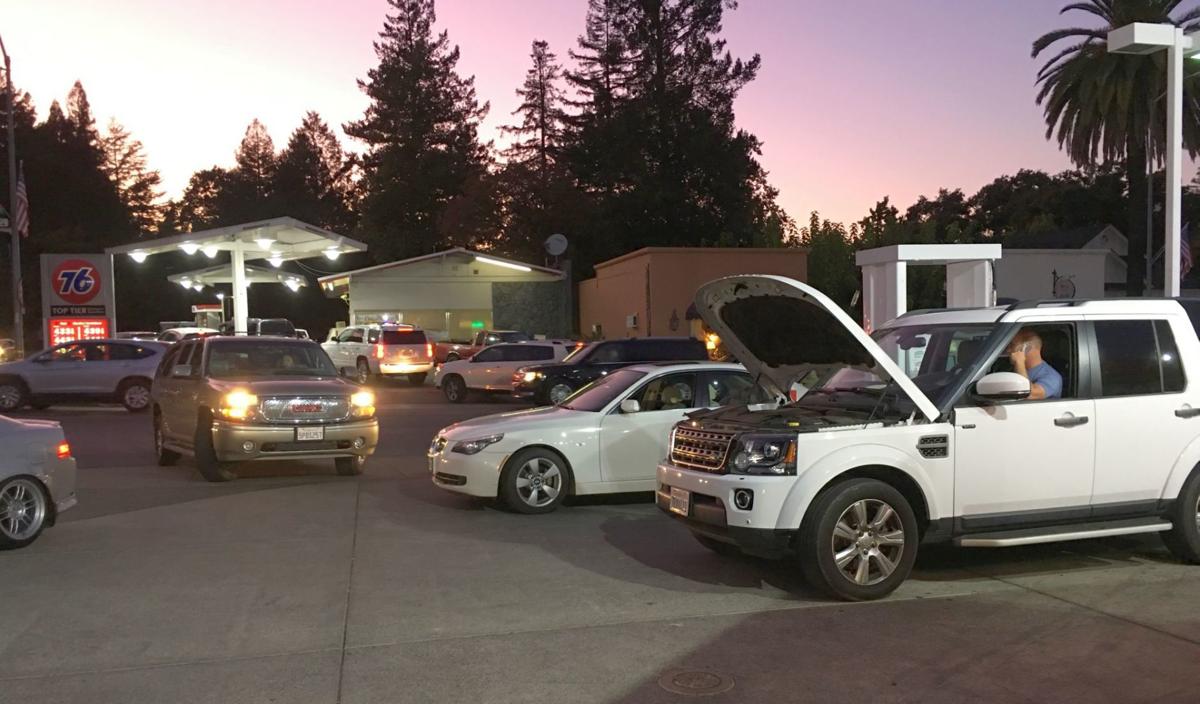 Readers Note: The Napa Valley Register is providing free access to this article. Please consider supporting local journalism like this by purchasing a subscription. #NapaNewsNow Click here for details.
Napans voiced frustration, PG&E skepticism as well as stoic acceptance at the start of what is expected to be a multi-day power outage for wildfire safety.
Things didn't start well for Nancy Comfort who thought she would fill up her vehicle's gas tank on the way home from work Tuesday evening.
"Apparently the rest of the 9-5'ers had the same thought. It was mayhem out there on our Napa streets!," she reported. "I spent an hour trying to get gas, ending up at the Chevron station on Trancas down by Nob Hill. When it was finally my turn at the pump, I started pumping my gas and it clicked off at $.28!
"Yes, that was 28 cents! They had just run out of the unleaded and the mid-grade unleaded, and only had premium left. (And I was told they would be out of that soon, as well.) I didn't even look at the price, I was just happy to finally get my tank filled."
Having her power turned off at midnight also annoyed her. On her drive to work Wednesday, "I noticed that it was a picture-perfect day … Not a cloud in the sky, nor a leaf on a tree blowing. Couldn't PG&E have waited until at least a 2 mph wind started?!"
Comfort wasn't alone in her search for gasoline Tuesday evening. Register copy editor Tim Yagle surveyed gas stations after leaving work at 8:30 p.m.
He counted 18 cars in line at the Chevron on First Street west of Highway 29. At the Chevron on Highway 29 by the Walmart in American Canyon, vehicles were lined up around the corner into the Walmart lot onto Highway 29. He counted 22 of them.
He ended up at the ARCO station just south of there on Highway 29 in American Canyon where, after a 20-minute wait, he filled his tank.
Logan McConnell said he could pinpoint when his power went off: 3 a.m. That was when their 4-month-old baby's sound machine turned off and woke them up.
"We've had to find cold storage for all of her milk that was in our now warm freezer. All of our refrigerated foods will likely spoil and frantically looking for a place to store her frozen food in addition to getting ready for work and a drs appointment have made the last few hours difficult," he wrote.
"We're not sure why PG&E is even doing this, we understand the fire danger but why is my power off and downtown Napa is still on? I live 5 minutes from downtown," McConnell asked.
Robert Jordan, who lives near Alston Park, took the closure in stride. Waking up to no electricity Wednesday, he said he opened his window blinds all the way to admit adequate light.
"I guess it's a small price to pay for keeping us safe," said Jordan, who still wondered if PG&E might be too proactive. As he walked his dog on a cool Wednesday morning, absolutely no wind stirred trees with leaves just beginning to turn colors for autumn.
"We have a dinner party tonight at our house," Jordan said Wednesday. "I think I'll have to do take-out and have a lot of candles."
He mentioned people living in other countries who have no electricity or running water. The shutoff reminds him not to take such things for granted, Jordan said.
Frank and Lauri Yturralez were visiting visiting from Temecula and staying in an RV at Skyline Wilderness Park. Their planned day of winery visits looked to take some twists amid Napa County's power blackout.
They started their day out with a hike in Alston Park, where the sun provided all the power they needed. Lauri Yturralez said they love nature and they'll hike if wineries are closed.
"We've been without power since midnight," said Vito Parente of Alta Heights. "We did as much as possible, ate as much of our food as we could, but we'll likely still lose a lot of our goodies, and that's frustrating. Feels like a bit of an overreaction."
Parente's work in wine sales was being hampered by spotty cellular service, but his wife's catering business faced a harder hit. "We hope the deep freezer stays frozen – otherwise we're out a couple thousand dollars, maybe more."
Register reporter Barry Eberling contributed to this story.