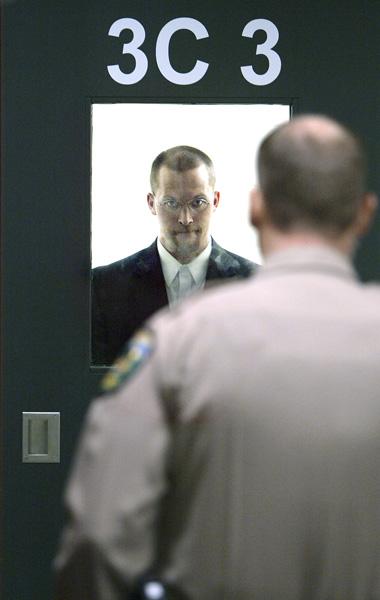 Eric Matthew Copple pleaded guilty Tuesday to the bloody slayings of two 26-year-old women in Napa in 2004, and will spend the rest of his life in state prison.
On Tuesday, Copple admitted to stabbing Adriane Insogna and Leslie Mazzara, both 26, in a west Napa home on Nov. 1, 2004.
Dressed in a black suit, black tie and white shirt, Copple admitted to a courtroom full of the victims' family and friends, along with his wife, mother and in-laws, that he murdered the women in the upstairs of their Dorset Street home.
In exchange for the guilty plea to two counts of first-degree murder and special allegations of lying in wait, the use of a knife and committing a crime with multiple victims, Copple escaped the death penalty. Copple agreed to spend the rest of his life behind bars, waived his rights to seek an appeal and agreed he could never profit financially from the deaths of Insogna and Mazzara.
"He can never talk about what happened that night except for clergy or family members. He may not discuss the facts of the case with the media or anyone dealing with writing a book," Napa County District Attorney Gary Lieberstein said.
Should Copple violate this condition of the plea, Lieberstein said, any money made for profit would go to Calvary Home For Children in South Carolina and If Given a Chance Foundation in Napa, the nonprofit organizations chosen by the families of the victims.
Copple's motives for the killings has not come to light, and he may take that information to his grave. It may have come out in a jury trial, but the prosecution would not have had to present a motive to prove Copple guilty of murder beyond a reasonable doubt.
Copple made several entrances into the courtroom on Tuesday. Each time Napa County Judge Francisca Tisher called a recess or met with the attorneys in her chambers, Copple was escorted out of the courtroom by the bailiffs.
Upon re-entering the courtroom, Copple looked either straight ahead or toward the floor, while fiddling with his tie or straightening his suit coat. He never made eye contact or acknowledged his wife, Lily Prudhomme Copple, or his mother, Robin Copple, who were sitting in the front row of the audience.
Prudhomme Copple listened intently to the proceedings, but her facial expression never changed. Sitting between his attorneys, Napa County Public Defender Greg Galeste and Vallejo attorney Amy Morton, Copple looked straight ahead, occasionally speaking to his counsel.
Insogna's mother, Arlene Allen, and Mazzara's mother, Cathy Harrington, sat side by side across the aisle from the Copple family. Both mothers were stoic, but cried and dabbed their eyes as Copple pleaded guilty to brutally taking the lives of their loved ones.
"I am pleased with the outcome. It is the best thing that could happen for all of the families involved," Allen said. "I don't want to spend the rest of my life worrying what Mr. Copple is doing. I want to get on with my life. I don't know if I would call this closure, but more a resolution. I loved my daughter very much and miss her deeply. That door will never close for me. I have suffered a terrific loss that will never go away."
Harrington said the plea was the "most compassionate outcome for the terrible and unspeakable thing that has happened. This stops the cycle of violence. I believe this is what my daughter would have wanted," she said. "I will never get over the loss. I relive this nightmare every day. But this is the most compassionate way for it to end."
Lieberstein called Copple a "cold-blooded murderer … every parent's worst nightmare. Not seeking the death penalty was in no way out of compassion for Eric Copple," he said. "What we did today has everything to do with compassion for the family.
"This didn't happen overnight," Lieberstein said. "This resolution came after meeting several times with the defense team and the family of the victims. This is about achieving finality in a very tragic case."
Prudhomme Copple works at the Napa Sanitation District, where Insogna worked as a civil engineer at the time of her death. Insogna was also friends with Eric Copple.
Eric Copple and Lily Prudhomme were married in February of 2005, with Insogna's mother reading scriptures to the newlyweds at the ceremony.
Insogna and Mazzara were stabbed to death in the very early morning of Nov. 1, 2004. They had spent their last night giving out Halloween candy to the neighborhood children before retiring to bed around 11 p.m.
Police said Copple drove to the victims' house in the 2600 block of Dorset Street after midnight and stood outside smoking cigarettes before entering the house through a downstairs kitchen window. Copple told detectives he climbed the stairs and stabbed the two women to death. However, during the interview the night he turned himself in, police say, Copple told them several times that he couldn't remember exactly what happened.
A third roommate, Lauren Meanza, was asleep in a downstairs bedroom. She awoke to the sound of screaming and breaking glass. She was able to leave the home and drive away in her car. She called police on her cell phone.
Investigators never found the murder weapon. They said Copple told them he tossed the knife that night, but he couldn't remember where. He also said he burned the clothes he was wearing.
Copple is set to be officially sentenced on Jan. 11. At that time, the family of the victims will be allowed to address the court about their loss and the effect it has had on them. Copple will also have an opportunity to speak.