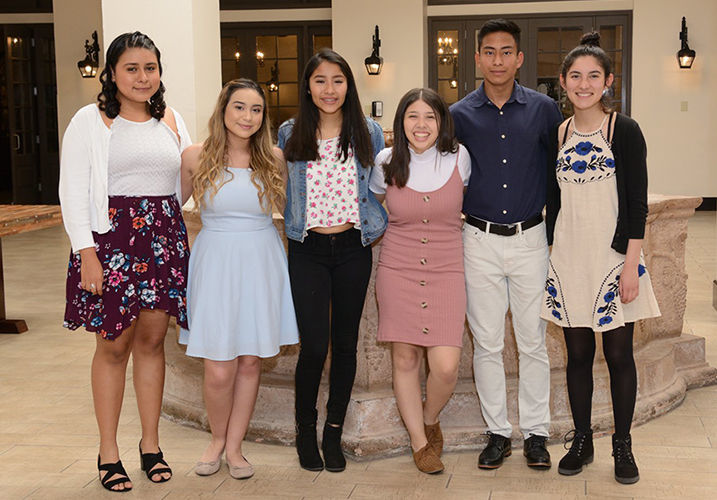 For the 25th year, a Napa nonprofit will honor disadvantaged teenagers and help fund their higher education — despite the pandemic that has scrubbed its planned anniversary banquet.
Starting early Sunday morning, If Given a Chance to pay tribute to six local high school students overcoming life challenges and reward them with five years of funds, counseling, and other assistance. But instead of the gathering originally planned at Napa Valley College, the group will move its celebration online, posting daily videos at 12:01 a.m. profiling each of the honored students, five female and one male, through Friday.
"We've never tried to run a virtual award ceremony before, but we knew it was important to honor the kids and give them some sort of recognition," said John Sensenbaugh, a board member for If Given a Chance, which began in 1994 and awards about $90,000 per year to those it sponsors — about $10,000 per student over a five-year period.
The virtual award ceremony, which will be hosted on Vimeo and If Given a Chance's website, is a sharp departure forced by the coronavirus outbreak, which has led Napa County and California authorities to order most residents to shelter at home for nearly two months.
Planning for the online ceremony began in early April and culminated with the winners – three students from Vintage High, two from Napa High and a St. Helena High School student – shooting videos from their homes to comply with social distancing rules during the COVID-19 emergency.
Speeches by the award winners will be interspersed with remarks by If Given a Chance directors and former students supported by the nonprofit. An online closing ceremony on Friday, May 22 is scheduled to feature all of the 2020 honorees along with Napa County District Attorney Allison Haley and U.S. Rep. Mike Thompson, as well as a performance by the singer and activist Michael Franti.
Candidates are high school juniors who are recommended to If Given a Chance by a nominator who can be a teacher, employer, probation department member or other authority figure. A selection committee reads letters of recommendation as well as student essays and school transcripts before selecting the award winners.
Judges focus on teen students who have persevered through such life obstacles as physical or sexual abuse, health problems, the loss of a parent or homelessness, according to Sensenbaugh. In addition to the cash awards, If Given a Chance mentors students through the college admission process and provides guidance in choosing a major, managing their money and other tasks, with the support extending into the college years.
Unlike conventional scholarships that focus on the cost of tuition, books and academic expenses, sponsorship by If Given a Chance is meant to help young people cope with the challenges of life outside the classroom as well as in it, according to Janna Waldinger, the group's student services manager.
"When you have one caring adult in your life, it changes the trajectory of your life," she said Wednesday. "There's far more childhood adversity in beautiful Napa County than anyone realizes, and If Given a Chance provides a safety net. It's not just 'Here's some money, and good luck'; it's about the mentoring, having someone to walk beside them and guide them to resources and teach them living skills and become strong advocates for themselves."
Thirty-seven people are currently attending high school or college with If Given a Chance support, the latest of more than 400 young people to be supported in the program's quarter century, said Waldinger.
The online celebration also will be a time for former award winners to recall how the helping hand lifted them to careers and achievements that otherwise would have been out of reach.
Among the alumni scheduled to speak is Cinthya Cisneros, was in her senior year at Vintage High when she was honored in 2008. What followed was a chemistry degree at Sonoma State University, six years teaching high school science and then a second career as a beer maker at Stone Brewing in Napa. Her latest endeavor — La Cheve Bakery and Brews, an eatery featuring Mexican-style baked goods and craft beer made under her direction – opened Thursday at the historic Old Adobe building on Soscol Avenue.
"The most important thing If Given a Chance gave me was to appreciate having someone being there for you, to hear you out, because that can just move mountains for someone," she said.
Editor's note: Because of the health implications of the COVID-19 virus, this article is being made available free to subscribers and non-subscribers alike. If you'd like to join us in supporting the mission of local journalism, please visit napavalleyregister.com/members/join/
Get local news delivered to your inbox!
Subscribe to our Daily Headlines newsletter.