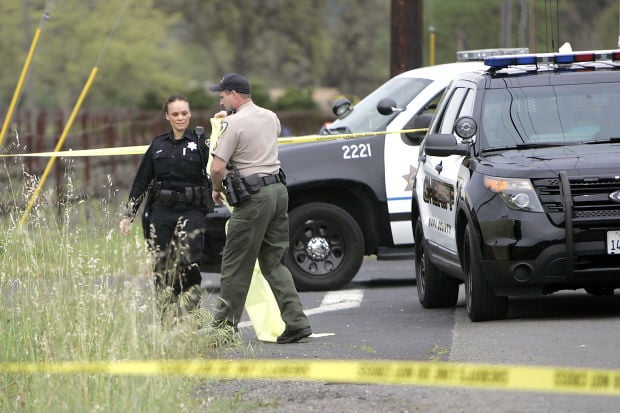 The Napa County Sheriff's office on Tuesday officially identified vintner/businessman Robert Dahl, 47, as the shooter in Monday's murder-suicide that began at Dahl's winery near Yountville.
The victim was Emad Tawfilis, 48, of Los Gatos, who had met at Dahl Vineyards, 6155 Solano Ave., to try to reach a settlement of a lawsuit Tawfilis had filed last summer over a $1.2 million loan/investment into Dahl's business.
According to the Sheriff's Office, Dahl assaulted Tawfilis inside the winery building during a break in the negotiations.
Tawfilis ran from the winery and into a vineyard, while calling 911 to say that he had been shot and that "Robert Dahl" was coming after him in his truck and was trying to kill him, the Sheriff's Office said.
The Sheriff's Office said Dahl was believed to be repeatedly firing at Tawfilis with a .22-caliber semiautomatic handgun.
When the wounded Tawfilis reached the intersection of Solano Avenue and Hoffman Lane, he fell to the ground, officials said.
As deputies were arriving, Dahl walked up to Tawfilis and "appeared to execute him," the Sheriff's Office said.
Seeing deputies, Dahl got back into his SUV and fled north. He was eventually trapped on a dirt road in the forest off Wall Road and the Oakville Grade where dozens of law enforcement officers from Napa and Sonoma county agencies gathered for a manhunt.
Dahl had faced a number of legal challenges over the years.
In 1991, Dahl pleaded guilty to felony grand theft in Minnesota, according to the Office of the Hennepin County Attorney in Minneapolis. The theft was for more than $2,500.
A 15-month prison sentence was stayed. He served three months in custody and was placed on probation for 10 years which he completed in 2001, said Chuck Laszewski, spokesman for the Office of the Hennepin County Attorney.
Dahl became known in Napa in 2013 when he launched a gastropub, Napa Point Brewing, in the Napa Valley Business Park at 388 Devlin Road. In 2013, Dahl said he wanted to open a similar establishment in the Borreo Building at Third Street and Soscol Avenue. However, that move never took place. The business on Devlin Road closed in May 2014.
Dahl faced numerous court dates in Napa over his business dealings. Tawfilis, who managed Lexington Street Investments LLC of Los Gatos, in August 2014 filed suit against Dahl, alleging fraud, breach of contract and other allegations.
Tawfilis alleged Dahl had misled him into investing $1.2 million in September 2013 into The Patio Company, a company under Dahl's control that Tawfilis contended was defunct.
Dahl fought back in court, filing a suit that alleged Lexington Street was charging interest rates that were usurious.
Tawfilis also accused Dahl of diverting assets into two other entities, Napa Point Winery LLC on North Kelly Road and Napa Point Brewing LLC on Devlin Road, allegations Dahl denied.
Napa Point Winery is now at Dahl Vineyards, 6155 Solano Ave., according to the California Department of Alcoholic Beverage Control. Dahl is listed as its manager.
During court proceedings, lawyers alleged Dahl was selling the wine inventory, as well as winemaking and brewing equipment and other collateral against court orders, according to court records.
Napa contractor Greg Knittel, a former friend and business associate of Dahl's in Napa Point Brewing, said in a court filing that on Feb. 26, he went to a storage site of Dahl's at Hess Construction on Hess Road in American Canyon, where he met Dahl. The brewing equipment and wine tanks he had photographed only four days earlier were no longer there.
"He was loading brewing equipment on to trailers and moving it," Knittel said in a court filing, referring to Dahl. "When I told him that I understood there was a court order that prohibited him from moving any of the wine tanks and brewing, he told me 'I can do whatever I want with my property,'" Knittel testified in the court document.
A court hearing was set for April 7.
Napa County issued code violations against Napa Point Brewery LLC, Napa Point on Devlin Road and Dahl Vineyards near Yountville.
In December 2013, Napa County ordered Napa Point Winery on North Kelly Road to stop producing wine and offer tastings to the general public for lack of a use permit, according to the notice of violation.
In Jan. 9, 2014, Napa County ordered Napa Point Brewery to stop advertising music and live events on its website because it did not have a use permit, according to the notice of violation. Live music, events and private parties were not allowed in the Industrial Park Zoning District and Airport Industrial Area District without a use permit, according to the notice.
In September, Napa County sued Dahl Vineyards and Dahl, who leased the land from longtime owner Patsy McVicar of Yountville. The county alleged that Dahl Vineyards allowed visitors at the winery for wine tastings without use permit. In August 2014, a county employee saw 25 visitors at the winery for a wine tasting led by Dahl, according to court records.
County staff also reported other violations, including the construction of a tank pad, tanks and a winery storage structure in the flood zone.
In December, Napa County won a $21,566 civil judgment against Dahl Vineyards, including attorney fees and court costs.
Dahl was due in court in August for allegedly breaking his lease when Napa Point Brewing failed to pay rent after February 2014 and left the site on Devlin Road in May 2014, according to the complaint filed last June in Napa County Superior Court. A jury trial in that case was set for September in Napa County Superior Court.
In the meantime, Dahl Vineyards continued to do business. The winery joined the Yountville Chamber about six months ago, said Cindy Saucerman, Yountville Chamber president/CEO.
Dahl Vineyards was among 30 wineries expected to pour wines at the annual Taste of Yountville on Saturday, Saucerman said. The event in downtown Yountville draws as many as 4,000 visitors.
"He was a regular Chamber member," Saucerman said of Dahl. "We're all shocked," she said of the murder-suicide.
As of Tuesday afternoon, Saucerman said she hadn't heard if the winery will be pouring wine on Saturday. "I assume no one will be there," she said.