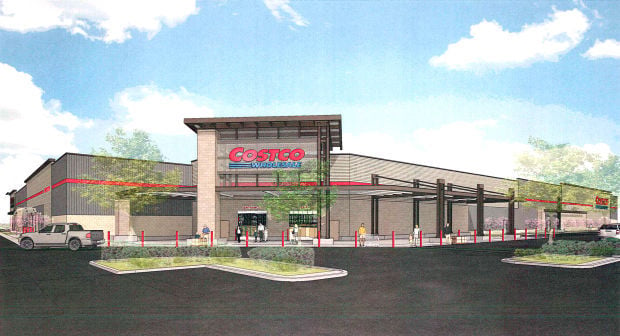 Costco has submitted to Napa County drawings of its proposed Napa Pipe store with a design the architect says strives for "simple elegance and efficiency."
County planning officials must decide whether the development review application is complete. Then they will determine whether the proposed design meets the county's Napa Pipe design guidelines.
Past county planning documents have described the proposed Napa Pipe redevelopment as including "a membership warehouse store (such as Costco)," as if an actual Costco might be a mirage.
"We're getting started," county principal planner Sean Trippi said on Tuesday. "Costco is for real."
An initial step toward building Costco west of the Napa Valley Commons industrial park would be to grade the site and put in sewers and other infrastructure. Keith Rogal of Napa Redevelopment Partners recently said such work could be underway this summer.
Costco must apply for and obtain a county building permit before it can start constructing the building. Another key is for Napa Redevelopment Partners to secure water for Napa Pipe from the city of Napa.
The 150,000-square-foot Costco wholesale warehouse is to have a bakery, pharmacy, optical center with optical exams and sales, hearing aid test center, food court, photo center and tire center with four bays.
The county's goal is to make this large structure pleasing to the eye. Costco "has set the standard for large format retail facades," the application said. The proposed design will combine a concrete masonry block and architectural metal panels to minimize the visual impacts of a large retail warehouse, it said.
Breaking up long elevations into smaller elements with different materials and colors creates a more pedestrian-friendly scale. Colors will be warm, natural earth tones, said the application by David Babcock & Associates architecture and landscape design firm.
All of this must be measured against the county's Napa Pipe design review guidelines. The guidelines for large stores say the architecture "should reflect the industrial heritage of the Napa Pipe site with a focus on honest materials of strength and character."
Adjacent to the retail warehouse is to be a 763-space parking lot and 20-pump Costco gas station with waiting room for 52 cars.
Store hours are anticipated to be 10 a.m. to 8:30 p.m. on weekdays, 9:30 a.m. to 6 p.m. Saturday and 10 a.m. to 6 p.m. Sunday, the application said. The fuel pumps should be open 5 a.m. to 10 p.m. daily.
About 10 delivery trucks should come to the store from the Costco freight facility in Tracy on a typical weekday. Receiving time is 2 a.m. to 1 p.m., with most deliveries before 10 a.m. Trucks will reach the Costco by taking Highway 221 to Kaiser Road, the application said.
In addition, two to three trucks daily should go to the gas station and one or two trucks weekly should go to the tire center.
Napa Pipe is 154 acres along the Napa River at 1025 Kaiser Road. The site is targeted for 700 to 945 residences, parks, trails, a hotel, a senior retirement center, shops – and a Costco.
The prospect of a local Costco proved a big selling point in the successful November ballot campaign that cleared the way for the city of Napa to eventually annex the site. The nearest Costcos to Napa are in Fairfield and Vallejo.
At this point, the site targeted for Costco remains a vast expanse of dirt, weeds and asphalt left over from Napa Pipe's long industrial history. The Costco is to be the first phase of the Napa Pipe redevelopment, with residences coming in two years or so.