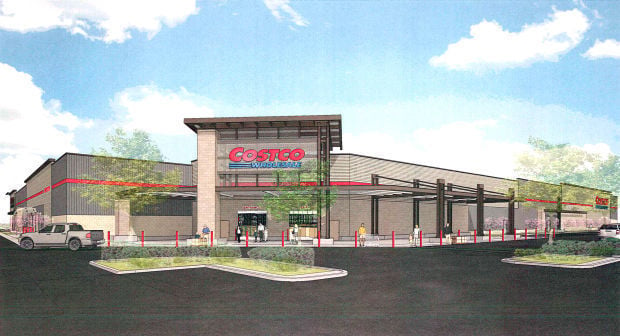 If Costco has its way – and nearby homes are finished on schedule – membership will have its privileges in Napa starting in three years.
The warehouse store chain hopes to open its long-awaited local branch as early as the spring of 2021, Michael Okuma, Costco Wholesale Corp.'s director of real estate development, told the City Council on Tuesday. The announcement highlighted an update on progress redeveloping Napa Pipe, the dormant industrial property in south Napa targeted for retail stores, parks, offices and more than 900 homes.
Okuma's announcement marked a new target for the arrival of Costco, intended to become a retail magnet at the mixed-use complex on the former pipe manufacturing plant near Kaiser Road. Developers previously predicted a 2017 groundbreaking with a grand opening this year, but that schedule slipped after delays in removing contaminated soil from the 154-acre industrial site, which closed in 2004.
With that process completed in March, project planners are seeking not only to establish a Costco at Napa Pipe, but also to spread home construction over a wider area to better attract builders.
The rezoning would place housing at Napa Pipe on different parts of the property but would not change the total of 945 dwellings, including 190 designated as affordable, Planning Manager Erin Morris told the council.
What should evolve, however, is the placement and density of Napa Pipe's housing, argued an executive for project partner Catellus Development Corp. of Oakland. The company seeks to move many of the housing sites to areas north of the future Costco store and east of the railroad line bisecting the property to lower density from 40 to 20 dwellings per acre.
Lower density is needed to draw enough builder interest to create housing quickly – and give a Costco a customer base upon opening in 2021, the developer said.
"Our customers are in large measure homebuilders, and at 40 units an acre, that density requires some sort of structured parking – and that just doesn't work in today's economic environment, when homebuilding costs have skyrocketed," said Tom Marshall, Catellus' vice president of development. "You'll leave 300, 400 units in your pocket that you can't monetize, and at those numbers, the project doesn't work."
"A lot of the work has been accomplished, but a lot of work is still needed," added Okuma of Costco. "It would be nice to have neighbors when Costco opens rather than be by ourselves."
Besides housing and a Costco, Napa Pipe is slated to receive a further 150 units of senior housing along with a 150-room hotel, office buildings totaling 90,000 square feet, a mix of commercial and light industrial buildings, 40,000 square feet of retail areas, and 34 acres of parks and open spaces.
Under an agreement with Napa County, the city annexed most of the property two years ago and is scheduled to absorb the remaining 43 acres by the end of 2022.