New state maps of Napa's seismic fault zones have led the city to push back an expected vote on a controversial, long-planned housing development by at least several weeks and possibly not until spring.
A City Council decision on the Napa Oaks II project anticipated for Feb. 6 will not take place on that date, planning officials confirmed Monday night. The vote, which had not yet been formally announced, would have been the latest skirmish in a two-decade struggle over a development that would place 51 million-dollar-plus homes on a hill overlooking Old Sonoma Road – and which many nearby homeowners have fiercely opposed in its various forms over the years.
The publication Jan. 11 of updated maps charting the Napa area's fault lines and earthquake-vulnerable areas – drawing on information gathered following the 2014 South Napa quake – requires planning officials to reassess ground safety on the 80-acre Napa Oaks property in light of enlarged fault zones there, according to Michael Allen, an associate planner for the city.
The time needed to study the results has made a February vote impractical, he said Tuesday, adding that a reassessment may be possible sometime in the spring.
Based on the latest state maps, Davidon Homes, the Walnut Creek-based developer of Napa Oaks, plans to cut additional trenches to capture the full extent of the fault zone, and a city contractor will then review the results of that survey, said Allen.
State law requires builders working in quake-prone areas to have geological studies done to keep new homes and structures away from faults or areas where faults can rupture the surface. The practice stems from the Alquist-Priolo Earthquake Fault Zoning Act, which California lawmakers passed a year after the 1971 Sylmar earthquake killed more than 60 people and caused extensive damage in the San Fernando Valley north of Los Angeles.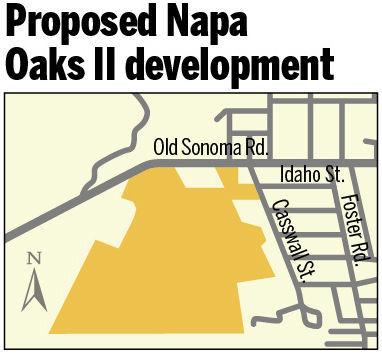 Early reviews of the revised Napa seismic charts, which show the West Napa Fault in greater detail than before, have not revealed any new ruptures on the Napa Oaks property or any immediate need to reduce the number of homes, according to Allen. An existing fault zone runs from north to south through the western portion of the site, and homes are to be kept at least 25 feet away from that corridor.
A call Tuesday morning to Steve Abbs, Davidon's vice president for land acquisition and development, was not returned.
The postponed City Council vote would mark Davidon's latest attempt to finally break ground on Napa Oaks, which has been scaled down over the years from earlier plans to build 83 houses on the heights facing existing neighborhoods on the east and Congress Valley to the west. In December, the city Planning Commission narrowly voted against endorsing the plan, two weeks after opponents packed City Hall for nearly six hours to speak out against a project they decried as a risk to fire safety, erosion control and traffic.
The roots of the conflict stretch back to 1998, when Napa passed a new general plan that effectively barred large-scale home construction at the site by zoning it as a "resource area" with a 20-acre minimum for residential lots. After council members in 2002 denied an effort to change the zoning and allow the homes to be built, Davidon sued Napa in 2005, only to lose in Napa County Superior Court two years later.