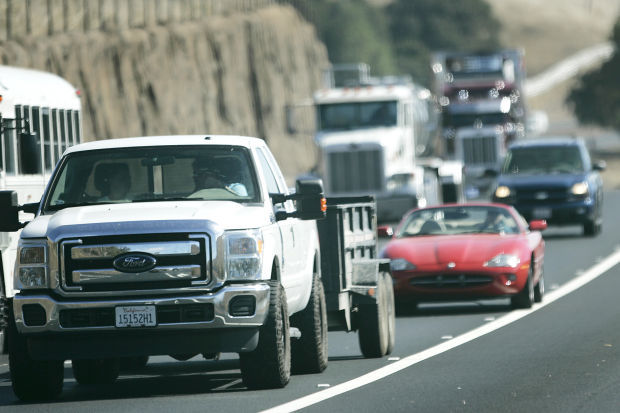 Napa County government reduced greenhouse gas emissions by 10 percent over eight years and will soon ask the businesses and residents of the unincorporated county to do some carbon-cutting of their own.
County government operations in calendar year 2006 produced 8,249 tons of greenhouse gases. In fiscal year 2015 – from July 1, 2014 through June 30, 2015 – that number fell to 7,462 tons.
This happened even though the county workforce grew from 1,289 employees to 1,522 — 18 percent — and the county added buildings.
"If all of the things stayed the same, you would expect to see greenhouse gas emissions increase at about the same rate of growth," Public Works Director Steven Lederer said. "Fortunately, all things didn't stay the same."
Lederer reported on the greenhouse gas-cutting efforts to the Board of Supervisors last week. About 30 percent of the county's greenhouse gas emissions come from energy for buildings, 23 percent from the county's fleet of 320 vehicles and 47 percent from employees commuting to work, Lederer said.
Some of the carbon cuts came because Pacific Gas & Electric provides cleaner energy. Some came because the county added solar projects. Some came because county commuters are using more fuel-efficient vehicles and fuels are cleaner.
"It does look like the things we're doing, the things that are happening at the state level, are having a beneficial impact," Lederer said.
The county is continuing to look at adding solar projects, Lederer said. In addition, the county has purchased the first two plug-in hybrids for its fleet and could add more.
Supervisor Brad Wagenknecht noted the county's gains on the employee commuter side came about because of cleaner fuels, as opposed to anything the county did.
"That would be something interesting to look at, trying to look at that commute and changing our behavior in commuting," he said.
Lederer said the county offers a stipend to employees who commute by such solo-driving alternatives as carpooling, cycling and walking. The county competes in a regional commute challenge event that includes businesses.
"We do have programs and encouragement to do that," Lederer said. "It is, frankly, very difficult to change that behavior."
In August, the county is to open its remodeled South Campus as home to its Health and Human Services Agency, which offers services ranging from medical to counseling to food benefits.
Lederer said the campus will have an internal bus stop, as opposed to buses simply stopping along the curb. That will help county employees and Health and Human Services customers have a good experience traveling there by bus, he said.
Supervisor Diane Dillon praised this effort. Having a convenient bus stop was one of her conditions for the county purchasing the former Dey Labs pharmaceutical plant in Napa Valley Commons and moving Health and Human Services there, she said.
"I was very concerned about access for folks," Dillon said. "I think in general the easier we make transit for people in terms of locating stops and so forth, the more people will use it."
Cleaner gasoline
Lederer's report comes as the county is preparing a climate action plan for the entire unincorporated county. That plan will set reduction goals for rural areas.
All of this is in response to California's position that human activities are causing global warming. Various state agencies describe a future where rising sea levels flood low-lying roads such as Highway 37, water supplies grow scarcer and farmers must adapt to changing climate.
The state wants to reduce its overall greenhouse gas emissions to 1990 levels by 2020, 40 percent below 1990 levels by 2030 and 80 percent below 1990 levels by 2050. Napa County does not have a 1990 baseline estimate for county operations.