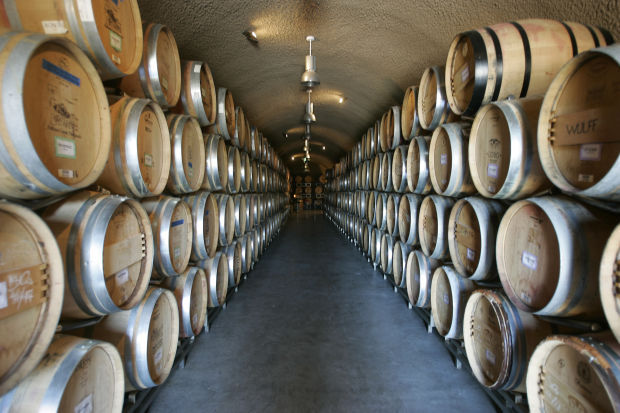 An underground winery with one too many cave portal entrances and unauthorized outdoor tasting areas is causing another Napa County winery dispute.
The Caves at Soda Canyon northeast of the city of Napa built these features which were outside of the scope of its use permit. After working with county code enforcement officials, the winery is seeking an after-the-fact permit modification.
When presented with the issue, Napa County Planning Commissioners wanted to help. But they didn't want to send the message that it's easier to build unauthorized features and seek forgiveness than to seek approval in the first place. They ended up postponing the issue until May 6.
"I appreciate the goal to get an applicant into compliance and on the road to compliance," Commissioner Anne Cottrell said Wednesday.
But she also saw another side to the issue.
"To go ahead and approve this fourth portal for tasting purposes seems to me to fail to give deference to existing county regulations," she said.
Commissioner Terry Scott was willing to approve the portal and an adjacent 700-square-foot tasting area, but not other, smaller outdoor tasting areas on the ridgetop. The portal tasting area wouldn't create noise for neighbors, he said.
He didn't favor having the winery remove the portal and 700-square-foot tasting area, as some members of the public requested.
"It's not impacting anybody, and it's essential to their business model at this present time," Scott said. "We can discuss until doomsday how it got there, but the fact is it exists."
Only four of the five commissioners were present, raising the possibility that an outright vote would lead to a 2-2 tie. All five commissioners are scheduled to be present for the May meeting.
The Caves at Soda Canyon is built into the top of a ridge separating Soda Canyon and Napa Valley. Napa County planning staff called the requested changes to the use permit to achieve code compliance "minor."
"It is very common, in fact almost a given, that winery projects will be modified to some degree during the construction process," a county report said. "Unlike many typical urban developments, like a fast-food chain restaurant where the same floor plan is used over and over again in community after community, a winery follows a unique vision …."
In this case, the builders during construction asked the county to change the cave layout to allow a ventilation opening. The county later found that builders turned the ventilation shaft into a portal with concrete apron and added the outdoor tasting areas, the report said.
"Staff is not condoning the action, but simply recognizing that field changes occur that applicants genuinely believe, right or wrong, do not rise to a level triggering regulatory agency oversight," it said.
Winery founder Ryan Waugh said that Napa County fire officials wanted another cave entrance and exit for safety reasons. He had no malicious intent to evade county rules, he said.
"I truly understand I'm asking you to approve something that is already completed, which is where the public frustration is coming from," he said.
Commissioners heard the public frustration. Soda Canyon resident Diane Shepp said the winery ignored the planning process, which is a violation of law.
"Do not reward (the winery) with forgiveness," she said.
Soda Canyon resident David Hallett said the winery's request isn't minor, as described by planning staff.
"This is a deliberate attempt to circumvent the Planning Commission and the Planning Department," Hallett said.
Napa County Farm Bureau President Norma Tofanelli said the county's apparent policy for use permit violations is to modify the permit so the use is legal. This encourages other applicants to build and then ask for forgiveness, she said.
Commissioners searched for some type of middle ground. But they weren't prepared Wednesday to sign off on a solution.