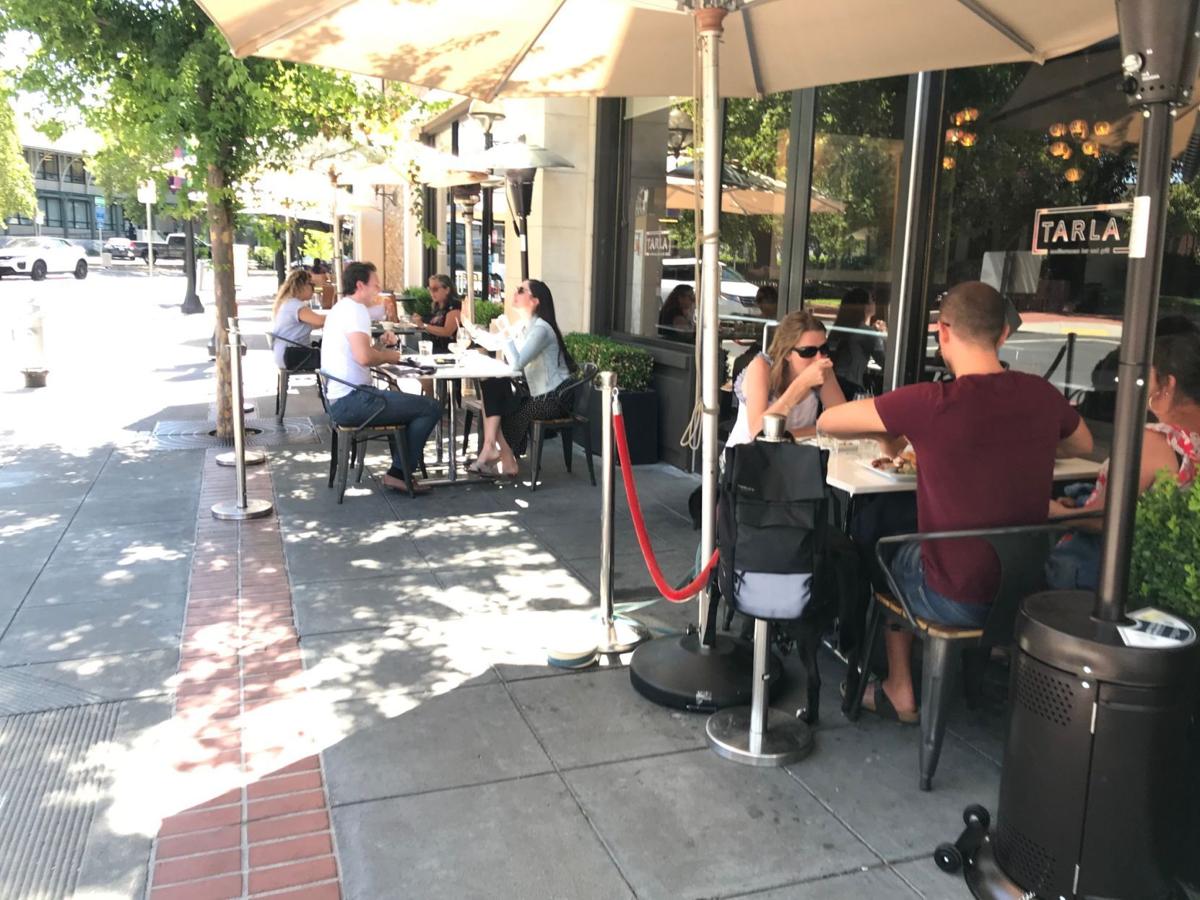 Napa County is in the orange on the state's COVID-19 rating chart and can further ease restrictions on businesses and activities.
That news came on Tuesday. The rating change means restaurants, fitness centers, worship services and movie theaters starting Wednesday Oct. 21 can allow more people inside. Wineries can serve customers inside, with restrictions. There are other restriction easements as well.
Restaurants can double indoor seating capacity to 50% or 200 people, whichever is fewer. Mustafa Kara, manager of Tarla Mediterranean Bar + Grill in downtown Napa, welcomed the news.
"It means we can accommodate more customers, especially when the cold hits," Kara said.
The restaurant next to the Andaz hotel has plenty of outdoor seating, but the wet and cold weather of winter will put a damper on that. Kara said the orange status allows Tarla to increase indoor seating from about 30 to 60 people.
If the restaurant was forced to shrink capacity in the winter, it would also employ fewer people, he said.
Orange status allows HealthQuest Fitness Center in Napa to increase indoor capacity from 10% to 25%. Owner Tony Giovannoni said the timing is good.
"I guess we're probably getting close to that 10% and we're picking up new members and we're having people return each week," he said.
Napa County under state rules closed fitness centers on July 13, though they could operate outdoors. Fitness centers reopened indoors at 10% capacity in early September.
"Every week has been a little bit busier," Giovannoni said.
The state assigns each of its 58 counties a color based on COVID-19 spread, with each color having varying restrictions on businesses and activities. Colors run from the most-restrictive purple to red to orange to the least-restrictive yellow.
In the Bay Area, San Francisco, Alameda and Santa Clara counties are also in the orange tier.
For Napa County, moving from red to orange made Tuesday a red-letter day.
"Something we've all been eagerly anticipating," county Board of Supervisors Diane Dillon said.
Supervisor Brad Wagenknecht came to Tuesday's Board of Supervisors meeting in an orange tie. He said he looked forward to having to find a yellow one.
"I think our community has really stepped up and has embraced the prevention methods," Supervisor Alfredo Pedroza said.
But the celebratory mood was tempered. County officials stressed that, if COVID-19 cases rise, the county could slip back into the red category and have tougher restrictions reimposed.
"We cannot be complacent," said Dr. Karen Relucio, county public health officer. "It's so much easier to move back to a more restrictive tier than it is to advance to less restrict tier."
If forced back into red, the county would have to stay there at least three weeks before it could return to orange, she said.
Relucio said she is worried about people mixing on Halloween. She is worried cold weather will lead to more activities indoors, where the coronavirus can spread more easily. She is worried that people will tire of taking prevention steps.
People's individual actions will determine what happens in the community. At stake are such things as how many people have jobs, she said.
"Hopefully, that pandemic fatigue will not come to Napa County," Supervisor Belia Ramos said.
Watch Now: What will happen to outdoor dining in winter?
Get local news delivered to your inbox!
Subscribe to our Daily Headlines newsletter.