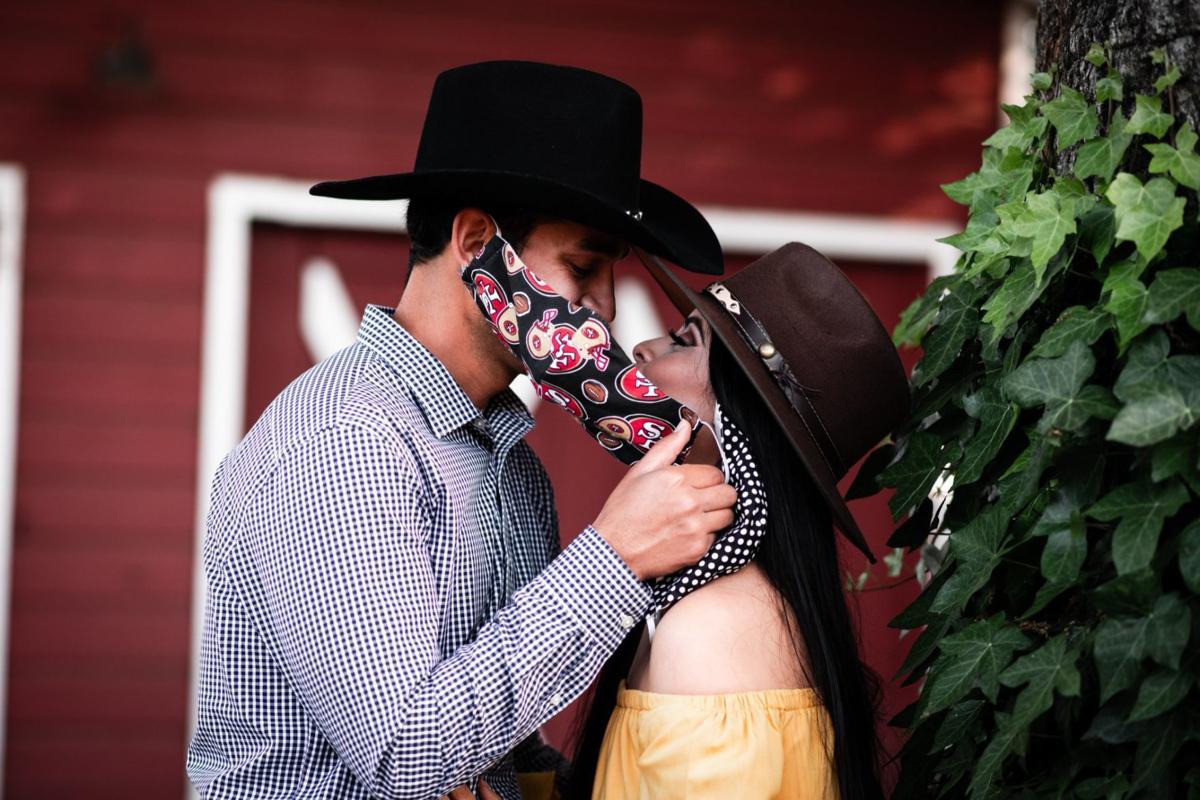 Back in March, Melina Arroyo and Orlando Alvarez's upcoming wedding celebration was just around the corner.
Invitations had been printed and mailed for the May 9 celebration. Her wedding gown and his suit were purchased. Some 300 guests were invited for "a big Mexican wedding," at St. John's Catholic Church in downtown Napa.
"We had been planning for over a year," said Melina Arroyo. "We were all ready to go."
Little did they know an uninvited guest was about to disrupt their carefully made plans: COVID-19.
As the virus spread and spring events began to be cancelled across the state and country, "I was super worried," Arroyo said. Actually, "I was freaking out."
"I was pretty bummed," said Alvarez.
After it became clear there was no chance of a May 9 wedding, the couple did something many others have had to do in recent months: pivot. First they picked a new date. Sept. 11 is now their next choice for a wedding.
However, instead of letting May 9 pass like any other day, they decided to celebrate their "would-be" wedding day with a party for two – well, three if you count their dog Brewski.
The party was "PAWsponed," they wrote, but May 9, 2020 "will forever hold a special place in our hearts. We celebrated our love in style... Corona style!"
Wearing cowboy/western-style hats and boots, the two took whimsical photos. In some pictures, they are shown putting on gloves and hand sanitizer and wearing masks. They poured Corona beer drinks. A family member stood in as a "priest."
A close friend made a cake that looks like a roll of toilet paper. "Mr. and Mrs. Alvarez" reads a sign on the cake. "May 9, 2020" is crossed out and "Sept. 11, 2020" is written below it.
"It was COVID-19 themed with a little bit of humor," and fun, said Arroyo.
"Obviously it's not what we wanted but we made the best out of it."
The couple has their fingers crossed that the Sept. 11 date will work out.
But Alvarez is afraid that date could get bumped yet again, especially if a vaccine for COVID-19 is not yet available.
"I don't want to get my hopes up," he said.
"If not, we're ready for 2021 in the fall," Arroyo said.
That church wedding ceremony will include a large party and celebration but it won't be a legal union. Arroyo and Alvarez were legally married in a civil ceremony on Sept. 6, 2019 at Alvarez's family's house, witnessed by about 20 people.
The couple said that the reason they decided to wait to have a church wedding and religious ceremony was that they wanted to take more time to save money and find the right place to live together. For now, both live with their parents.
"We're super traditional," explained Arroyo.
There's one other date the two already have in common – Arroyo and Alvarez were both born on the same day – Oct. 26 – on the same year, and in the same hospital – Queen of the Valley Medical Center. Who's older? Alvarez, by just a few hours.
For now, Arroyo said they are thankful that they're both healthy and still have their jobs. She works as a social worker for the North Bay Regional Center and he works as an assistant viticulturist.
In fact, during the shelter-in-place, they've been spending more time together and less time running around doing wedding planning.
"It's been nice," she said. "We really can't complain."
"As long as Melina is happy," he's happy, said Alvarez.
Editor's note: Because of the health implications of the COVID-19 virus, this article is being made available free to subscribers and non-subscribers alike. If you'd like to join us in supporting the mission of local journalism, please visit napavalleyregister.com/members/join/
Concerned about COVID-19?
Sign up now to get the most recent coronavirus headlines and other important local and national news sent to your email inbox daily.