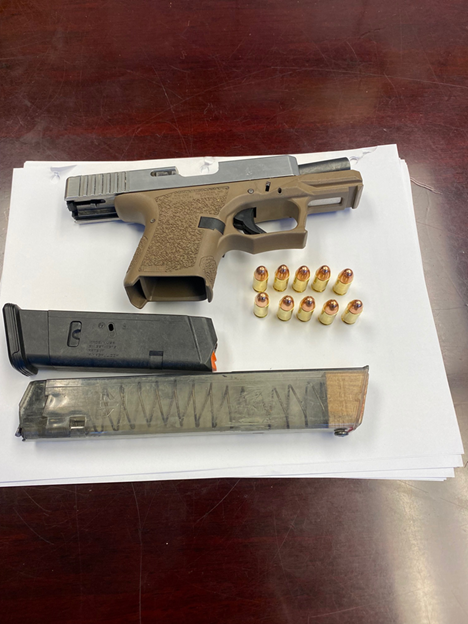 Editor's note: This item has been updated to correct where the gun was found. The student was contacted at a school campus, police say, but the weapon was not found on campus.
Napa Police reported the seizure of a "ghost" handgun from a 17-year-old boy after he posted a video online of himself firing the weapon.
Tuesday morning, an officer and social worker with Napa Police Youth Services learned that a teenage student had recently posted a social media video of himself firing a gun, Sgt. Pete Piersig said in an email. Video indicated the weapon was not fired on a shooting range, but inside a room, and officers were able to identify the shooter as a summer school student at a local campus, according to Piersig.
Support local news coverage and the people who report it by subscribing to the Napa Valley Register. Special offer: $1 for your first 3 months!
Youth Services officers and police detectives contacted the Napa teen at a school campus without incident, and the resulting search at an off-campus location turned up a loaded 9mm Glock-style handgun Piersig described as a "ghost" weapon because of the absence of a serial number.
The gun was likely assembled from purchased parts, and its barrel and slide appeared similar to Glock parts but lacked the serial numbers found on authentic Glock firearms, according to Piersig. The weapon's frame also bore a plate for a serial number to be engraved, but no number had been inscribed, he said.
Police did not disclose what school the student was attending, but said the boy was a member of an alternative education group that was meeting on a regular campus.
The boy suspected of having the handgun was not booked into a detention center due to state restrictions on interviews of juveniles by law enforcement officers, according to Piersig, who said the teen declined to say where the gun appearing in the online video had been fired. Police are investigating the teen for possession of an unregistered pistol by a minor, Piersig said.
Most-read police briefs on NapaValleyRegister.com
Here is a roundup of police and fire reports in Napa County.