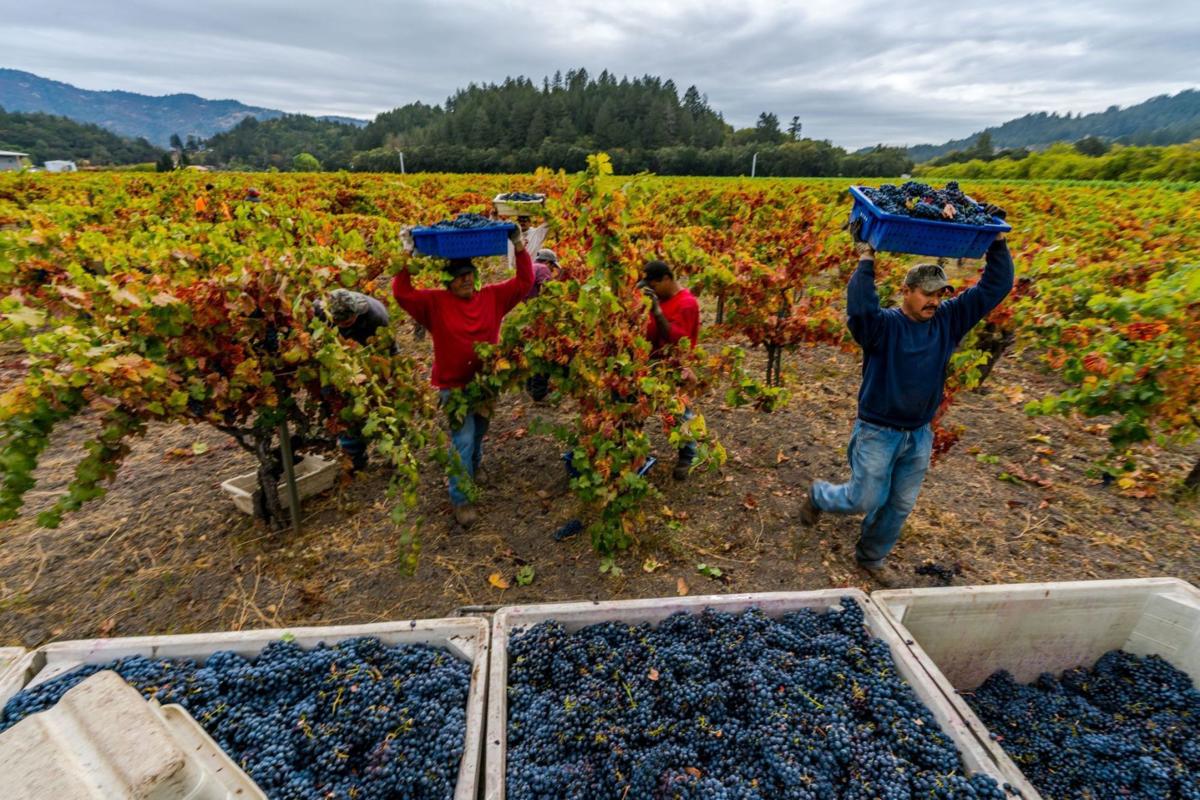 Napa's wine grapes, far and away the most valuable in California, gained in worth again last year to lead the state's average price for grapes at $5,571 per ton.
The bump in price, noted in the final 2018 California Grape Crush Report released Wednesday, meant a more than 6 percent increase in the average price for Napa grapes from 2017, and yet another notch in the relentless growth of Napa grape prices.
In comparison, the average price of wine grapes from Sonoma and Marin counties, which are reported together, was a distant second to Napa prices at $2,818 per ton.
According to the report, 184,573 tons of grapes, red and white, were crushed in Napa last year, up from 142,413.1 tons in 2017. With that, the total value of Napa's 2018 grape crush could be as high as $1.28 billion, up from $736 million in 2017.
Though usually released in February, this year's federal shutdown delayed the report until Wednesday. The California Department of Food and Agriculture and the U.S. Department of Agriculture have compiled the yearly report since 1976.
You have free articles remaining.
Last year's statewide grape crush came in at 4,506,583 tons, a more than 6 percent increase from the 4,241,945 tons crushed in 2017. The bump up in tonnage reflected increases in both red and white varietals across the state. Average prices for both red and white wine grapes also rose, as did the value of raisin and table grapes.
In terms of production, Chardonnay again led the state's varietals, coming in at nearly 16 percent of all California wine grapes crushed last year. Cabernet Sauvignon followed closely at just over 15 percent of the state's crush.
In Napa, the average price of the county's staple red grape, Cabernet Sauvignon, rose last year to more than $7,800 per ton, up from $7,449.29 per ton in 2017. According to the report, more than 89,000 tons of Cabernet Sauvignon were crushed in Napa last year, up from 66,732 in 2017. The closest runner-up in price was Sonoma and Marin Cabernet Sauvignon, at an average of just over $3,000 a ton.
As for Chardonnay, Napa and Sonoma/Marin prices were within a few hundred dollars in price per ton, while Napa's 29,874 tons of Chardonnay paled in comparison to Sonoma/Marin's more than 88,000 tons. The average price of Chardonnay in Napa rose slightly from $2,741 in 2017 to $2,841 last year.
The uptick in Napa production should come as no surprise to growers, who reported during harvest 2018 that the year's pristine growing conditions had yielded a notably larger crop than those of recent years.
A typical bud break across the valley in 2018 and an early growth period free of frost issues gave way to a spring and summer of fair weather and a harvest without late heat spikes or early rainfall. During a Napa Valley Grapegrowers panel discussion in the midst of last year's harvest, grape grower Pete Richmond called the year's vintage "seamless."
Get local news delivered to your inbox!
Subscribe to our Daily Headlines newsletter.