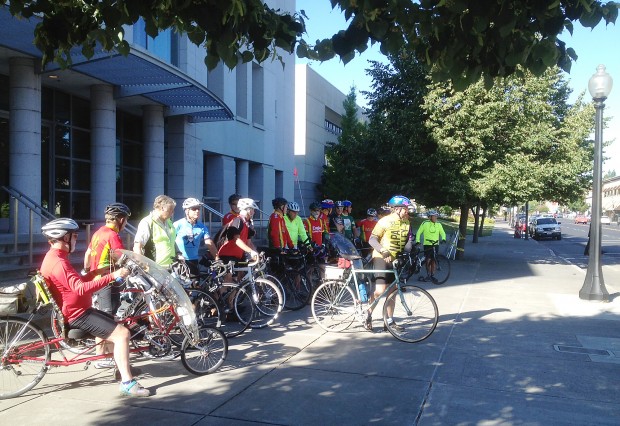 About 20 cyclists on Wednesday stopped in front the Napa County Criminal Courthouse to show support for an elderly cyclist injured in a crash by a woman accused of driving under the influence.
Jenna Rubio, a 23-year-old driver, was in court in connection with the April 16 crash that injured 76-year-old Kenneth Prosser. Authorities alleged in court that Rubio was driving under the influence of marijuana when she crashed into Prosser on Soscol Avenue near Tanen Street.
Napa County Superior Court Judge Diane Price held Rubio over for trial. The next court date is July 10.
Rubio was charged May 25 with driving under the influence with special allegation because the alleged victim is more than 70 years old, according to court documents.
Most of the cyclists who stopped by the courthouse Wednesday belong to the Eagle Cycling Club. They said they wanted to highlight the need for road safety.
"It could have been any of us," said Genji Schmeder, 69, as he stood by his bike near the courthouse's steps.
Toby Lovallo, a 60-year-old cyclist, said drivers should give cyclists more respect. "We all need to share the same roads," he said.
Bill Hillhouse of the Eagles said he came "to support Mr. Prosser and to encourage the courts to take seriously folks who drive while impaired or distracted whether it be drugs, alcohol, cellphone use, eating, GPS use and even when sleepy. It's of extreme concern to bicyclists and should be for all road users."
Hillhouse stressed that cyclists, like drivers, have to respect the vehicular code. "It's a two-way street," he said.
Before the court hearing, the injured cyclist's son, Ken Prosser, stopped by to greet the cyclists. His father, who is now 77, suffered a fractured neck, wrist and shoulder, he said.
The elder Prosser attended Wednesday's proceedings walking with a cane and wearing a neck brace. His father is improving, his son said, but is no longer able to ride his bike.
"He just liked to cruise around," the younger Prosser said.
Get local news delivered to your inbox!
Subscribe to our Daily Headlines newsletter.