Tribute
Decorated war veteran, fatally injured in Afghanistan, receives hero's welcome in Napa
A large solemn crowd gathered Thursday morning outside Tulocay Funeral Home to greet a motorcade carrying the body of a decorated military veteran who grew up in American Canyon.
The hundreds of people who turned out, standing on roadsides and holding American flags of all sizes, were there to pay their respects to Cory Miele, 31, who died two weeks ago in Afghanistan.
Miele was no longer officially a soldier, but he was still using the skills he learned as a soldier in Iraq.
Family members and friends called him "a real American hero" who saved lives, protected important people, and genuinely cared for those under his protection.
He was a husband, a son and a brother, as well as a friend to many. He made people feel safe when they were with him, and who could make people laugh a lot.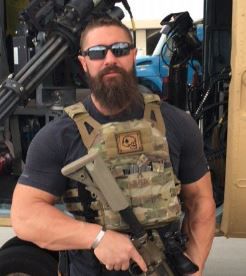 On Thursday morning, a commercial plane landed at Sacramento International Airport carrying Miele's casket. Family members were present while his remains were received with honors.
Sacramento Sheriff's deputies as well as police officers from American Canyon and Alameda escorted the motorcade to Napa, where officers from Napa Police Department joined in. Napa firefighters formed a receiving line outside Tulocay Funeral Home for the hearse carrying Miele's casket.
Once a sergeant in the U.S. Army, Miele fought in the Iraq war. Later, he worked as a civilian security specialist in Iraq and Afghanistan.
Miele died on June 29 in Germany at Landstuhl Regional Medical Center following an "accident" that occurred while working in Afghanistan.
His family declined to talk about what happened. "We're not allowed to talk about it," said his father, Tom Miele. "It's a security issue and who he worked for."
Miele had worked for several firms while providing security and performing other duties in Afghanistan.
"He protected very important people," his father said. "People relied on him. He physically and actually saved many lives."
Miele also worked with the local population in Afghanistan to help and protect them.
"His heart went out to the people of Afghanistan," said his father. "He saved them as well," and he was "very upset when they would get killed."
Afghans invited him into their homes for tea, and praised his work, according to Tom Miele.
"They said, 'Others before you were sheep. You have the heart of a lion,'" his father recalled.
Those who knew Miele in Napa and American Canyon said he was a great guy to have in their lives.
"He was a prankster, [with] a good heart," said Nikki Gonsalves, who knew Miele all through high school. "He had the ability to make anybody laugh."
Another friend and Vintage classmate, David Ayvazyan, said, "He was one of the funniest guys you could ever encounter."
Ayvazyan and Miele worked together to pull off a huge prank during their senior year, filling Senior Row in the Vintage High quad with 20,000 gallons of water and 1,000 fish.
Miele was also very patriotic, according to his friend, and he wanted badly to serve his country after graduation, said Ayvazyan, who himself enlisted in the U.S. Air Force, serving three tours in Iraq.
The terror attacks on Sept. 11, 2001 were the "driver" for Miele to join the Army, Ayvazyan said. That and being part of a military family.
His father served 33 years in the U.S. Coast Guard. His brother, Cameron, spent eight years with the Coast Guard, including deployments overseas.
Before they parted ways for the military, Ayvazyan, Miele and another friend took a trip to Mexico. Ayvazyan said he was nervous at first because he had never left the country before that.
But having Miele around made him feel safe. "I felt good that he was close by," he said. "If you want to have someone by your side, it's Cory. That's why we weren't afraid."
Miele spent five years in the Army. He served two tours in Iraq totaling about three years, according to his father. "He saw an awful lot of action."
His combat unit patrolled the Baghdad suburb of Ghazaliya. Their outpost, officially named Casino, was dubbed "The Alamo" by the soldiers. They endured numerous improvised explosive devices (IEDs) as well as firefights with insurgents, his father wrote in Miele's obituary.
He was decorated numerous times during his service. Miele earned the Iraq Campaign Medal with three stars, two Army Commendation Medals, the National Defense Service Medal and numerous other medals and individual awards including The Order of the Golden Spur, according to his father.
The medals should have included a Purple Heart, but he turned it down. "He said, 'Save it for the guys who really need it,'" Tom Miele said.
Miele left the Army in 2010 and returned to civilian life. But his days in war zones were not over.
Miele established himself as a security specialist — calling his corporation Patriot Elite — and returned to Iraq. He moved onto Afghanistan, where he worked for six years until his death.
"He was always drawn to that scene," said Ayvazyan, who last saw his friend three years ago. "He missed his brothers in arms."
His family didn't see much of him during his last years. His brother Dylan said Miele was gone 75 percent of the time working in Afghanistan.
"He loved what he was doing," said his father, who still lives in American Canyon. "He just loved it."
Miele did have time to fall in love. He met his wife, Leanna, about 10 years ago. They were married last October and moved to Florida.
News of Miele's death spread across social media among classmates from American Canyon and Napa who were with him at Vintage High School (Class of '04).
Katie Aaron, who taught Miele at Vintage, said the news of his death was "very sad." She encouraged friends on Facebook to attend Thursday's ceremonial greeting at Tulocay. "If you are available, let's help bring our hero home," she wrote.
American Canyon City Councilmember Mariam Aboudamous, who knew Miele from their middle school days, said he was "always one of the 'cool kids' but stayed true to himself."
He was "a very kind hearted soul and a great loss to our community," said Aboudamous.
Among the hundreds who showed up Thursday at Tulocay were those who never met Miele.
Benjamin Bisconer, a longtime Napa resident, said he came to pay his respects after reading about Miele in the Napa Valley Register. "It touched me," he said.
"I think a lot about the soldiers fighting out there," said Bisconer. "We don't see it every day. We're very insulated, and they're out there facing all that danger."
"It helps me remember what these guys are doing for us," he added.