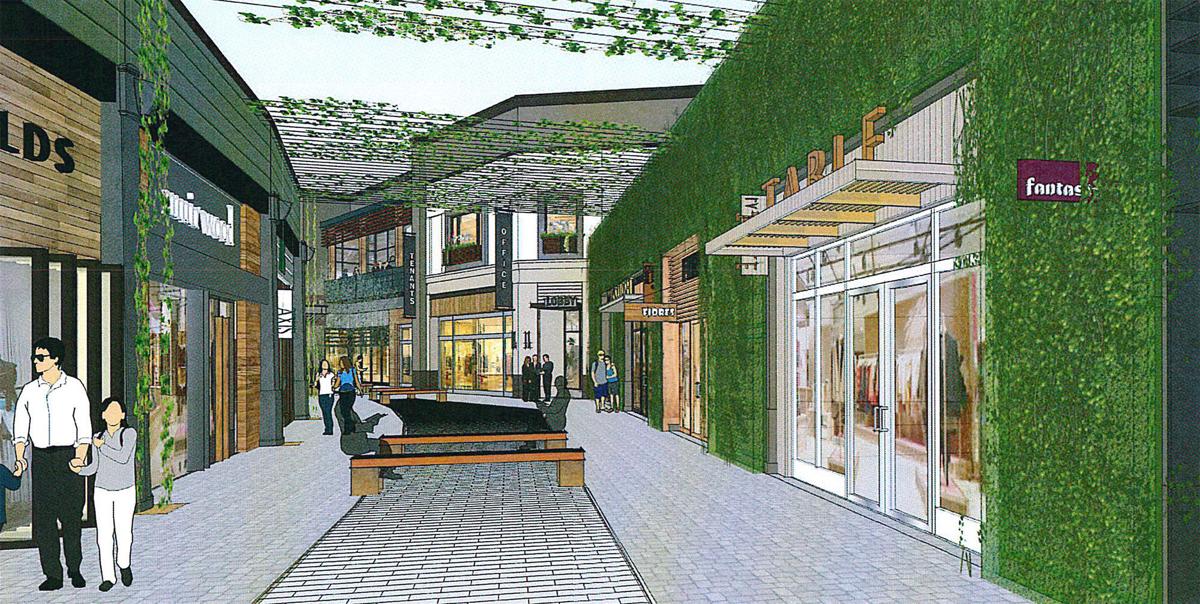 As the architecture of a revived Napa Town Center starts to come into focus, a design handbook for its future stores is starting to win the support of city land-use authorities.
The look of future shops, eateries and other businesses in the downtown First Street Napa complex will draw from a set of design standards and outer finishes prepared by its developer, Zapolski Real Estate.
A preview given last week to the city Planning Commission produced generally good reviews, as well as hope from project planners for a smooth build-out that would avoid bogging the project down in studies of individual storefronts.
Rick Tooker, Napa's community development director, declared the handbook a good fit with design standards already on the city's books – and a spur to designers' creativity.
"Everything I've seen here is outstanding; it takes a layer of our design guidelines and takes it to a layer that is so much better," he told representatives of Napa developer Todd Zapolski. "Not only that, it provides flexibility."
In October, Zapolski Real Estate reported the signing of more than a half-dozen store leases and advanced progress on about 20 others, with the first public tenant announcements coming as soon as this winter. The first shops at the $100 million-plus redevelopment are expected to open in late spring of 2017 – a year behind the original schedule – at about the same time as the adjacent Archer hotel on First Street.
First released in late September, the guidebook for First Street Napa suggests which design elements should adorn different areas of the center, which will include more than 40 shops and restaurants. The developer's handbook also features a palette of recommended exterior materials – including stone, kiln-dried woods, metals and porcelain tile – and prohibits other items such as simulated wood, brick or stone finishes, as well as plastic plants and laminates.
In general, the guidelines are meant to create more window space on each storefront to create a more open feel, while adding trees and trellises to lessen heat radiation from walls during the summer, according to Yann Taylor, a principal for San Francisco-based Field Paoli Architects. The variety of outdoor treatments available to businesses is meant to create a diversity of designs similar to that found in the rest of downtown, he told planners.
"We believe we can use the document to tell the tenants, 'Well, this is what we think is appropriate for Napa, and this is going to help you figure out how you will relate to the Napa customer.'" Taylor said.
Guidelines for a store vary depending on its location. Shops along inner walkways farther from the street are to have squared or arched window openings, while businesses at the corners of corridors are encouraged to use their full facade height for adornment, subject to city design review. Tenants directly behind the First Street façade of the historic Merrill's drugstore – the only surviving element to be folded into the Archer hotel – must keep the outer decoration as is.
The design recipes offered for First Street Napa storefronts struck Commissioner Paul Kelley as a sharp improvement from the original Town Center's late-1980s look, which he derided for a façade where "you could poke your finger into the very thin stucco finish." In a retail market where online stores continually increase market share, he added, creating the most premium atmosphere is essential to woo shoppers back.
"This (concept) tries to make it more like a European street; it encourages the shopper to spend more time in this space," said Kelley. "From what I've seen so far, I'm really excited by this project."
The 275,000-square-foot First Street Napa is expected to be a nearly clean sweep of the tenants that once occupied the Town Center, whose last remaining retailer, Napa Valley Jewelers, will close in January but may reopen elsewhere in the shopping center.
Zapolski, the developer, last month declared that "we're not doing Subways or Chinese restaurants" and acknowledged the more cautious post-recession decision making by the higher-quality retail chains he hopes to recruit.