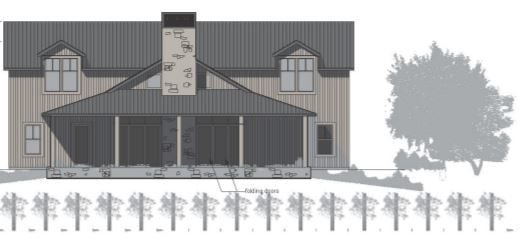 Darms Lane winery won Napa County Planning Commission approval, but only after a discussion about balancing winery visitation requests with traffic concerns of residents who live along the narrow, dead-end road.
That's become an increasingly common conversation in recent years when proposed wineries are not on county thoroughfares designed to handle more vehicles. Wine industry officials say that visitation is an important element in selling wine.
"I agree that a winery makes sense on this parcel," Commissioner Anne Cottrell said at Wednesday's meeting. "It's a large parcel. It is well placed on the parcel."
But she expressed concerned about added traffic on a rural road that residents consider to be quiet, where people walk and children play on scooters. The road has a couple dozen homes over about a half-mile.
Commissioners required the winery to create a transportation management plan prior to opening that could include such things as having the winery warn its by-appointment-only guests to be careful when driving on Darms Lane. The winery is to use a shuttle for its largest marketing events.
"What we want to see is a winery being able to work with the neighbors to figure out how people are going to be safe and work together on this road," Cottrell said.
Commission chairperson Joelle Gallagher provided the opposition in the 4-1 vote.
"I'm still a little hung up on the number of daily visitors," she said. "It's still high for the daily visits."
Larry Bump and his daughter, Tricia Bump Davis, want to build a 30,000-gallon-a-year winery at 1150 Darms Lane, a road between the city of Napa and Yountville that extends westward from Solano Avenue. They came to the meeting asking to have tasting room guests and marketing event guests totaling 9,214 annually, then reduced this to an amount calculated by county staff at about 7,000 guests annually.
The winery would be built at the base of a hill on a 47-acre property. It would consist of a 5,583-square-foot, two-story production building and 3,303-square-foot, two-story hospitality/administration building with a commercial kitchen. An 11,743-square-foot winery cave would be created.
Nine trees, eight of them oaks, would be removed and 26 trees planted to help screen the winery. Part of the development would be on slopes of 15 percent or greater, which triggered the county's viewshed rules since the site is visible from Highway 29.
"As a reminder, this is a large parcel in the heart of the ag preserve," said consultant Donna Oldford on behalf of the applicants. "This is what we do here."
Bump and Davis explained how the family got involved with the property in 1991 and gained full ownership in 2003 to grow wine grapes in a vineyard of about 13 acres. They talked about thoughtful growth and asked to take the next step of having a winery.
"We feel this is the highest and best use of our pretty large parcel that is tucked in the back," Davis said.
The proposal received a mixed reaction among neighbors who sent in letters both for and against Darms Lane winery as envisioned. Commissioners heard more of the same during public comments.
Kathrine Borsetto said traffic generated by the winery would jeopardize safety for walkers and bikers on a narrow road with no sidewalks.
"When I moved to the lane, I accepted that agricultural activities were part of life there," she wrote. "But how in the world are wine tasting and events with 125 people and running commercial kitchens – aka a restaurant – agriculture?"
Oldford said the winery won't be a restaurant.
"The reality is if you so much as serve cheese and crackers and you don't have a commercial kitchen, you're out of compliance with the state regulations," Oldford said.
Thomas and Claudia Johnson have a direct view of the winery site, yet have no objection to the project.
"We have never known the Bump family to be anything but conscientious stewards of the land," they wrote. "We believe the Bump family is concerned with maintaining the rural agricultural character of Darms Lane and see the winery design and use consistent with this."
Morgan Morgan lives on nearby West Oak Knoll Avenue.
"I realize many of the neighbors of Darms Lane winery like and respect the winery owners and want to support them," she wrote. "Bravo – but let's reduce the size to fit the environment."
Charlotte Williams, president of Napa Vision 2050, asked that the winery hold more talks with neighbors to come up with a project that everyone can live with.
"Individuals in the industry continue to run roughshod over their neighbors," she wrote. "Similar to a juggernaut bent on destruction for the sake of profit, it disrupts whole neighborhoods so that a dream can be made real. A dream for some becomes a nightmare for many others."
Get local news delivered to your inbox!
Subscribe to our Daily Headlines newsletter.