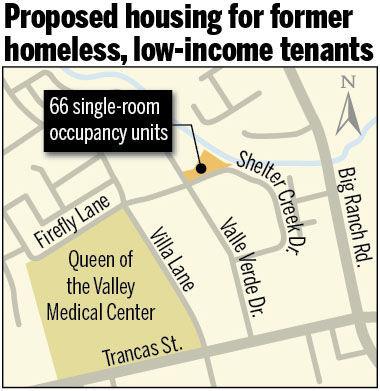 Napa will help to fund a second attempt at crafting housing from a dormant retirement home – even as some area homeowners are reviving the pushback that derailed the previous effort.
The City Council last week agreed to reserve a $2.2 million loan out of the $6.4 million in its affordable housing fund toward Heritage House. The development would provide single-room-occupancy quarters for 66 people – half of them emerging from homelessness and the rest low-income tenants. The development would occupy the defunct Sunrise Assisted Living at 3700 Valle Verde Drive, where neighborhood residents sued to block a 57-unit apartment complex before its developer pulled out in 2016.
Although the 4-0 council (Mayor Jill Techel was absent) vote dealt only with Heritage House's financing and not its design or staffing – an approval vote on the project is expected this fall – the debate revived tensions between north Napa residents warning of increased violence and misbehavior from the project's would-be tenants and advocates urging the city to quickly house its most vulnerable populations as a first step toward stabilizing their lives.
While acknowledging "my heart breaks" for Napans complaining about the project's potential effect on its surroundings, Councilwoman Doris Gentry called such housing an improvement on having the same homeless people encamped by nearby Salvador Creek, with a neglected building going unused in their midst.
"What we have today is a building that is decaying, and we possibly have more than 66 of those same people on the creek with absolutely no case management that are a bigger negative impact to your community than people that are receiving services," said Gentry, a former foster child who has, in turn, hosted about 200 foster children of her own. "… This would provide an opportunity for them to have case management, to have more assistance and be able to get into a place (of their own). I personally would much rather live beside an apartment with people getting service, versus a building with rats and broken windows, and people living by the creek under blue tarps."
Owned by the Gasser Foundation, the former Sunrise property would be co-developed by Burbank Housing Development Corp. and Abode Services, which contracts with Napa County to run homeless support services. Thirty-three of the units would be for other tenants with very low incomes, but the rest would be marked as permanent supportive housing – with their residents offered social services from Abode to help prevent them from ending up back on streets or encampments, according to city Housing Manager Lark Ferrell.
But without a clear plan for security and access rules – and stronger assurances that homeless people would receive mental-health and other services they require – area residents like Bill McGuire refused to lend their support.
You have free articles remaining.
"I have seen way too many chronically homeless people on the streets of San Francisco and Oakland; it scares me to think they may be in my backyard," he told the council. "I understand the needs of homeless people to find housing. But by definition, the chronically homeless are those who have been out on the streets for over a year. Whether these people can be socialized again and back into an environment where they're not confrontational with their neighbors is very concerning to me."
Such complaints smacked of alarmism to Jenna Bolyarde, housing specialist for Abode Services – and a formerly homeless woman who credited supportive housing with lifting her up from heroin addiction toward home ownership and a new career of helping the disadvantaged.
"Housing made all the difference for me – I got a safe place to go, and from there I got my first job," she recalled. "… If somebody hadn't taken a chance on me, I don't know that I'd be here standing in front of you."
"In my job, I work with the chronically homeless," Bolyarde added, disputing the safety risk of supportive housing. "There IS permanent supportive housing in Napa; these units do exist, and you don't hear about them harassing their neighbors. We haven't had any violent acts; we've had great success. It's not just sticking someone into a unit and telling them 'Good luck.' It's intense case management; we hook them up with services."
The city's promise of funds buttresses Heritage House builders' quest for another $7 million, which Napa County is seeking from the state's No Place Like Home program for supportive housing. Applications for the state funds are due by Jan. 31.
Since the closure of the Sunrise senior home, the Valle Verde property has become a battleground over efforts to convert it to affordable housing.
In 2012, the city approved plans by Bridge Housing Corp. of San Francisco to create 57 affordable rental apartments in partnership with Napa Valley Community Housing. However, a neighborhood coalition sued the city in Napa County Superior Court, arguing the project would threaten salmon and steelhead in Salvador Creek while worsening traffic congestion and littering.
A judge struck down Napa's approval as well as a revised plan, requiring a full environmental impact report before breaking ground. Bridge Housing canceled its apartment plan and eventually sold the land in November 2016 to the Gasser Foundation for more than $5 million.