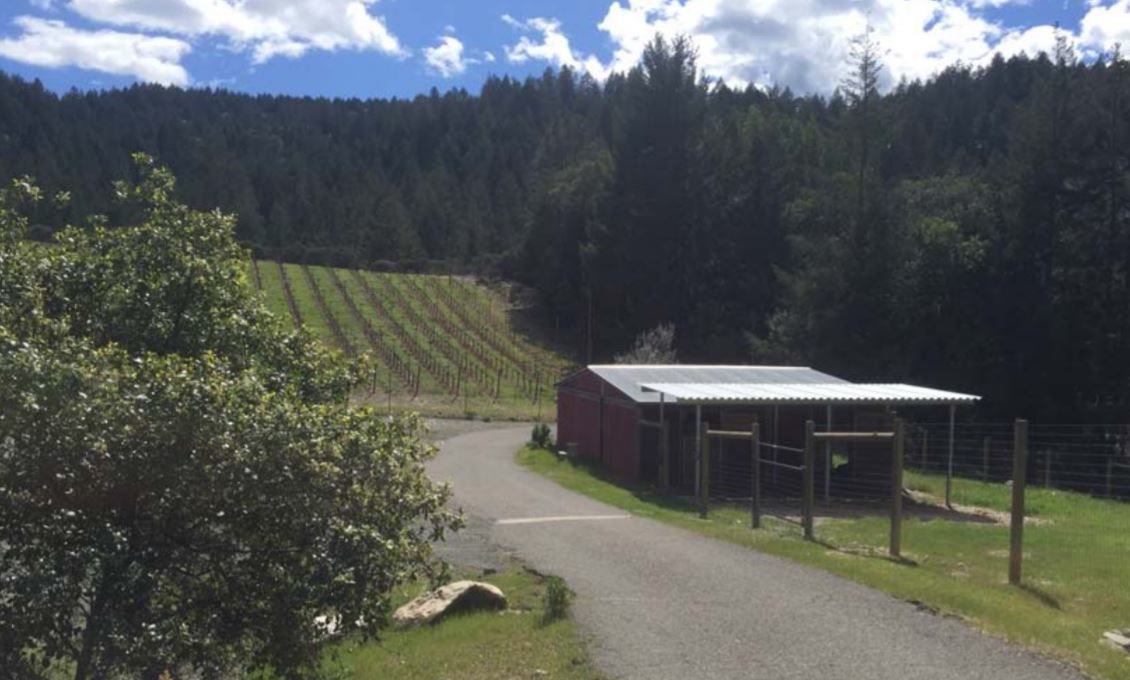 Hard Six Cellars winery can be built amid the forests and volcanic soils of Diamond Mountain southwest of Calistoga, despite concerns among opponents about the remote location.
The Napa County Planning Commission last week approved the 20,000-gallon-a-year winery by a 4-1 vote. Wayne and Kara Fingerman live at the 53-acre site with a 4-acre vineyard and want to take their wine-making endeavors to another level there.
"We believe we can make a better product at our own facility, with that oversight," Wayne Fingerman said.
The winery is to be located at 1755 South Fork Diamond Mountain Road more than a two-mile drive from Highway 29. Opponents pointed out the road is narrow and raised such concerns as how winery visitors would evacuate in case of wildfire.
"We can't continue to put people up in these canyons with only one way out," Angwin resident Kellie Anderson said.
Diamond Mountain resident George Caloyannidis said grapes will have to be imported to a remote site, given the 4-acre vineyard is too small for the proposed winery production. He noted the project requires various county exemptions for the driveway.
"So the question is, what does it take to deny a winery up in the hills?" he asked.
Commission chairperson Joelle Gallagher said she's driven up the road and found it narrow and one lane in places. But she and other commissioners noted the Board of Supervisors has yet to set policies for proposed remote wineries.
"I feel like we don't really have the policy behind us right now to really deny this," Gallagher said. "It is in an ag zone. I'm not entirely comfortable with it, but I don't feel like I have a lot of policy backing at this point."
Commissioner Jeri Hansen also alluded to the dynamic that has the elected county Board of Supervisors making land-use rules and the Board-appointed Planning Commission carrying these rules out.
"We shouldn't get into the habit of creating broader policy on a project-by-project basis," Hansen said.
Commissioner Dave Whitmer said he didn't see a proposed 20,000-gallon-a-year winery as being a big request.
"I agree this site is remote, but that is the character of the Napa Valley and the roads we have," Whitmer said.
Commissioner Andrew Mazotti said while the road access isn't ideal, it seems adequate. He had a different concern - that wine-and-food pairings at the winery don't end up being restaurant-like meals.
"I would hope the pairings you're envisioning are not substantial and would not take away from the cities," he said. "Because I do believe the primary food activity should be taking place in cities to promote thriving downtowns."
Commissioner Anne Cottrell cast the lone "no" vote.
"I'm just really concerned about the steepness and narrowness of that road," Cottrell said.
Consultant Donna Oldford spoke on behalf of the applicants. She said the Fingermans want to use grapes from other Diamond Mountain growers, which would keep grape trucks from making longer trips.
"There's a demonstrated need for fruit on Diamond Mountain Road that could stay up on the mountain rather than being trucked all the way down Highway 29," Oldford said.
She also said that Napa County considers agriculture the highest and best use of agriculturally zoned lands.
"We've always looked for a happy balance between agriculture and residential uses and tourism," Oldford said. "It's always been a delicate balance. I see us tipping more and more into lifestyle instead of livelihood."
Hard Six Cellars winery project consists of building a 3,969-square-foot, two-story winery, 7,135-square-foot cave, 5,486-square-foot uncovered work area, 1,185-square foot outdoor hospitality area and 168-square-foot pump house.
The winery will be able to host a maximum of 16 tasting visitors a day and 80 a week. It can hold two annual marketing events with up to 75 guests each and one annual event with up to 125 guests. Shuttles are to be used for the marketing events. Food is to be catered.
Get local news delivered to your inbox!
Subscribe to our Daily Headlines newsletter.