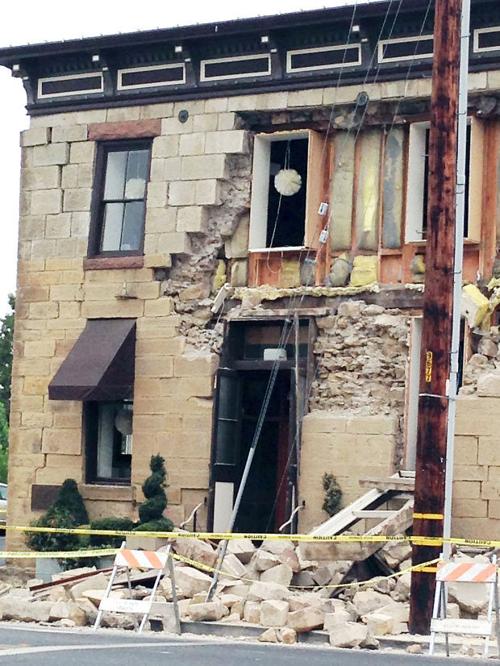 Downtown Napa was littered with broken glass and pockets of fallen masonry as the sun rose Sunday morning, with businesses challenged to clean up and secure their damaged inventory — all without electricity.
As many as half of all businesses along First and Second streets in the downtown core had lost at least one window, some more. Others sustained heavy losses in inventory, from wine to antiques, olive oil and clothing.
One of the hardest-hit buildings was the historic three-story commercial building, Alexandria Square, at Second and Brown streets, home to Carpe Diem wine bar.
Falling bricks and masonry had completely exposed a third-story corner office and destroyed several black awnings on the ground floor. A corner roof piece remained hanging from an angle, as if it would topple at any moment.
McCaulou's department store was flooded by burst ceiling sprinkler pipes. Both the second and first floors sustained significant water damage, according to manager Ken Stoddard. Several ground floor display windows were shattered. The carpet, display cabinets and clothing for sale was soaked.
Pushing a broom to sweep murky colored water out of her store, Sandina Bailo of Sala Salon said she was shocked to arrive at her business early Sunday morning and find the space flooded from broken sprinkler pipes. "Seeing the water gushing out the door was not what I expected," she said grimly.
With all the water, drywall, ceiling, floor and equipment damage, "I'm down for months," she estimated. Bailo believed her damages to run in the hundreds of thousands of dollars.
"I lost 75 percent of my inventory," said Jennifer Smith, a vendor at Antiques on Second. "All the cases were knocked over," causing hundreds if not thousands of pieces of glassware, porcelain and china to crash to the floor, she said.
Owner Molly Silcox estimated an 80 percent loss to the antique collective. "It's annihilated," she said. "If it was breakable, it's gone. Nothing survived."
By midmorning Silcox and her vendors had already filled 10 large garbage toters with broken merchandise, she said. "These are treasures," she said, gesturing to the smashed pieces in the trash. "And they're gone."
As of Sunday afternoon, the Andaz Napa was closed, said the front office manager Joe Snowden. He wasn't sure when the hotel would reopen. Guests were sent to other area hotels, said Snowden.
A reservation assistant said that the Westin Napa on McKinstry Street was closed and that guests were being sent to a Sheraton hotel in Petaluma.
Farther away from downtown, the Meritage Resort and Spa also remained open, said a news release. "Our engineering team has been doing walkthroughs of the property to access any damage and make repairs as needed," said a news release.
Mimi Glavin, owner of the Playful Garden, said she was happy to find that her store had only one small break in one window.
"I'm so glad this didn't happen during Blues, Brews & BBQ," a downtown festival that was held Saturday, said Glavin. "It would have been very frightening if people had been in the store."
After months of construction and other challenges the city center and its merchants have endured, "it's tough," she said, her eyes filling with tears. "I'm so sad for downtown Napa."
Smashed liquor and wine bottles filled the aisles a foot deep at Val's Liquors on Third Street. "It's horrible," said Jesus Villa, manager. "We were flooded with wine."
Next door, Alexis Handelman of Alexis Baking Co. said that two of her bakers were working at the café during the quake. A light panel fell on one baker, injuring him slightly, but "comparatively, we were very lucky," she said.
Other damage included a broken window, and a lot of glasses, dishes, cups and even a few cakes. Hours after the quake, Handelman had set out a table on the sidewalk serving free coffee. "People are in a daze," she said. "When the going gets tough, that's what you do."
Ed Hayman of Pleasures Unlimited said he found "everything on the floor," and a shattered front window at his shop. Several hours into his cleanup, the window was boarded up, his shelves were again neatly stocked and he and an employee swept the floors. He pointed out a few cosmetic cracks in the ceiling but "other than that, we're in good shape."
The shopkeeper estimated his damages at about $3,000 to $4,000. "But that's minimal compared to some," other downtown merchants, he said. The business owner does not have earthquake insurance, said Hayman. After this, "maybe I might have to get it."
Patricia Trimble of the Roost Napa, a home decor boutique, also lost a front window, plus "everything I own that is glass, the majority broke," she said. Trimble said the damage to her merchandise was "tremendous," and likely totaled $50,000 or more. She does not have earthquake insurance.
This isn't Trimble's first brush with disaster. After a July 17 fire at a neighboring nail salon and now an earthquake, "all I'm waiting on is locusts," she said with a short laugh.
In the midst of the cleanup, "Adobe lumber came driving by and gave everybody lumber" to cover broken windows, she said. "That's the thing I love about Napa. We're all neighbors."
Taryn McConnell watched from the back of a pickup truck as two men installed donated plywood over broken windows at her daughter's salon, Vanity for Guys and Dolls. "The whole place is destroyed," including the mirrors at styling stations.
"There is so much glass on the floor," she said. Arriving at the salon to see the aftermath of the disaster, "it was just awful," she said. "All our hard work."
But McConnell had praise for how Napans had rallied for those hit hardest. "I'm impressed," she said. "The community is really coming together."
Talking with her was Nancy Zaslove of Eiko's restaurant. "We lost everything," said Zaslove. "All our booze. All our glassware." Water from McCaulou's also inundated her restaurant. However, "All our employees are accounted for and we're OK."
Renee Fannin of the Napa Valley Toy Co. was able to pick up fallen stock without suffering water damage from the adjacent McCaulou's. "We're lucky," she said. Her house is a mess, said Fannin, but "we're OK."
Randy Schwartz, co-owner of Yarns on First, emptied the front section of his store onto the First Street sidewalk to make his cleanup easier. He lost a window and the shop was a mess, but "the good news is, it's yarn. It could be worse," he said.
Many downtown historic buildings sustained damage from moderate to severe. A pile of rubble from the top of the Goodman Library was fenced off Sunday morning. Cracks inched down the front of the historic Sushi Mambo building. Windows and corner brickwork had shattered at the downtown post office, which was marked with yellow caution tape.
The floor inside Lucero Olive Oil, located near the corner of Main and First, was coated by a sticky mess of olive oil and balsamic vinegar.
Downtown property owner George Altamura walked down First Street with his wife, Jackie. He wanted to see for himself the damage to downtown, he said.
"What a shame," he said, looking at the damage to the Sushi Mambo buildings. "Luckily nobody got killed," he said.
At one of his buildings, home to Naked Wines, broken wine bottles and wine carpeted the floor. Altamura said that he was told about half of the ceiling by the stage at his Uptown Theatre had fallen.
Napa Center developer Todd Zapolski said that his initial inspection is that McCaulou's had the most damage of the mall's merchants. In addition, "we have some damage on Sushi Mambo building," said Zapolski.
The Gordon building across from Sushi Mambo is "a bit of a tank (and) it held up pretty well. The empty Merrill's had some tiles fall off and a few tiles need to be replaced. It looked like it was in pretty good shape," he said.
According to Zapolski, Cult Following wine tasting bar lost inventory and Napa Center tenant GNC had all their stuff come off the shelves, he said. Boho Lifestyle lost all their windows and the Ceja Vineyards tasting room lost some wine "but not much," he said.
"In the next couple days we will work with current tenants to make sure we can help them," he said.
It's too bad, said Zapolski. "Just as downtown is finally coming together, this happens. But we'll get through it," he said.
The parking lot at Sunshine Foods in downtown St. Helena was empty on Sunday as the store was without power late into the afternoon. When power was restored, the store was opened at about 3:45 p.m.
One of the store's owners, Mark Smith, said there was no structural damage; however they lost all deli items, all ice cream, and most of their meat.
Stoplights along St. Helena's Main Street were also without power for most of the day but traffic flowed smoothly until power was restored. Chevron gas station on Main and Adams remained closed as of 4:30 p.m.
Get local news delivered to your inbox!
Subscribe to our Daily Headlines newsletter.