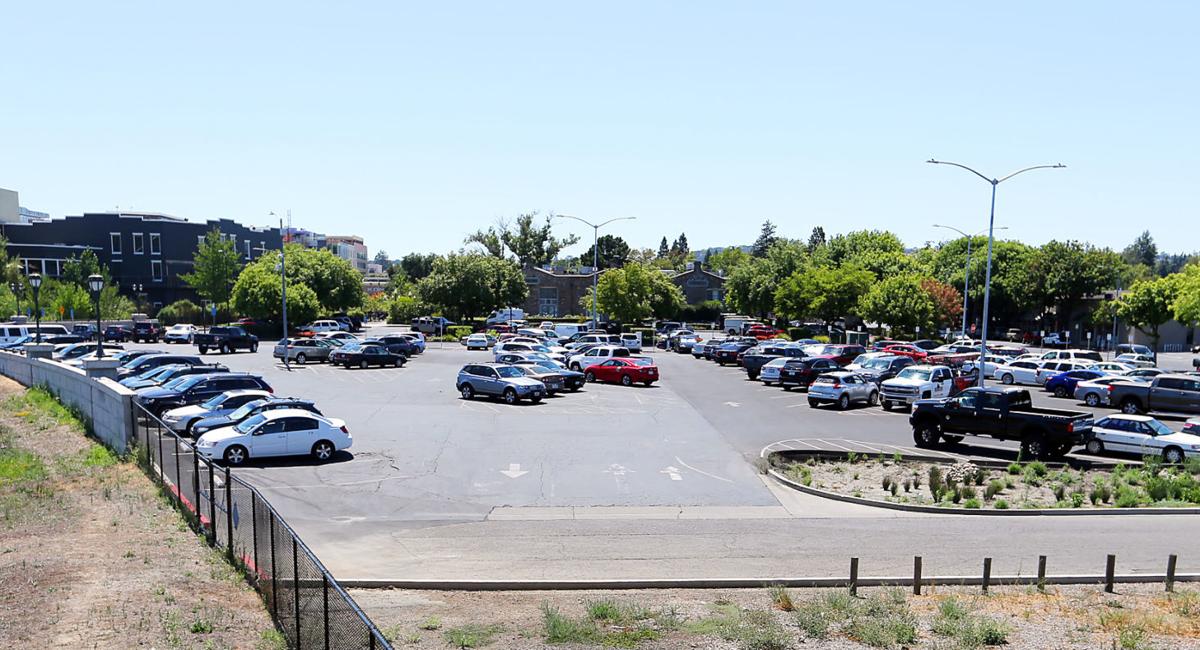 Even as demand for parking has increased in the heart of Napa in the last four years, the number of citations for exceeding time limits has fallen off by more than half.
A consultant's survey published ahead of Tuesday's City Council meeting details the effect of growing retail and hotel business downtown on the parking supply. Occupancy rose between 2014 and this year at five city-owned parking areas, and at least 85 percent of the slots at nine facilities were filled on two Thursday afternoons during a June survey, according to the San Diego firm Dixon Resources Unlimited.
Meanwhile, Napa parking citations in the 2017-18 fiscal year that ended in June totaled 5,485, off 58 percent from the 2013-14 total of 8,684. Furthermore, only 27 percent of tickets since 2014 were issued outside the Tuesday-to-Thursday midweek stretch, despite high vehicle counts on evenings and weekends – a possible result of city staffing that runs to only one parking enforcement officer on Mondays and Fridays and none on Saturday or Sunday, the Dixon report stated.
While downtown parking areas were fuller overall, researchers pointed to some facilities – especially those for long-term parking – remaining underused, a problem also detailed in an earlier city-sponsored study by Walker Parking Consultants in 2015. Napa's garage on Pearl Street was less than half full during the two visits, even as the Second Street structure was more than 85 percent occupied.
Busier conditions at downtown parking areas have developed during five years of steady development, including the opening of the Archer hotel, renovation of the First Street Napa shopping arcade, and arrivals of more restaurants and wine tasting rooms. The downtown district's tourist count rose 6.3 percent from 2014 to 2016, an increase of about 200,000 visitors, according to a study commissioned by Visit Napa Valley.
The survey, which was overseen by Napa's parking director Tony Valadez, may help guide the council and city staff in its strategy to expand the downtown parking supply. Among the steps discussed in recent years have been a parking structure with more than 300 vehicle spaces near the former Cinedome site on Pearl Street, a return to metered parking for the first time in more than two decades, better signage to lead drivers away from high-demand curbside spaces into long-term lots, and a ban on "re-parking" or hopscotching, the practice of moving a car from one space to another to stay ahead of time limits.
Later Tuesday, the City Council is slated to approve a long-awaited program to outfit Napa Police officers with body-worn video cameras.
The $572,069, five-year contract will outfit patrol officers with cameras made by Axon, and includes a digital storage system for video and audio captured in the field. Traffic officers already have used body cameras for several years, Sgt. Kristofer Jenny told the Register earlier this month.
The camera system has the support of Napa's new police chief Robert Plummer, who in 2012 helped oversee the rollout of a similar program in the Las Vegas Metropolitan Police Department, where he served for 27 years.
Get local news delivered to your inbox!
Subscribe to our Daily Headlines newsletter.