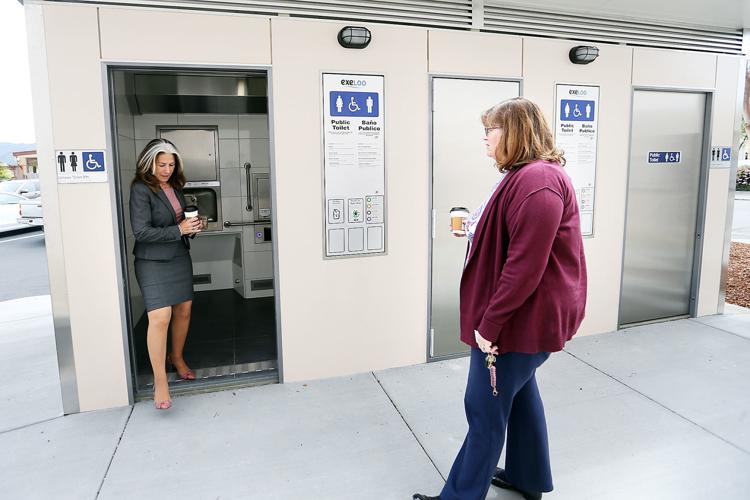 The latest newcomers to Napa's fast-changing downtown lack the status of a fashion designer, a luxurious hotel chain or a famous chef. But they are free to all, welcome visitors with soothing music – and even wash up after themselves.
A few blocks from the Archer and the Andaz hotels, and steps from Napa's growing cluster of restaurants, are a pair of tan metal shed-like structures that opened to the public Tuesday morning. Inside each are two stalls equipped with a toilet, sink, soap dispenser and hand dryer, all triggered with the press of a button or even the wave of a finger.
Since approving the high-tech commodes last summer, city leaders have promised a convenience that would remove a headache from local shop owners while making trips more pleasant for visitors from across town or across the country.
But are Napa's new 21st-century bathrooms really all that?
On Wednesday afternoon, this reporter visited the city parking lot at West and Pearl Streets to see one of the automated commodes in action – and to find out what others thought of their first encounter with the machines, made by the New Zealand-based company Exeloo Ltd. (The other pair of toilets is at another city-owned parking lot on Main Street, between First and Second streets.)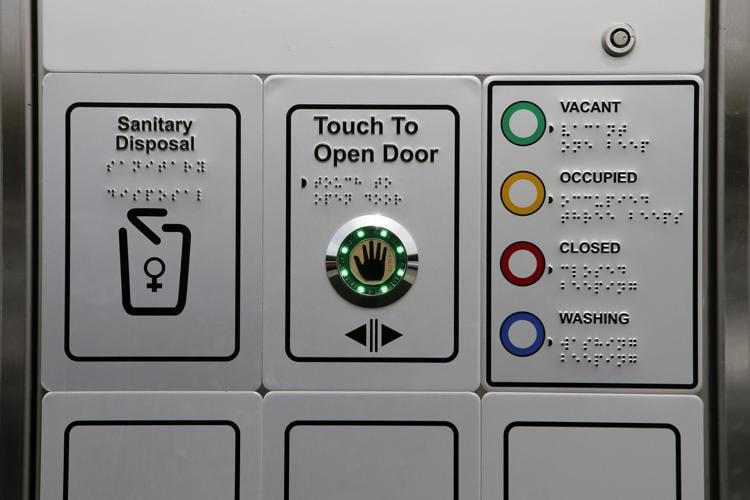 Roughly the size of a large backyard storage shed, the Exeloo units call little attention to themselves with their slab sides and slanted, black-edged roofs. Beside each door is an elevator-like button ringed with LEDs that change color: green when the stall is vacant, yellow when occupied, red when closed overnight to deter vandals. (Timers automatically lock the doors from 11 p.m. to 7 a.m., according to Dave Perazzo, the city's parks manager.)
The real dog-and-pony show began when I pressed the button, triggering the polished metal door not to pivot inward but to slide open, like a spaceship portal in a science-fiction movie. Before I could answer the call of nature, a disembodied male voice greeted me – deep and a touch stagey, reminiscent of an indoor theme-park ride perhaps.
"Welcome to Exeloo," came the voice from the speaker. "Please press the button to close and lock the door."
After I touched the button and the door slid shut, the unseen guide reminded me I had 10 minutes to complete my turn – then gave way to a tinkling piano soundtrack featuring snatches of "Moon River" and "Memory."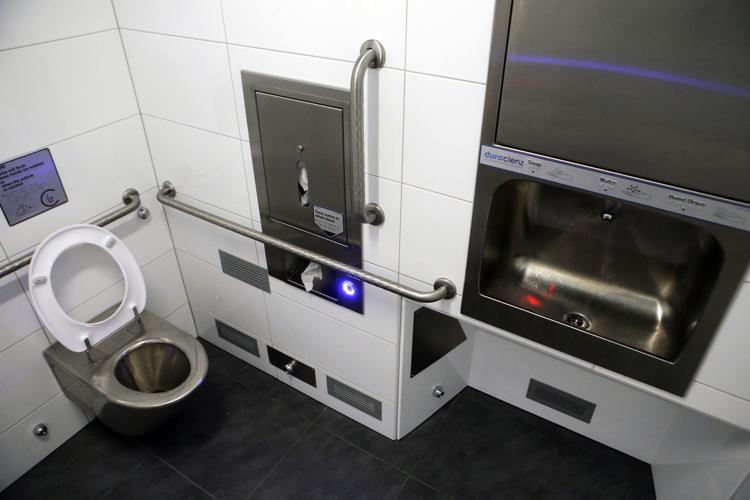 Inside, a metal toilet was placed on the left; to the right was a metal-lined indentation that did triple duty as the sink, the soap dispenser and the hand dryer – all buttonless and operated by holding my hands underneath.
I passed my hands under the tap – and heard an immediate whoosh of the toilet, which flushed only when the sink started to flow. The soap spout and dryer worked mostly without incident, although each use repeatedly triggered the hidden faucet, placed just a few inches from the other spouts where a passing finger apparently could pass below a sensor. Finally, one last button press set me free to step outside, pausing the elevator music and pulling the door open to let the afternoon light in.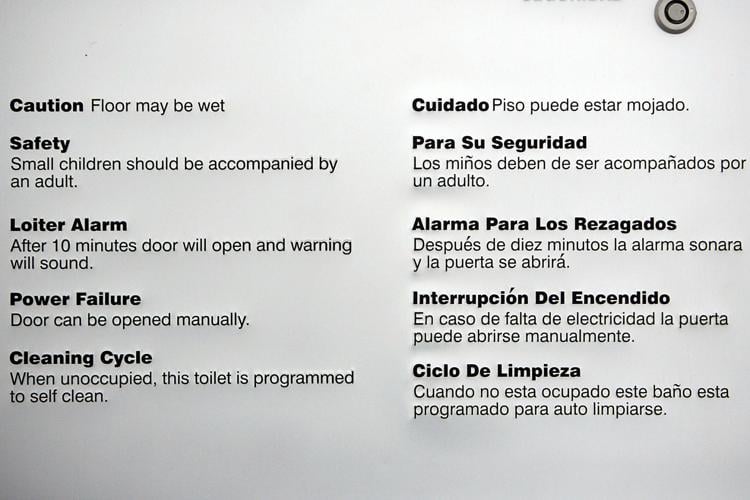 Had I lingered longer than 10 minutes, the hidden voice would have reminded me that time was passing, and the door would have slid open shortly afterward. An even longer time without movement inside the bathroom would trigger an automated call to the Napa Police dispatch desk, according to Perazzo of the city parks department.
After every 30 flushes, a stall washes itself with disinfectant and dries itself with fans – all while a blue light by the door informs passers-by. Park employees also will clean each toilet the old-fashioned way every morning while refilling the soap and sanitizer supplies.
The Exeloo machines got a favorable verdict from another user, as much for their courtesy as their convenience. "I thought it was good – I'm not used to a talking toilet, but it was a very polite toilet," quipped Kristie Murphey after emerging from the West Street unit.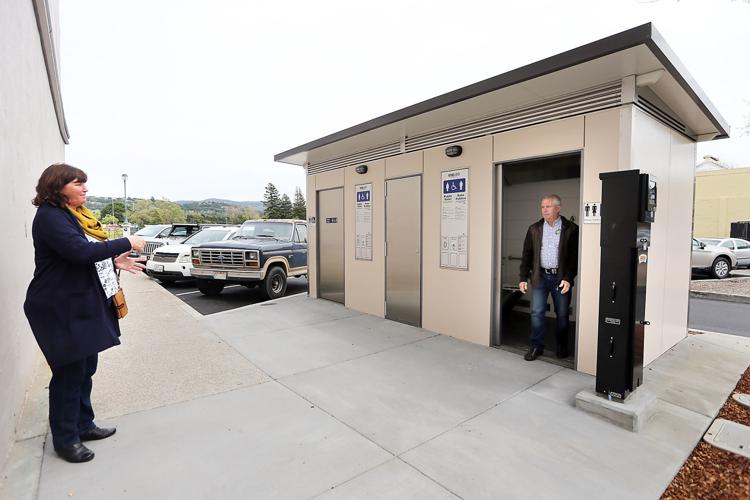 Not to have to slink into a restaurant's bathroom – and arouse the annoyance of an owner dissatisfied about a visitor not spending money – alone would make the new restrooms worthwhile, she added – though she hoped they would be as vandalism-resistant as its manufacturers have promised.
"Really happy they've put in something like that, but I just hope it can last, because golly, usually I'd have gone to that Mexican restaurant over there," said Murphey. "(Or) I go in somewhere to buy a cheeseburger, and they want to be selfish about their restroom."
Word of the fancy new commodes appeared slow to spread, though Wednesday was only their second day of service. But five minutes after Murphey's visit, a tour bus pulled up – and half a dozen teenage boys, students at the Thomas More School in San Jose, stepped out.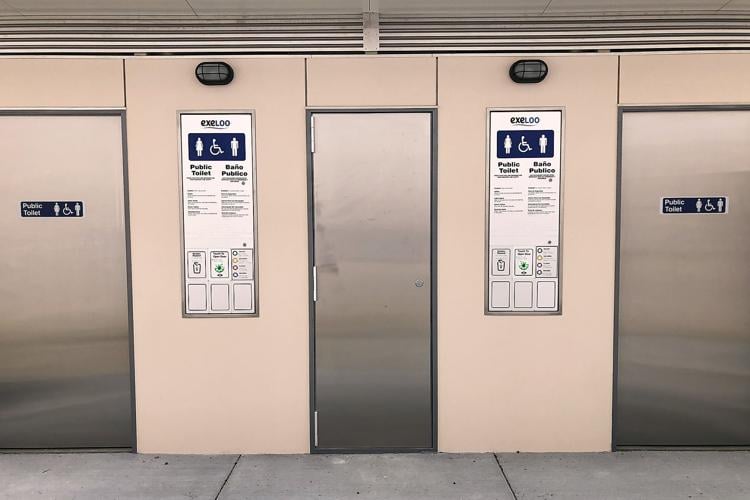 They were at the tail end of a field trip to a Napa Valley vineyard, but the computerized commode became an expected curiosity to the boys, who laughed and joked outside while one of them tried out the contraption.
"Pretty good – coolest bathroom I've ever been in," said Charles Worley, one of the students – though he admitted the timed announcements were a bit unsettling.
"It's like, 'Make it quick, man, you got seven minutes, dude!'" he said with a chuckle.