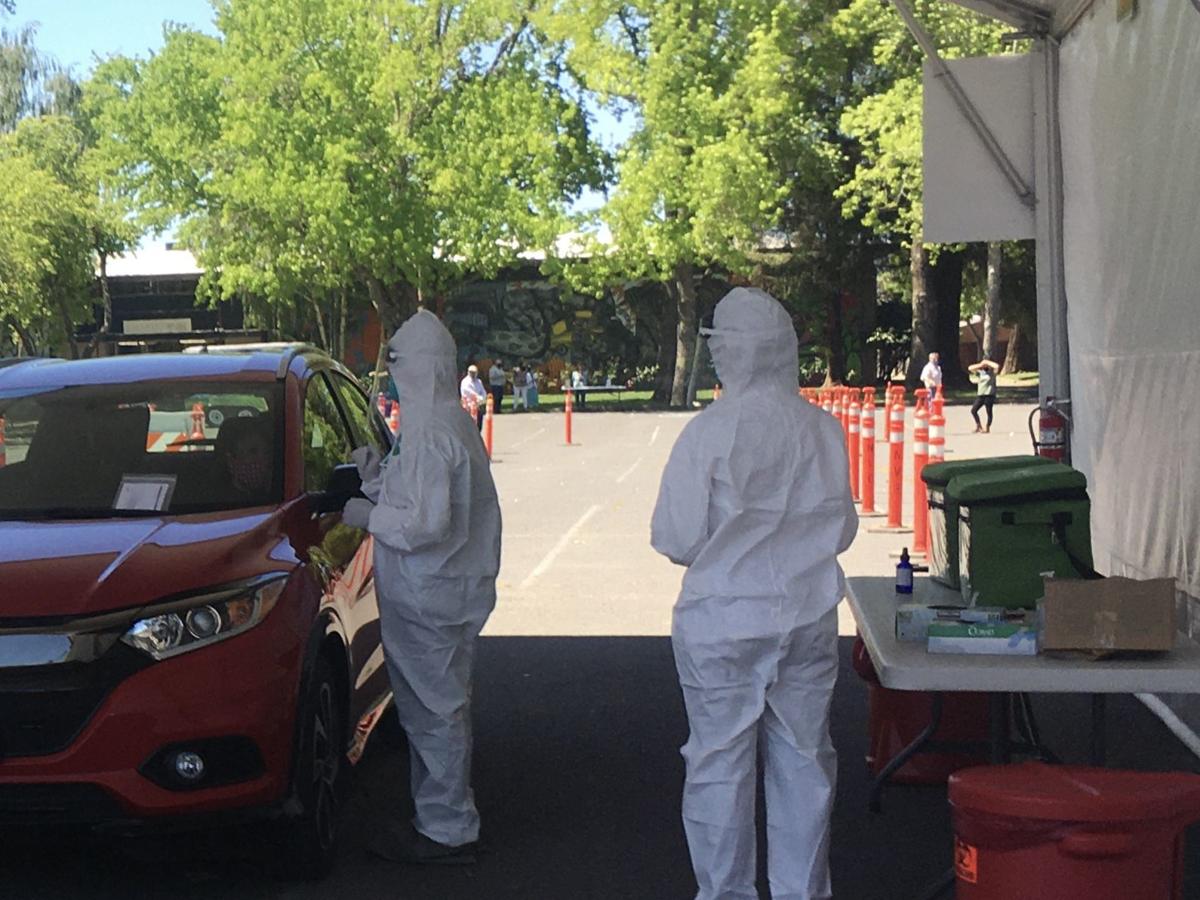 Napa County has so far tested less than a percent of its population for COVID-19. But the county's newest testing site can run that many tests – 1,362, as of Friday – in less than two days.
The testing site is a collaborative effort between the state and local government and Verily, the healthcare arm of Google's parent company Alphabet, in partnership with Community Organized Relief Effort (CORE), a disaster relief non-profit founded by the actor Sean Penn.
The site will dramatically expand Napa's testing capacity quite literally overnight, according to Lydia Mondavi, who along with Kaiser Permanante Emergency Physician Dr. Ingrid Hohimer McNicoll spearheaded the effort to bring CORE and Verily to Napa.
"We have the capacity to run 850 tests a day, so long as we have the patients," Mondavi said. Tests take between 48 and 72 hours to process, she said.
The site will test first responders and health care workers who live or work in Napa County, with or without symptoms, as well as symptomatic community members 18 years of age or older, according to Mondavi, who noted that the site is looking to add asymptomatic essential workers to its criteria.
"You don't need permission from a physician – you can just register on the website directly, and there's a phone number on the county website (patients) can call if they have trouble registering," Mondavi said.
In its first week alone, the site has tested more than 600 people – half of the number of Napa County residents who have been tested in the last six weeks. Tests are distributed by the California Department of Public Health based on population density; because Napa is the smallest of the Bay Area counties, it's not been able to do as much testing as its neighbors, officials have said.
Napa County Public health was previously limited in the number of tests it could perform – a mere 25 a day, according to Napa Council member Liz Alessio. Queen of the Valley Medical Center in Napa and Adventist Health in St. Helena have helped bolster the county's total testing count.
Napa County Public Health Officer Dr. Karen Relucio said last week she'd like to see 213 people tested daily in the county to map the infection's spread locally and to begin charting a loosening of the shelter-in-place order. This new testing site makes that goal possible; a little more than a week ago, though, it would have seemed unthinkable.
Mondavi had experienced firsthand how difficult it was to procure a test. In February, after traveling extensively domestically for work, she became sick – the sickest she'd ever been, Mondavi said. Despite her symptoms, she was unable to procure a test for coronavirus.
"My primary care provider couldn't get me tested; Public Health couldn't get me tested – no one could do it," said Mondavi, who is chair of the Foundation Board at Queen of the Valley. "I thought – I have all of the means necessary to do this. I could have paid out of pocket, whatever it took, and I still could not get a test."
It wasn't reflective of the county's efforts, she said, but rather just state-wide demand and competition between counties. Her thoughts drifted to members of Napa County's vulnerable populations – the undocumented — the uninsured. She connected with Dr. Hohimer McNicoll, who had been similarly frustrated by the lack of available testing for her patients.
"Myself and my colleagues have encountered patients over the last eight weeks whom we would have liked to test," she wrote in an email. "Early on, we simply did not have the capacity to test those who were well enough to be discharged and sent home."
CORE, which established a testing center in Los Angeles County in early April, caught the attention of the two women. Through a friend, Mondavi made contact with two of the organization's board members. They expressed an immediate willingness to set up a site in Napa. Mondavi got in touch with Napa County Public Health, which said it would support the public-private partnership.
Shortly after Mondavi got in touch with CORE, Governor Newsom's office announced an initiative to bolster testing in "under served" communities across the state. Together with Verily, CORE would deploy its services to six additional testing sites in California, according to a press release from the office. Napa was not originally on that list.
"CORE sent a message to the governor and explained that there was community support (for this site) in Napa," Mondavi said, adding that CORE saw Napa as a community in need. Napa's site last week became the first of the six to launch in the state; a site in Bakersfield launched shortly afterward.
CORE has also helped deploy a mobile testing unit to the Yountville Veterans' Home – the largest such facility in the country – in order to test vulnerable residents and essential healthcare staff there, Mondavi said. Testing there – walk through and drive through—began Friday.
Tim McGraw, honorary chair of the Tug McGraw foundation, which works closely with veterans' wellness, called the effort "humbling," and thanked state and local officals as well as CORE, Mondavi and Hohimer McNicoll for bringing testing directly to the Veterans' Home.
CORE will also help facilitate mobile testing sites for Napa's farmworker community, a group that has so far had "very little access" to testing, according to Program Director Matt O'Connell. Opening up access for that community is one of the primary reasons why Napa was prioritized for the new site, he said.
The site at the Expo is staffed by 114 Napa Valley Community Organizations Active in Disasters (COAD) volunteers, according to Napa Valley COAD Director Celeste Giunta, who added that the organization is actively looking for additional help.
About 30 members of the county's Medical Reserve Core, medical professionals licensed in Napa County volunteering their time, administer the medical portion of the testing in what is known as "the hot zone". Additional volunteers are helping with non-medical aspects of testing, like guiding residents through the process and paperwork.
"We've opened up our emergency volunteer center, which allows ad hoc volunteers to be sworn in as disaster service workers," Giunta said. Workers are sworn in virtually to as to make them eligible for worker's compensation insurance.
Mondavi is hopeful that the additional capacity at the Expo site will "free up" testing for the hospitals and for the county itself. Testing for residents means the county can focus its capacity on testing the underprivileged populations, including the underserved, underinsured and homeless populations.
Additional testing means that residents may see a significant jump in positive cases in the county, Mondavi warned. Napa County, at 70, has the lowest confirmed case count of COVID-19 in the Bay Area as of now – but that's likely only because of its comparatively low lack of testing, Mondavi said. (Marin County, has the second-lowest count at 237. It has tested 3,573 residents and currently has higher rate of tests-per-resident than does Napa).
"The most important thing now is for us all to work together and get testing for the people who need it most," Dr. Hohimer McNicoll said. "If we can work together to test a significant percentage of our population, it'll allow our Health Department to make informed decisions about safely reopening (Napa County)."
"We have to make the message very clear, now," Mondavi added. "Testing has opened up in Napa."
Editor's note: Because of the health implications of the COVID-19 virus, this article is being made available free to all online readers. If you'd like to join us in supporting the mission of local journalism, please visit napavalleyregister.com/members/join/
Concerned about COVID-19?
Sign up now to get the most recent coronavirus headlines and other important local and national news sent to your email inbox daily.