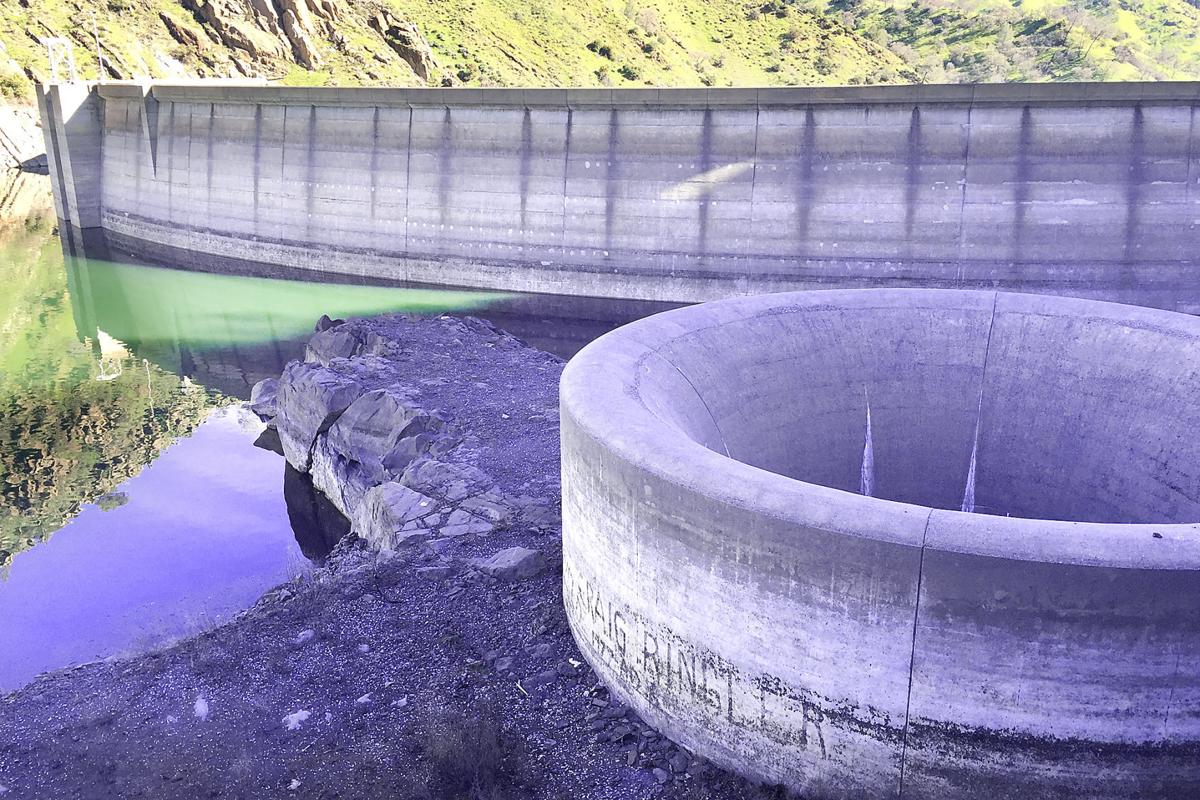 Lake Berryessa in eastern Napa County will once again have enough water to serve recreation-seeking visitors this summer, but didn't harvest the rainy bumper crop that some state reservoirs reaped.
There's no night-and-day transformation there, as at Lake Oroville. That state reservoir in Butte County looked ready to shrivel up into a mere stream a few months ago. Now it's 84 percent full and is releasing water for flood control safety.
Lake Berryessa is no drama queen prone to mercurial shifts. Often slow to empty and slow to fill, it has proven to be steady and dependable through the five-year drought and this rain season's local return to normalcy.
March storms boosted the lake from 56 percent of capacity to 64 percent of capacity. That's just shy of the amount of water the lake held last spring at its high-level mark.
Solano County cities and farms will again be able to draw water from the lake this summer with no restrictions. Barring miracle April storms, Lake Berryessa will enter the next rainy season once again nearing the 50-percent mark.
"We'll basically have treaded water," Solano County Water Agency General Manager Roland Sanford said.
March rains allowed the Bureau of Reclamation to recently reopen its Capell Cove public boat ramp for the first time since July 20, 2015, when lake levels fell too low for launching. If the lake falls at the same rate as last year, Capell Cove would close again this July.
Craig Morton is among four Lake Berryessa residents running Spanish Flat Recreation Area on an interim basis. Lake water levels make a big difference for the Berryessa resorts.
"We look good," Morton said. "The water is still a couple of feet below last year at this time."
Unlike Capell Cove, Spanish Flat can move its boat ramp. It didn't have to stop launching boats last summer.
April is usually not a big rain month, with the tail end of the rainy season delivering only an inch or two inches. But Napa received 3.86 inches in 2010, 5.75 inches in 2006 and 3.97 inches in 2003, statistics show.
Once the ground is saturated – that can take an inch of rain—Lake Berryessa rises about a foot for each inch of rain that follows, Morton said. He contemplated what April might bring.
"Unless we get two to three inches again, we're not going to gain much more," he said.
El Nino didn't prove to be a complete fizzle. Lake Berryessa has seen almost normal rainfall, receiving several inches more than it did in the 2014-15 rainy season.
More rainfall has meant more runoff, but not enough to offset the slow sapping of Lake Berryessa over the past five years. Nor did it bring about the dramatic rises that Lake Oroville has seen.
"It hasn't been concentrated in a few storms like some previous years," Sanford said, adding relatively gentle rain soaks into the ground.
In contrast, he remembers being at Hidden Valley Lake in the Berryessa watershed in December 2014, when seven inches fell of rain fell in a day. That kind of intense rain generates more runoff, he said.
Still, this season's rains were enough to fill much smaller Lake Hennessey. The reservoir that serves the city of Napa is nestled amid the mountains east of Rutherford.
That gets back to Lake Berryessa's tendency to empty slowly and fill slowly. Sanford said the reason is that Berryessa is a large reservoir in relation to the size of its watershed.
Lake Berryessa, with its 165 miles of snaking shoreline and 30 square miles of water, has a 576-square-mile watershed.
In an average rain year, Lake Berryessa adds about 400,000 acre-feet of water (one acre-foot is about 326,000 gallons), Sanford said. That is 25 percent of capacity for a reservoir that can hold 1.6 million acre-feet. Solano County cities and farms and evaporation during the summer then empty out 300,000 to 350,000 acre-feet.
Given all of this, average rainfall seasons often end up being status-quo years for Lake Berryessa.
But a really big rain year can make a big difference in Berryessa's levels. In 1994-95, the lake rose more than 800,000 acre-feet, or 50 percent. Napa received more than 40 inches of rain that season, compared to an average of about 25 inches and this season's 22 inches to date.