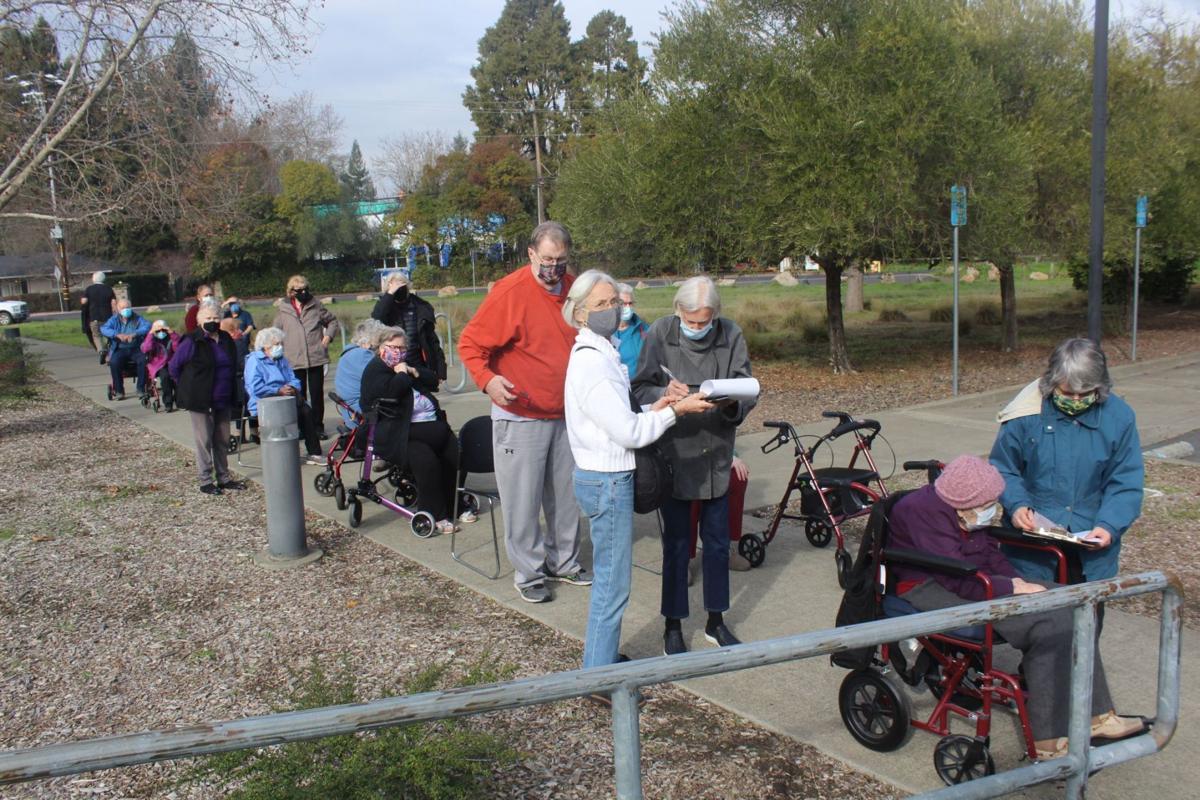 The first five weeks of Napa County's mass vaccination effort has proved volatile, punctuated by vaccine shortages, changing guidance at the state level and gaps in communication between local government and the healthcare entities receiving vaccine allocation from the state.
Each of those variables has proved an obstacle not only in the county's effort to vaccinate its residents but to communicate clearly with them. After suggesting vaccines would be made more widely available in late January, state officials — following revised guidance from the Centers for Disease Control and Prevention — declared California residents age 65 and older eligible for the vaccine.
In Napa County, that dramatically expanded the pool of eligible residents, which had previously included healthcare workers, staff and residents at long-term care facilities, and workers in the educational and agricultural sectors. (Something like 18% of Napa County's total population – about 25,000 people – are 65 years of age or older, according to county spokesperson Janet Upton.)
But vaccine availability has remained inconsistent, county officials told the Register in mid-January — meaning the county simply could not vaccinate its entire eligible population even if it wanted to.
"The dearth of vaccine allocations that we're getting is creating a lot of challenges," Upton said.
Napa County is currently working its way through the entirety of Phase 1A, which includes most frontline health care workers and public health frontline staff, and has made some forays into Tier 1 of Phase 1B, which includes emergency service workers, individuals 65 and older and workers in the education and agricultural sectors, when supply is made available, Upton said.
As of Monday, the county had reported administering 23,342 vaccinations.
What's been confusing for residents — many of whom have emailed Napa Valley Register reporters to express their frustration — is the way vaccinations seem sporadically available across the tiers of eligibility.
"I am hearing from multiple people that St. Helena Hospital offered vaccine to their top donors (of) which many were wineries," one anonymous tipster wrote to the Register.
"Wineries are getting vaccinations for their employees … Are tasting room, office help or even vineyard workers even in tier 1?" a second wrote. "How have they jumped ahead of essential workers, (or residents) 75+ or 65+?"
"St. Helena hospital nurses are allowing winery staff to jump vaccination lines," a third wrote in.
The rumors — that the hospital is prioritizing winery donors, that it is allowing winery staff to 'jump' the lines — are patently false, according to Associate Philanthropy Officer Stephanie Hernandez-Avina. Adventist Health St. Helena, which, as a multi-county entity, receives a separate allocation of vaccinations from the state, has also been working its way through Phase 1A and Tier 1 of Phase 1B per county direction, she said. Tier 1 of Phase 1B does make farmworkers and winery cellar workers eligible pending availability.
The hospital has not knowingly vaccinated winery tasting room or administrative staff, said Hernandez-Avina. Staff have not set up clinics at any wineries; it is cellar staff who typically reach out directly to Adventist Health to express their interest, she said.
But there is "no possible way to verify what someone does at a winery," according to St. Helena Hospital Foundation President & CEO Glen Newhart. Staff members are checking IDs and asking for workplace verification, Newhart said, noting he personally had to "kick some people out of line" in the early weeks of its clinics.
That particular group was expelled after it turned out they were not at all affiliated with any winery; it would be harder, hypothetically, to detect an administrative employee pretending to be a cellar worker.
Napa County is currently prioritizing those 65 years of age and up even within Tier 1B; a cellar worker, for example, would have to be older than 65 to be prioritized for a shot. (The county has not begun vaccinating workers in the agricultural sector, Upton confirmed.)
That marks a difference between the county and Adventist Health, which is not screening those made eligible by Phase 1B Tier 1 by age. Asked about the difference in prioritization, Upton said she could not speak for Adventist Health, but said the county had made Adventist Health "aware" of its priorities.
Adventist Health's Newhart, asked the same question, said that guidance was "not provided" to Adventist Health.
The hospital is attempting to prioritize seniors in the Napa Valley community, Newhart said, but even amid the crushing demand for vaccines, that's sometimes proved difficult. Adventist Health in January worked with Rianda House, a senior center in St. Helena, to fill 300 vaccination slots with seniors over the age of 75; in the end, they were only able to fill 150 of the slots, and had to "backfill" the other half over the course of a few hours with staff from area vineyard management companies.
Adventist Health St. Helena does not yet have access to the county's 30,000 person vaccine waitlist, according to Newhart — it could not have called the county's eligible, interested senior residents even if it had wanted to.
Even so, Newhart emphasized Adventist Health was aware the county was doing the best it could.
"We're all trying to mobilize as fast as we can, and I feel bad there's a perception that something is happening (that) isn't," he said, addressing community frustration. "We will get to everybody as fast as we can. The thing we should focus on now is encouraging our state representatives and our federal representatives to get the county more vaccine."
Kaiser Permanente, another multi-county entity operating in Napa County, said in a written statement it had given first doses to more than 1,100 community members at a clinic in January. It is currently vaccinating health care workers and those 75 years of age and older, it said in the statement, and plans to administer second doses in February pending supply. Eligible Kaiser Permanente members will be able to receive vaccinations at the Vallejo and Vacaville medical centers with a confirmed appointment "depending on vaccine supplies," it said.
Queen of the Valley Medical Center, the county's second acute care hospital, has not launched a mass vaccination campaign. The facility has offered up the space to orchestrate such a thing, Chief Medical Officer Amy Herold told the Register in early January, but does not currently have the manpower to host public-facing clinics.
Ultimately, Upton said, the ability of the county and its multi-county entities to efficiently vaccinate its residents has to do with the supply of doses it is given. The county was doing its best to be mindful of the state's guidance, despite that guidance having changed several times, she said.
"There are a lot of people doing good work, but they're all tired and frustrated and looking forward to the day when vaccines are more plentiful," Upton said. In the meantime, she said, the county was doing its best to distribute doses efficiently, fairly and without waste. "We can't let perfect be the enemy of good."
Editor's note: Because of the health implications of the COVID-19 virus, this article is being made available free to subscribers and non-subscribers alike. If you'd like to join us in supporting the mission of local journalism, please visit napavalleyregister.com/members/join.
WATCH NOW: Vaccine supply creates confusion in California
PHOTOS OF THE MONTH: A look at Napa Valley news in pictures, January 2021