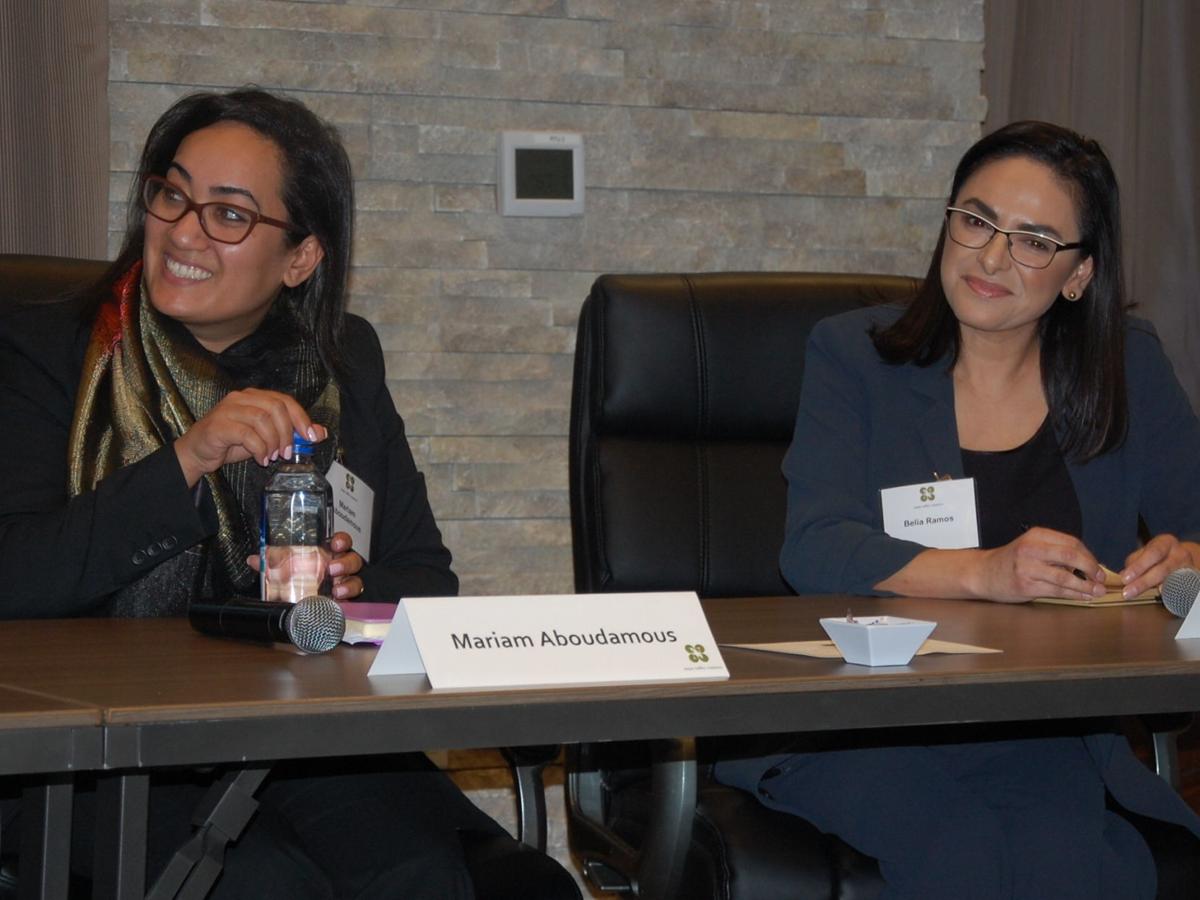 Napa County's race between incumbent Supervisor Belia Ramos and challenger Mariam Aboudamous has divided the local political establishment yet somehow left bitter foes in recent watershed battles on the same side.
Both candidates in the 5th District supervisor race are highlighting key endorsements. The district includes American Canyon, the southeast city of Napa and most of rural Coomsbville.
On the five-person Napa County Board of Supervisors, Supervisors Ryan Gregory and Brad Wagenknecht support Ramos. Supervisors Diane Dillon and Alfredo Pedroza—the latter after a switch—support Aboudamous.
Rep. Mike Thompson, D-St. Helena, supports Ramos. State Sen. Bill Dodd, D-Napa, supports Aboudamous. American Canyon Mayor Leon Garcia and Vice Mayor David Oro support Ramos. American Canyon City Councilmember Mark Joseph supports Aboudamous.
Perhaps the strangest twist is Aboudamous securing endorsements from Growers/Vintners for Responsible Agriculture, Napa Vision 2050 and Napa County Farm Bureau.
Ongoing, hard-fought battles over watershed and tree protections have pitted Growers/Vintners and Vision 2050 against the Farm Bureau. Yet both sides are pinning their hopes on Aboudamous.
Mike Hackett of Growers/Vintners said the group remembers Ramos' opposition to Measure C, the unsuccessful 2018 watershed protection ballot initiative. Ramos was among the signers of a voter pamphlet opposition statement that Measure C advocates especially disliked.
"Our experience with Ramos was she was very opposed to what we considered to be the most important environmental protection act in our lifetime," said Hackett, who co-authored Measure C.
Aboudamous, a member of the American City Council since 2016, didn't back Measure C. But Hackett said Growers/Vintners believes she will follow the right path.
"She appears to be open-minded, certainly takes in all sides of the issue," he said.
Napa County Farm Bureau spearheaded the Measure C opposition campaign. Farm Bureau CEO Ryan Klobas said having both sides supporting Aboudamous should send a powerful message.
"In terms of Mariam Aboudamous, it means you've got someone who both sides agree is a really good collaborator," Klobas said.
Ramos, he said, was found by the Farm Bureau to lack understanding of how such issues as bird cannons, commercial cannabis cultivation and tree protection laws affect agriculture and Farm Bureau membership.
When asked about her understanding of farming, Ramos pointed to a photograph of herself and her family standing next to a tractor at her parents' vineyard.
"During harvest, I would go from a supervisors meeting, pick up my children, feed them dinner, we'd change into our farm clothes and we'd head over to the vineyard," she said. "And we picked grapes, as an entire family, with our crews."
The Farm Bureau's stance isn't about her votes on agriculture, Ramos said. She continues to respect the Farm Bureau as an industry group and will work with them past the election, regardless of endorsements, she added.
Aboudamous said Vision 2050 and the Farm Bureau are "extreme opposites."
"I believe that shows a willingness of bringing people together in collaboration and continuing to build relationships," she said.
She wanted to support Measure C and protect the watershed, Aboudamous said. Then she read the legal argument – she is an attorney—and said she thought the measure poorly written in a way that could result in a lawsuit.
An ordinance passed by the county is better than a ballot measure, Aboudamous said. She wants the county to revisit the watershed protection issue, with all parties sitting in a room to try to work things out.
Another endorsement twist came when Planning Commissioner Jeri Hansen recently backed Aboudamous. Hansen was appointed to the commission by the Board of Supervisors to serve the 5th District, though she was initially nominated by Ramos' predecessor as 5th District supervisor, not by Ramos.
Hansen is resigning from the Planning Commission effective March 1. She submitted her resignation letter last Dec. 10.
Get local news delivered to your inbox!
Subscribe to our Daily Headlines newsletter.