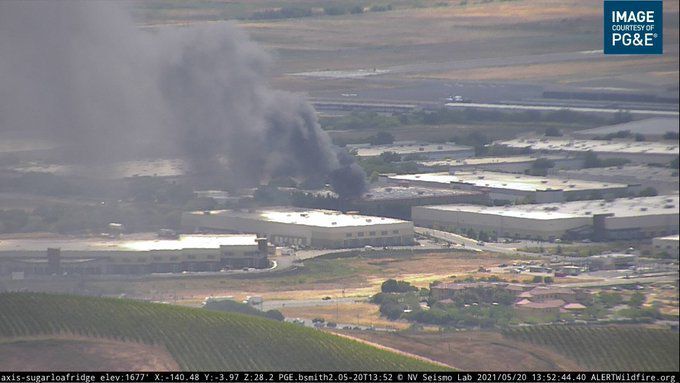 Firefighters at the scene of a fire at Bronco Wine Company's south Napa storage center were able to save 90% of the warehouse structure and 80% of the inventory inside, a county spokesperson said Friday.
The fire at the facility on Devlin Road broke out around 1:45 p.m. on Thursday. Firefighters had flames controlled within an hour, and declared the fire controlled at 8 p.m., said Janet Upton, Napa County spokesperson.
Support local news coverage and the people who report it by subscribing to the Napa Valley Register. Special offer: $1 for your first 6 months!
An incident commander gave a preliminary estimate of $2.5 million in damages to structure and inventory, Upton said. The full extent of damage will be determined by insurance companies and property owners, she added.
Bronco Wine Company did not return a request for comment on losses in time for the publication of this article.
Six Bronco employees were on scene when the fire began, but no injuries were reported, county officials previously reported.
The Devlin Road facility typically houses between 500,000 and 600,000 cases of wine, Capt. Jason Downs of Napa County Fire told the Register Thursday. The structural integrity of the building is intact, Napa County Fire Chief Geoff Belyea confirmed Friday.
"The majority of the damage was confined to the roof … so there is not a lot of true structural damage to the building," Belyea said. Bronco Wine Company should still be able to "conduct business" out of the facility, he said.
Belyea said he had observed "no damage" to offices in the building. The warehouse looked "pretty full" at the time of the fire, he said.
The facility is temperature-controlled, as are most storage facilities for wine,  Belyea said. He could not confirm whether the fire had degraded temperature controls.
Firefighters remained on scene after containment to assist with "overhaul," Upton said: going through inventory in the warehouse, looking for remaining hotspots, and mopping up.
The heat from the fire on the roof "caused a skylight to fail," Belyea said, and some fire fell down onto some inventory, which triggered the facility's sprinkler system, he explained. The facility's inventory was stored in cardboard boxes that had been shrink-wrapped together, according to Belyea.
Water degraded the cardboard, making for an "overhead falling risk," Upton said. Crews were on scene today helping to mitigate the hazard and move surviving inventory elsewhere, she said.  
It was not immediately clear how many cases nor which wines had been lost in the incident. Bronco Wine produces "more than 60 brands" according to its website, of which perhaps the most well-known is Charles Shaw, or Two Buck Chuck, and typically retails for $1.99 at Trader Joe's.