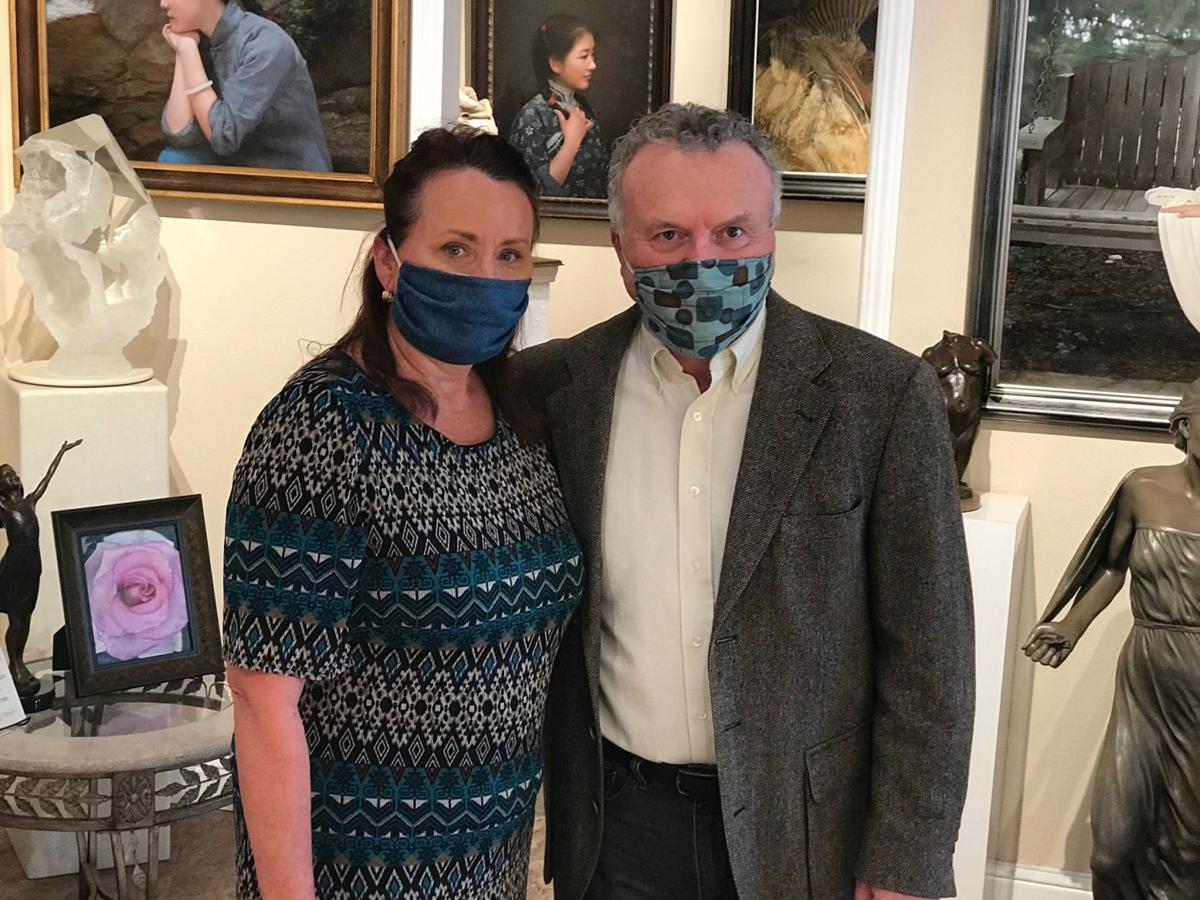 Quent Cordair Gallery stayed open for five days last week before capitulating to hardball pressure from Napa County to enforce its order that nonessential businesses remain shut to combat the spread of the coronavirus.
The county threatened "someone with whom we have a long-term contractual relationship with legal action should he fail to prevent ... us from remaining open," Quent and Linda Cordair wrote in a letter released to the public on Saturday. 
Contacted by the Register, Linda Cordair would not specify who that person was, but it appears she was referring to her landlord.
The Register obtained a copy of a May 7 Napa County email to property representative Louis Sloss, III, of Portland, Oregon. The county said that Sloss may be held responsible for enforcement costs and attorney's fees if his tenants continued to violate the law and put "the community's health at unnecessary risk." 
Reached by phone on Monday, Sloss declined to discuss the Cordairs or the county order. "We'd rather not comment," he said.
On Tuesday morning, an attorney for the Cordairs, Charles D. Dresow, of Ragghianti Freitas LLP, submitted a statement on behalf of the small business owners.
"My client's business is shut down by an order that deems art non-essential," said Desrow.
"The California and United States Constitutions forbid government officials from deeming the production, dissemination, enjoyment, or creation of art non-essential. The restriction of art is the restriction of human dignity and liberty. It is unconstitutional."
"Coronavirus must not kill our constitution and allow government officials to eliminate our personal liberties," said Desrow.
"At no point in our history has government taken so much control of our personal and economic lives. The government is not entitled to decide who lives and dies economically. Big box stores and big business are allowed to operate while small business's (sic) are decimated."
In a public email on Saturday, the Cordairs wrote that their decision to open last week was their fight, not the person the county pressured. "We cannot and will not allow the county to punish him for our own decisions and actions."
Before they reopened last week, they issued an April 27 letter to the public saying, "We're prepared to risk fines, arrest, or jail," noting "we are facing financial ruin" if the gallery is not able to reopen, said Quent Cordair.
The Cordairs weren't the only Napa business to fight the county order.
On May 4, Fumé Bistro & Bar of north Napa restarted on-premise dining. That lasted two days before the restaurant co-owner Terry Letson agreed to end inside dining.
"The county exerted some extreme pressure for us to stop," Letson, Fumé said on May 7. He declined to elaborate.
Fumé remains open for take-out service.
Quent Cordair Gallery attracted supporters but also detractors during its five-day reopening.
"It's a matter of exercising your freedom," said Joyce Loehner, Napa resident, on the day the gallery reopened. 
"I think they're idiots," said Colin Dawson of Napa, on the same day. "It's ridiculous. I don't think anything in that store is essential."
Elizabeth Scott, communications and public information officer for the county of Napa, said the county is "grateful" to restaurants and businesses complying with the public health order.
"We know and appreciate the financial hardship this pandemic has placed on our community, and we acknowledge everyone's willingness to follow safety practices for the health of our community," said Scott. "County staffs have been working hard, day and night, to move us into deep stage 2 when restaurants and wineries are allowed to be reopened."
Editor's note: Because of the health implications of the COVID-19 virus, this article is being made available free to subscribers and non-subscribers alike. If you'd like to join us in supporting the mission of local journalism, please visit napavalleyregister.com/members/join/
Complete coronavirus coverage from the Napa Valley Register, St. Helena Star, and The Weekly Calistogan
This webpage contains all Napa County coronavirus coverage as featured in the Napa Valley Register, St. Helena Star and The Weekly Calistogan. This page will be updated several times a day as news comes in. Please bookmark this page to stay on top of local developments.
Concerned about COVID-19?
Sign up now to get the most recent coronavirus headlines and other important local and national news sent to your email inbox daily.