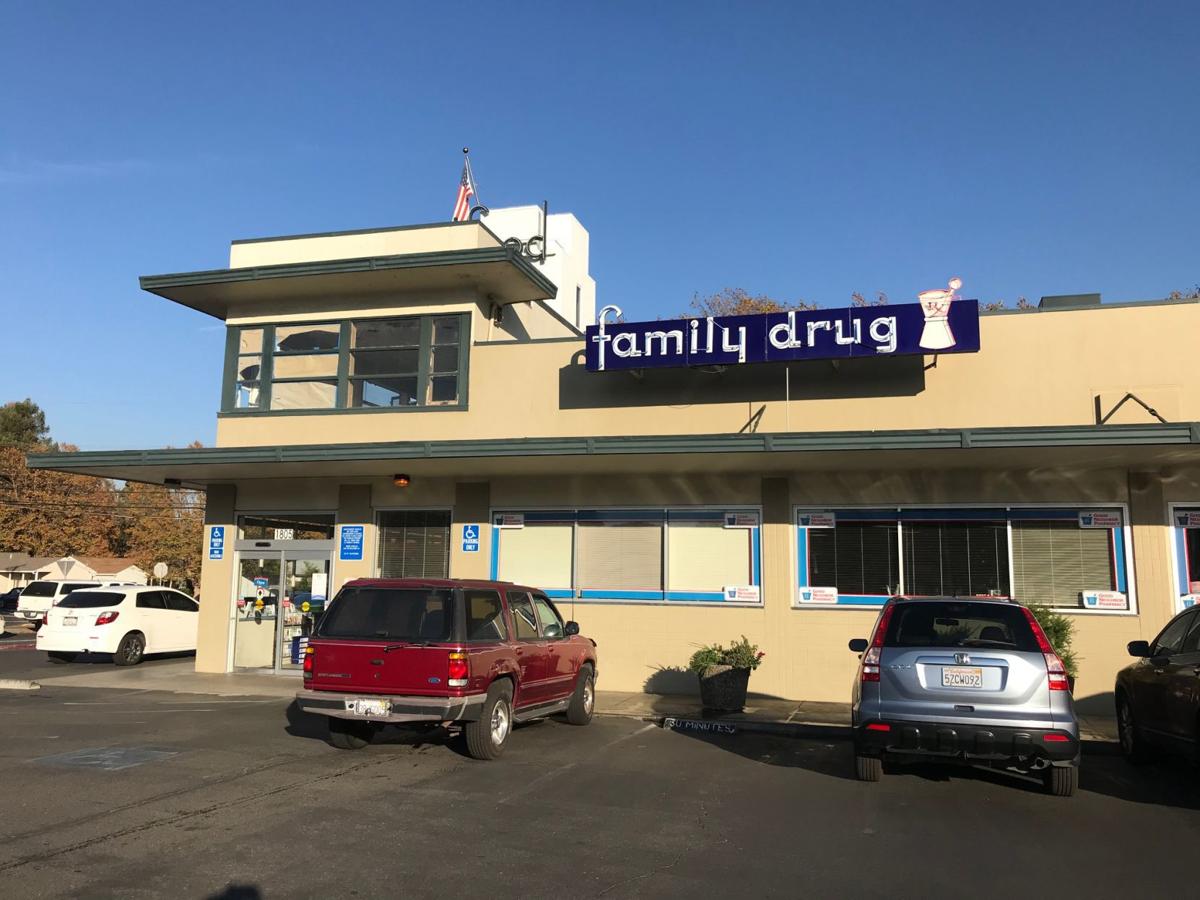 Family Drug, Napa's last independently owned pharmacy and drugstore, will close for good on Wednesday at 6 p.m.
The store opened in 1952.
"It's the end of an era," said Joe Gracia, CFO of Family Drug.
Gracia and his mother, Roxann Gracia, chose not to elaborate Monday afternoon on why the business is closing, and so suddenly.
The closure is happening as the center's new ownership is planning redevelopment of the their center, Food City, on Old Sonoma Road.
The new Food City "won't be anything like it is now," said Scott Goldie, partner at Brooks Street.
A number of tenants have since left the property.
In June, Gracia said he had talked with Goldie's team about reducing the store's retail footprint at the center while adding an old-style soda fountain. On Monday, Gracia said he could not speak about what happened to those plans.
Holcomb said that Family Drug's lease was coming to an end this year. "We're disappointed, but we understand" their decision to close, said Holcomb, adding that it had nothing to do with the Food City project.
The longtime Napa drug store and pharmacy may be closing but part of Family Drug will live on in a new business Joe and his wife Neanna are starting.
That business, called Family Medical, will be located at 592 Lincoln Ave. It will sell medical supplies and durable medical equipment such as walkers, chairs, crutches and other items. They plan to open in January after construction is completed, said Joe Gracia.
It's a bittersweet decision to close, he said on Monday afternoon.
"We've been a part of this community for 67 years," he said. They've helped "generation after generation" of locals. For many, "We're a part of the family."
"We're sad to lose this store but excited for a new opportunity to be a part of the medical community" and help their customers, Joe Gracia said.
Roxann Gracia said the decision to close was "difficult." Her family grew up in the store, she noted. Family Drug was originally located in the middle of the mall. It moved to the larger building at the end of the center in 2001.
While Joe Gracia is starting the new business, Roxann said she will retire. Her husband and former owner, Tom Gracia, passed away in 2016.
"We appreciate all the years of business," said Joe Gracia. "It's been wonderful."
All Family Drug prescriptions will be transferred to the CVS on Coombs Street at Imola, said the Gracias.
Items in the store are already marked at discount prices, said Roxann.
Customers reacted with dismay to the news.
"It's bull****," said customer Steve Bearden. While Family Drug was not bought out by CVS, he thinks too many independent stores are getting taken over by large corporations. "It's very sad," he said.
"That's a shame," said customer Joan Wilson. "I'm not happy" to hear the news, she said.
The great thing about Family Drug was that if you needed something, staff would help her, she said. "They're very knowledgeable."
These days, "All the mom and pops" seem to be closing, Joan Wilson said.
Julie Nguyen, a merchant at a nail salon in the same mall, was confused to hear Family Drug would close.
"Why?" she asked. "They are busy all the time."
Mike, the manager of the Galaxy smoke shop, located next to Family Drug, was also surprised.
"That's bad for the shopping center," he said. adding that many tenants have moved out.
"I'm gonna be all by myself in here."
Get local news delivered to your inbox!
Subscribe to our Daily Headlines newsletter.