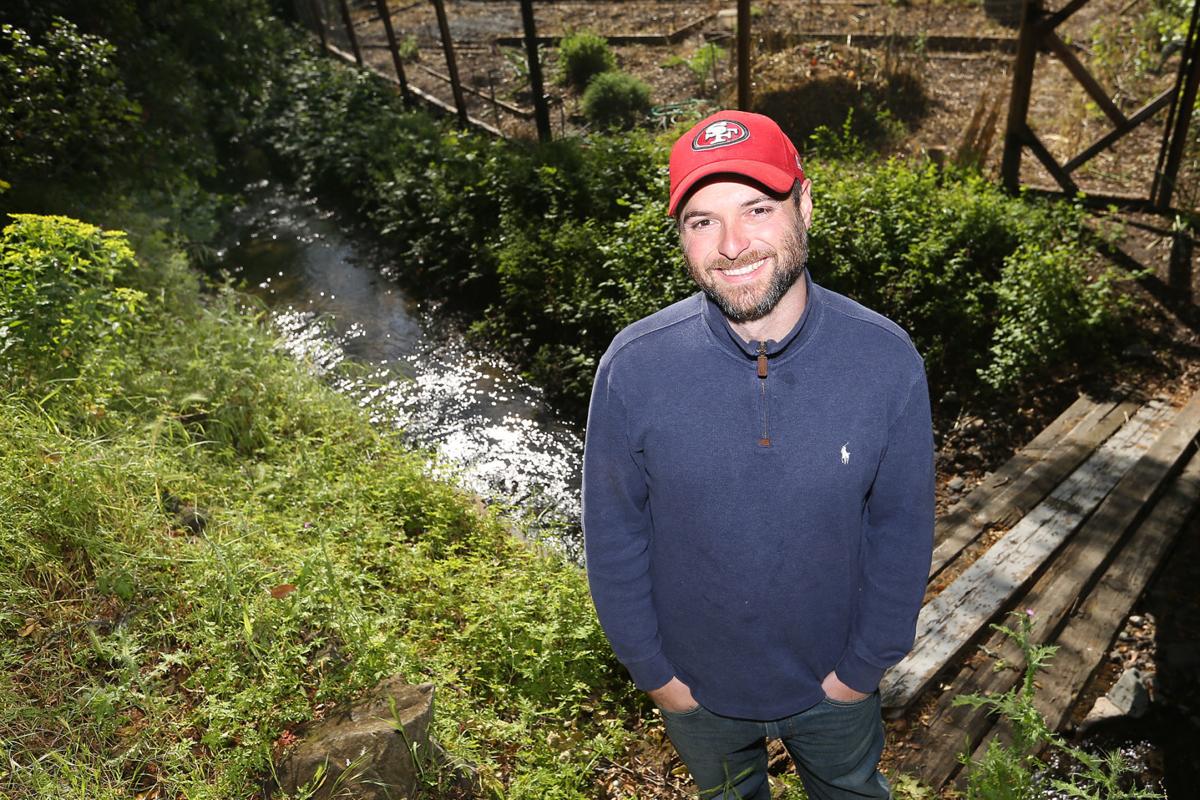 Graeme MacDonald qualifies as the unofficial – or perhaps even the official – historian of Napa Valley's famed To Kalon Vineyard area near Oakville.
"It's a very small niche, but I've been enjoying it," said MacDonald, who farms a plot of To Kalon land himself and has just successfully ended a multi-year quest to file a To Kalon history with the Library of Congress.
To Kalon is a vineyard started in 1868 by H.W. Crabb, an innovator in wine marketing and vineyard techniques. In modern times, the area has been linked with such wine country movers-and-shakers as Robert Mondavi and Andy Beckstoffer.
The name has been involved in lawsuits because its presence on a wine label is seen as adding value, with a court case recently brought by The Vineyard House against To Kalon trademark-holder Constellation Brands. MacDonald said he is not involved with the legal wranglings.
Rather, MacDonald is a man on a mission—to tell the To Kalon tale to all who want to hear. This is a personal mission about a famous place entwined with his own family history. He hopes his two young daughters will someday be among the readers.
"It was really for me a great way to document the history for our children … I want to leave something that explains why I am so passionate about it," MacDonald said.
MacDonald in 2017 successfully petitioned the United States Board on Geographic Names to name a creek near his house To Kalon creek. Now he has spearheaded a 46-page recounting of To Kalon's geologic and human history recently added to Historic American Landscapes Survey run by the National Park Service.
The 825-acre area joins such locations as Scotty's Castle in Death Valley and Theodore Roosevelt Island in Washington, D.C. as part of the Historic American Landscapes Survey family. The program provides no land protections, but rather calls attention to and documents special places, with the results available to the world through the Library of Congress web page.
"It's a really interesting site to add, because Napa is so important to the history of wine-making in this country," said Chris Stevens, a landscape architect with the Historic American Landscapes Survey.
To Kalon may be best known because of wine industry titans such as Mondavi, but it has also been home to small family farmers such as the MacDonalds.
MacDonald's great-grandparents bought To Kalon land in 1954, though grape-growing fame had apparently passed it by. They soon began selling grapes to Mondavi and his family's Charles Krug Winery. Then they sold grapes to Mondavi after he opened his Robert Mondavi winery in To Kalon in 1966.
MacDonald grew up in Marin County, with his parents leading a non-farming life. He decided during visits to his grandparents at the To Kalon property that he wanted to carry on the agricultural tradition of previous generations.
"One day you just open your eyes, you realize the vineyard is not just a place you run around and play in," MacDonald said.
Today, MacDonald and his brother farm 15 acres of To Kalon grapes, with MacDonald doing such things as the tractor work. MacDonald and his wife Sarah live in a one-bedroom house there.
"It's sort of the way it used to be under my granddad, you take an active role in your farm," MacDonald said.
The To Kalon history passion runs in the family. When studying viticulture and enology at UC Davis more than a decade ago, MacDonald came across a history of To Kalon in a school special collection. It had been written in 1978 by his great-uncle.
MacDonald describes his To Kalon historical research efforts as a hobby. About five years ago, he took this hobby to a new level.
He found out about the Historic American Landscapes Survey on the internet and called up a program official, who by coincidence was about to visit Napa. The two met and MacDonald received encouragement to write a To Kalon account for the survey.
"He was extremely excited," MacDonald said. "He told me their purpose is to preserve and document the history. It's very much a way to honor the history and preserve it for future generations."
MacDonald's report starts off like a James Michener novel – it looks back 140 million years. He tells how the movement of tectonic plates, the uplifting of mountains and erosion-created alluvial soil resulted in the famed To-Kalon terroir. Then he tells the Native American and subsequent history before reaching pioneer days.
H.W. Crabb, an Ohio native, bought the first 240 acres of To-Kalon in 1868. He tried growing table grapes, but didn't make much money and turned to wine-making.
His wine venture needed a name and Crabb initially settled on Hermosa Vineyards. He collected grapevine varieties from around the world and experimented to find out what best suited Napa Valley. He found Cabernet Sauvignon to be among the best long before it became a Napa signature grape.
By 1878, his annual wine production exceeded 100,000 gallons. He began marketing his wine by opening his own sales agencies throughout the United States. His wine production by 1890 topped 200,000 gallons annually.
Along the way, Crabb decided his venture needed a new name and in 1886 chose To Kalon. The Greek philosopher Aristotle linked the word "kalon" to virtuous action undertaken for the sake of the noble or beautiful.
Crabb's vines were hit in the late 1800s by the phylloxera root louse. His acres of planted vineyards decreased from 500 to 120. Crabb experimented with alternate rootstocks. In 1899, he suffered a stroke while riding his horse and soon after died.
The St. Helena Star in Crabb's obituary called Crabb "a liberal and enterprising man" who watched "with renowned courage" as his devastated vineyards began making a comeback, hoping for the day when his estate could once again return to its former wine-making levels.
When Crabb died, he owed $233,523 to creditors and his property and inventory were valued at $221,523.
MacDonald doesn't end the To-Kalon tale with Crabb. He keeps going until his own family enters the history and on until the present day, all of it with footnotes, with help from such people as geologist David Howell, who co-wrote "The Winemaker's Dance: Exploring Terroir in Napa Valley." MacDonald's wife Sarah created maps.
The Historic American Landscapes Survey is part of a trio of similar federal programs, along with the Historic American Buildings Survey for buildings and Historic American Engineering Record for structures such as bridges. These programs document some 50,000 sites, Stevens said.
The biggest users of the three programs are students in grades kindergarten through 12, Stevens said.
Napa County has two sites listed under the Historic American Landscapes Survey. There is To Kalon, of course, and also Elmshaven, a Victorian home on Glass Mountain Lane east of St. Helena that is significant in the history of the Seventh-day Adventist Church.
Go to http://www.loc.gov/pictures/item/ca4339 to view the To Kalon history. A search at the site also reveals dozens of Napa County photos and histories on file with the Library of Congress, many under the Historic American Building Survey and Historic American Engineering Record programs.
After naming a creek and writing a history that's in the Library of Congress, what's next for MacDonald besides growing grapes and making wine?
"That's a good question," MacDonald said with a laugh. "My wife told me I have to start raising the children. Take a bit of a break and there's always something else."
Get local news delivered to your inbox!
Subscribe to our Daily Headlines newsletter.