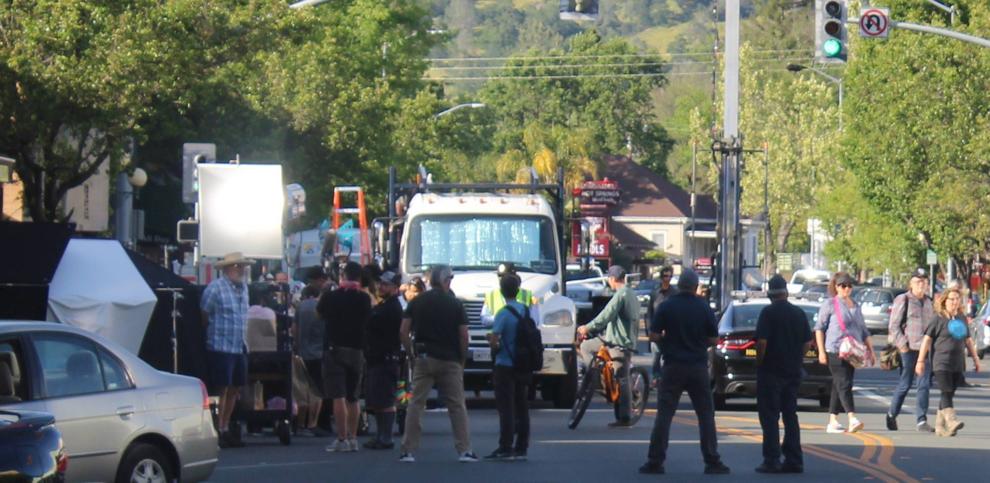 CALISTOGA — If you wanted to watch a Hollywood movie being made, Lincoln Avenue in Calistoga was the place to be on Friday and Saturday.
At noon Friday there were all sorts of trucks parked along the railroad depot and a rental boom crane was positioned above the art gallery. Crews were unloading and organizing their equipment carts.
Down the street at the Calistoga Bikeshop there were slews of power cables being laid out across the sidewalk, complete with protective black covers so that pedestrians would not trip. There were signs at all the crosswalks telling pedestrians that shops would be open for business during the filming, and it was obvious that the crew was attempting to accommodate the traffic.
Calistoga was to play a starring role as itself in the up-and-coming Netflix comedy being directed by Amy Poehler, starring Poehler, Tina Fey and Rachel Dratch.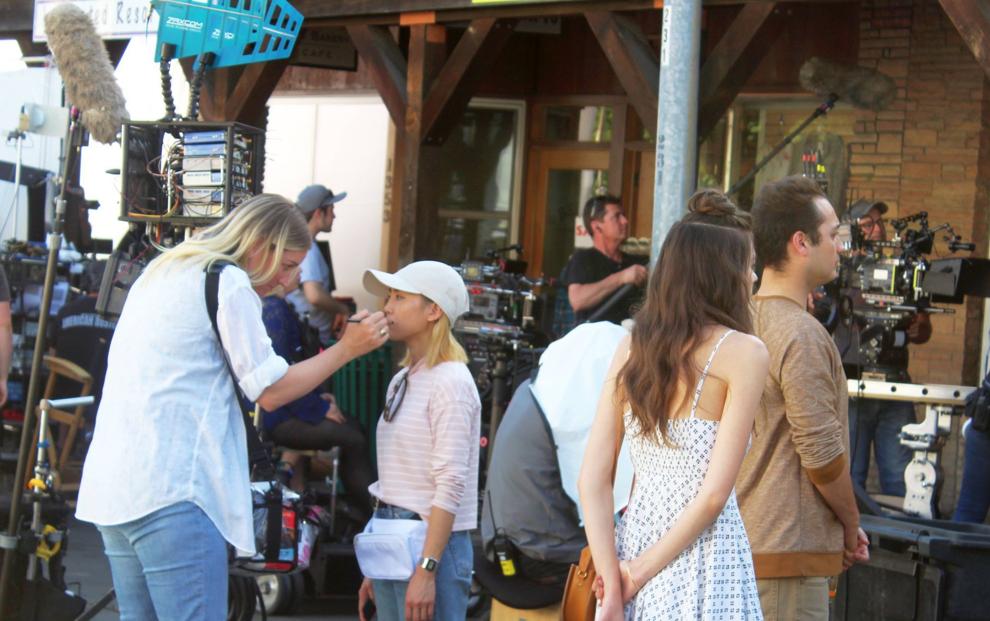 "We're just starting our day," said Caleb Duffy, the location manager of the shoot. He was casual, cheerful, but also focused as two crew members were positioning the rolling bookcases outside of the Copperfields Bookstore.
They would be shooting at various places up and down Lincoln – here at the bookstore, across the street in front of the Calistoga Thai Kitchen, and later up the street across from Calmart.
"But please," he said, "no photographs without clearing it first with our publicist."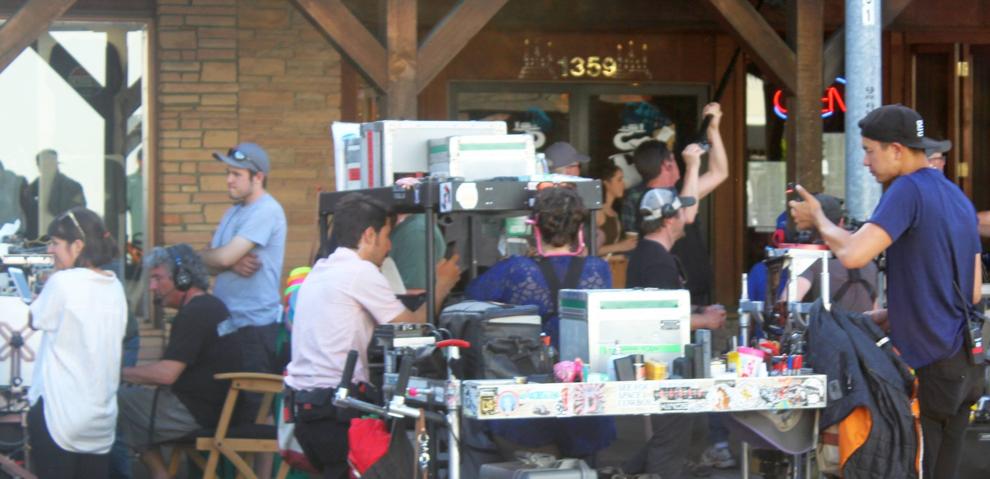 At 5 p.m., Lincoln Avenue was now cordoned off at Cedar Street by police, but the sidewalk signs were still up. At this time the action was all down on the northwest side of Lincoln, with a portable cyclorama (light reflective screen) set up at the alleyway between the Bella Bakery and Blackbird.
There were carts filled with electrical equipment, cameras, men with handheld microphone booms held high, and a large tractor trailer truck screening off most of the sidewalk.
A security guard politely led me to a young man in a purple T-shirt whom, I was told, was the publicist. His name was Will Casey, and we began a long conversation in whispers because they were shooting two actors walking down the sidewalk in front of the Calistoga Thai Kitchen.
"I'm actually happy to show you around," Casey whispered. He said between 100 and 150 were working on the outdoor set.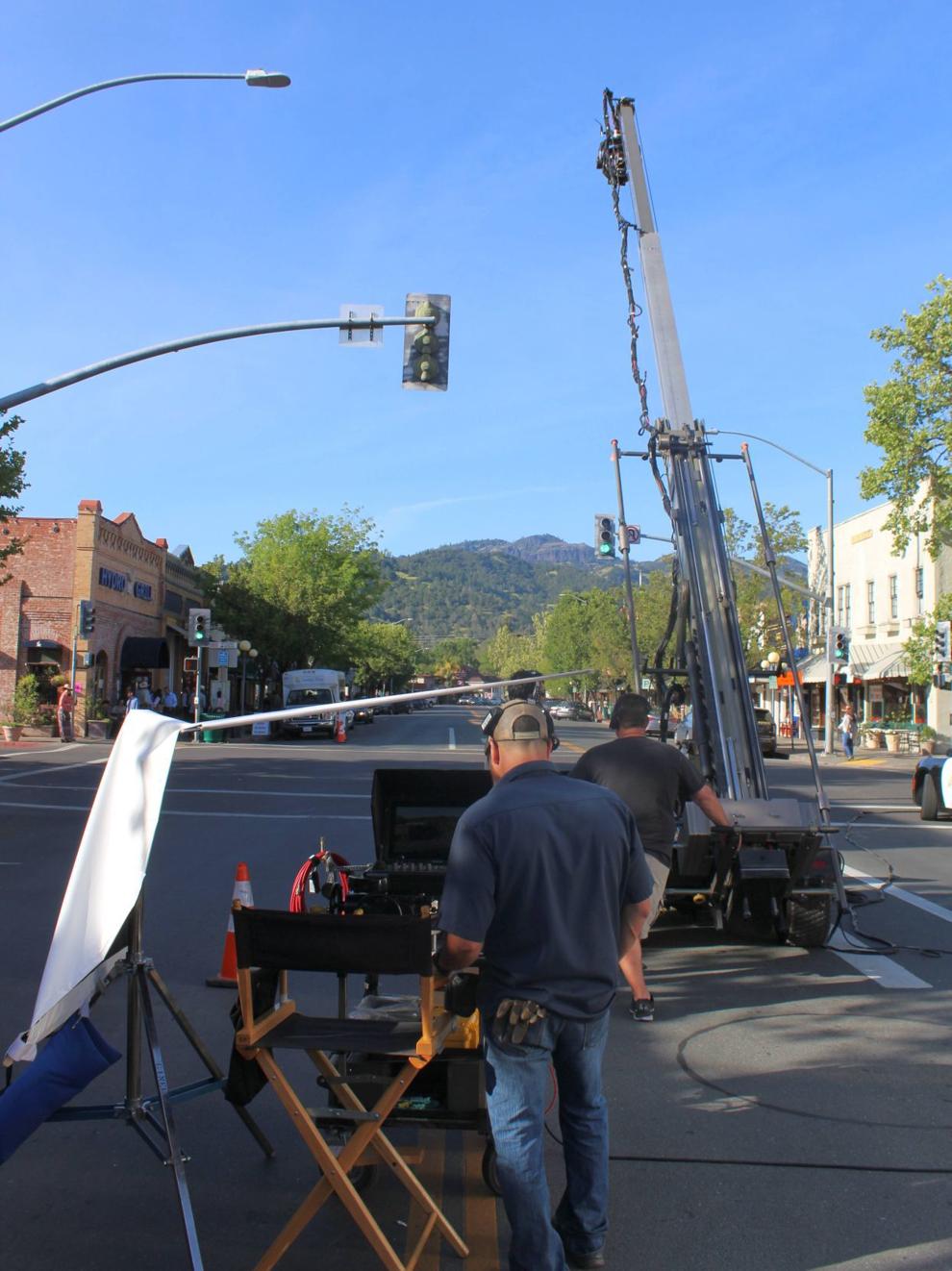 Casey said he had worked all over. He was delighted to realize that "Calistoga is actually an authentic town!" he exclaimed in a whisper. "I mean, people on the street actually say 'Hi' to one another. They 'know' each other."
He then talked about what we were seeing – or hearing because we weren't permitted to get too close. "When the director says they're moving on," he whispered. "Then we can get some shots."
The shooting of this particular scene seemed to be repeated several times – a couple of actors walking down the sidewalk to the restaurant. But we really couldn't see who the actors were because the crowd of crew members with their carts and their equipment were jammed up five or six deep all along the sidewalk.
There's a popular idea that members of a crew on a movie set all stand around behind the cameras and the director watching the actors while the director sits in a folding chair barking out commands and a script holder cues up the actors.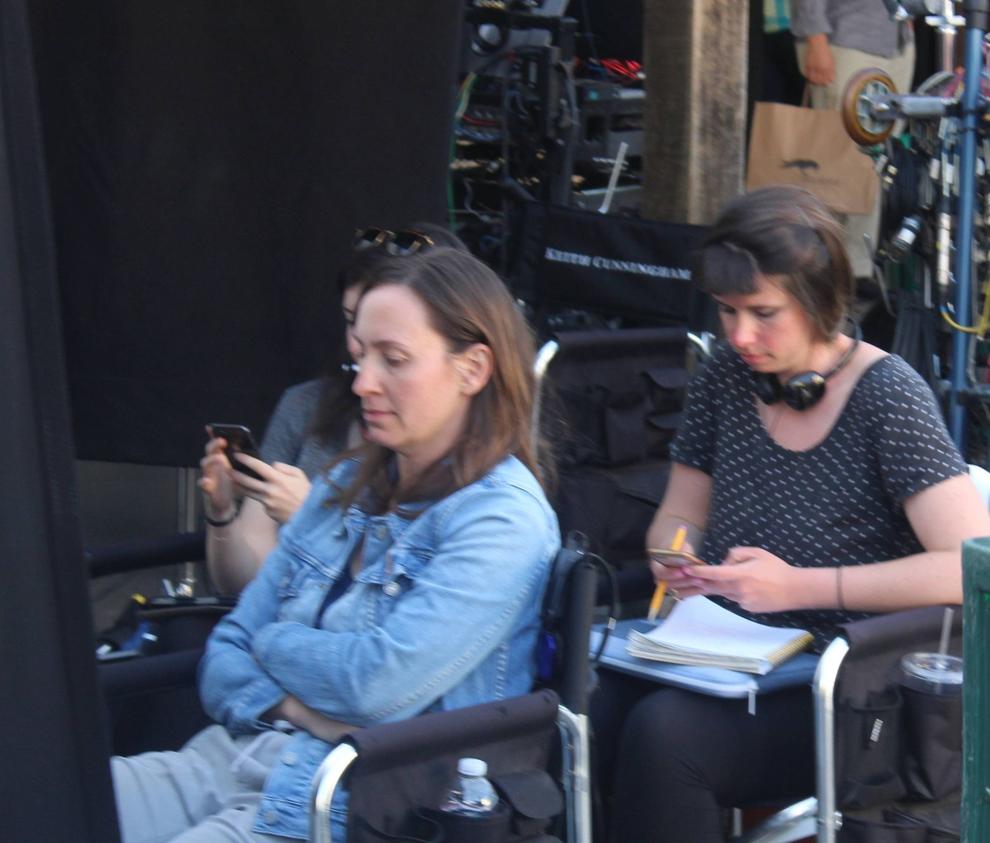 During this shooting, the filming director was somewhere deep inside the slew of equipment carts and the tentacles of cables, watching a video screen and calling out casual requests from within the crush of bodies.
Meanwhile, it seemed, no one – not one that I could see among the crew – was actually looking at the actors. Their eyes too were intently focused upon their devices, preoccupied with other things. Some indeed had monitors and headphones, but most eyeing readings on panels.
At the same time "extras" were physically turned away from the scene, sitting quietly, scanning their phones or reviewing their scripts or sitting in mediation under a portable canopy. It seemed as though every one of them was actually "somewhere else."
It was not much different than a typical scene in a Starbucks: people using their smartphones to be in yet another world. Except, every now and then, they'd look up before returning to their work, gaze around, and then return to their screens.
Finally the voice of the director called out, "We're moving on now to the long scene." Suddenly there was a jumble of commotion as equipment carts jockeyed across to other places on Lincoln Avenue while a large boom crane with a camera attached moved up to Washington Street.
I thanked the publicist, and said I had to pick up a carryout order up at the Mexican restaurant called Puerto Vallarta. I asked him if I could walk the rest of the way up Lincoln. He nodded and said it was OK.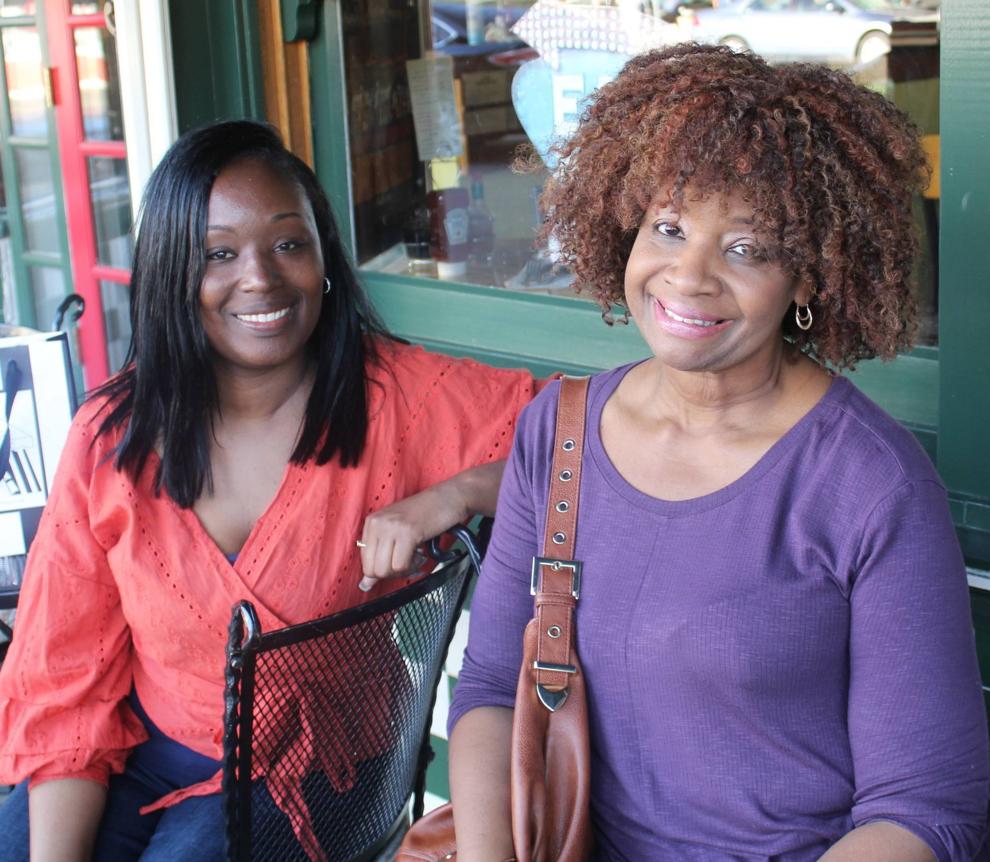 On the way up I saw two beautiful women, oddly sitting at a table outside Café Sarafornia. It was odd because it was now about 5:30 in the afternoon and Café Sarafornia is usually only open until noon. I introduced myself and asked them how they were liking the filming that was going on.
"Oh, we do this all the time," said Lisa Finnie. "We have been in a lot of movies." Her companion, Lydia Goff, said she was from Brentwood, and Finnie said "San Francisco! I live in Daley City, but say that I'm from San Francisco. That's what's on my resume' and that's really my city."
They told me the crew here in Calistoga was really nice, and everyone in town seemed really friendly. But then the "extra" crew manager walked up and told them to stay where they were sitting: the filming of the "long shot" was about to commence.
By the time I had my two orders of enchiladas in their large paper bag and was walking back down Lincoln, I noticed the street seemed extremely quiet. There were people stopped dead in their tracks crossing Lincoln and pedestrians on the sidewalk frozen in place, like in a snapshot in a postcard picture.
I was confused, then, over a loudspeaker down at Washington Street, a voice called out "And action!"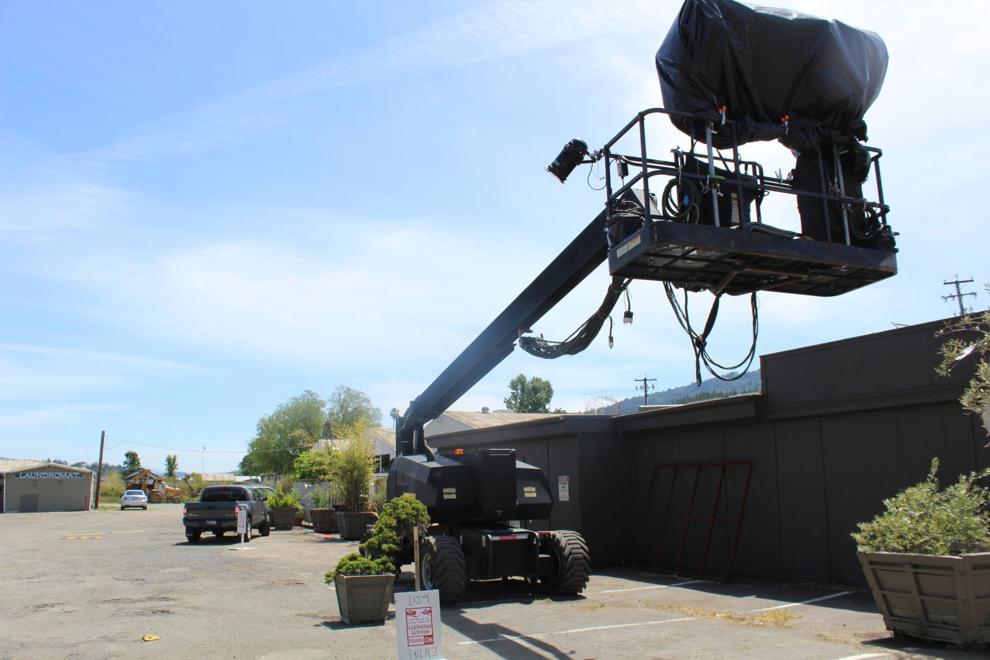 Suddenly everyone began moving, crossing the road, coming up the street, acting … well…"authentic."
The Netflix movie "Wine Country" and is scheduled to appear sometime in 2019.