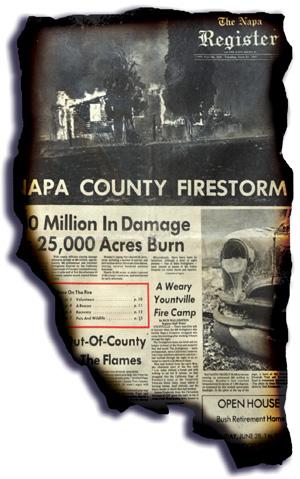 Napa County Deputy Fire Chief Tim Streblow was just a rookie on June 22, 1981, when the Atlas Peak fire roared up the mountainside, blackening 23,600 acres within 24 hours. The blaze did $36 million in damage and destroyed 65 structures — 39 in Atlas Peak, 16 on Soda Canyon Road and one on Silverado Trail. No one was killed in he blaze.
"I was an engineer stationed at the Spanish Flats (Lake Berryessa) station. When the call came in of a wildland fire, I knew we would be rolling to it. By the time we walked from the barracks to the where the engines were, about 150 feet, we could see columns of smoke. At that time the fire was about eight to 10 miles from the station," Streblow said.
Streblow said the series of five arson fires were set on the bottom of the Trail below Atlas Peak.
"Within 15 minutes of the fire call, it had burned more than three acres. We had had multiple days of strong north winds which dried out the grass and really lowered the humidity," Streblow said. "Finally the wind stopped and the we were able to gain a foothold on the fire around 11 p.m., but it burned hot and heavy for total of about 12 hours."
Buron Carniglia, now retired, was the Napa County fire chief when the Atlas Peak fire broke out.
"There were five fires intentionally set on the Trail. It was really nasty weather. The wind couldn't have been worse," said Carniglia. "Wind is a firefighter's worse enemy. The fire really burned fast. It was early in the fire season, and none of us expected to see a wildland fire burn that fast."
Carniglia said the same arsonists set another five fires along Soda Canyon Road the same day.
"We knew who the dirtbags were but we never had enough evidence to make an arrest. No one would talk," he said.
Streblow, a fourth-generation Napan, said fire made a huge impression on him.
"No one died, although a lot of wild animals perished. There were stories about people who lived in the Atlas Peak area jumping into their swimming pools to escape the fire," said Streblow.
Maureen Grinnell and Marjorie Brown were some of the residents who faced flames on that fateful Monday 25 years ago, but where one prayed for her life, the other was lucky enough to have a house deemed a sanctuary from the fire.
Grinnell became trapped on Atlas Peak Road waiting for the Department of Forestry to tell her whether to evacuate. Eventually, Grinnell realized the fires were coming too fast and too close to try and save anything but her life and those of her four children that day.
She went from house to house, finding a sanctuary with one of her neighbors. As the flames drew in, she gathered her children together in the bathroom — each equipped with wet towels — and made a deal with God.
"I told Him we wouldn't complain about the small things in life if we were spared," Grinnell told the Register 25 years ago.
As she prayed inside, neighbor Clifford Riley was outside battling the flames, turning away from his failed effort to save his barn to focus on defending his house. He succeeded in that effort, and the Grinnell family was spared.
"We have an increased awareness of the kindness of people," Grinnell said. "There was such an outpouring of sympathy from the community … so I'm much more aware of other people who have been in disasters like (Hurricane) Katrina."
She still lives on the same spot, but her home is better prepared for another conflagration.
"We have a much more fire-resistant house, a stucco house with a tile roof," she said. "Formerly we had a redwood house with a shingle roof."
Brown had a different experience of the fire. Her house was spared, perhaps in part because she kept a buffer around it.
"We always kept things clean," she said.
As the fire raged, evacuees made their way to the Brown house, where they were given shovels and put to work building fire defenses as the group waited for firefighters to arrive.
"Our fence posts were going," Brown said. "We had all these evacuated people up with shovels helping out."
Their efforts kept the flames at bay, and it was a good thing. By the time firefighters arrived five hours later, their resources consisted of buckets of water and wet towels.
Today, Brown is ever suspicious of cigarette smokers in her neck of the woods, especially cigarette-smoking drivers.
"We have so many trucks now with all the vineyards up here now, and it seems like every truck driver smokes. … They better not light up around me, I'll chase them clear to town."
"It takes a long time to recover from such a devastating fire," noted Margrit Biever Mondavi, whose family lost two homes in the 1981 firestorm.
"You lose everything from toothbrush to piano … and then you find yourself (some time later) going to look for something that's no longer there," said Mondavi. "I'm just thankful that no one died. My son-in-law, Keith, burned his arms trying to save their dog. We were saddened by the loss of our pets."
The family did, however, experience a miracle of sorts. When Biever Mondavi and daughter Annie Roberts returned a week later to Atlas Peak to see if anything had survived the flames, "we heard this awful screeching," she recalled. "Out from under this very large rock came Annie's cat, Zoe. Her ears were burned off — she looked like a monkey. But this very brave cat survived for nine more years. She was truly a miracle cat."
Albert Achilles, now 76, lost his 7,500-square-foot home and all of its contents in the Atlas Peak fire.
"When it first happened my wife and I didn't want to rebuild. But we changed our minds after admitting this was the place we wanted to live. But it was pretty frightening to see my house go up in flames," Achilles said.
Achilles said he was working in Napa when the fire started.
"I saw the smoke, and it looked like it was pretty near my house. I live just above the pet cemetery on Atlas Peak Road. When I got home, the fire was about 800 feet from my house," he said. "I didn't have time to grab anything but my dog, Teddy Bear. My wife was in town shopping. I started to drive down the hill, and remembered my neighbor had a dog locked up outside, and they were not home. I went back and got their dog. It was pretty awful going back the next day and seeing there was nothing left of our home. I was numb. I am still afraid of fire, but I do everything I can to make my property fire safe."
L. Pierce Carson contributed to this story.