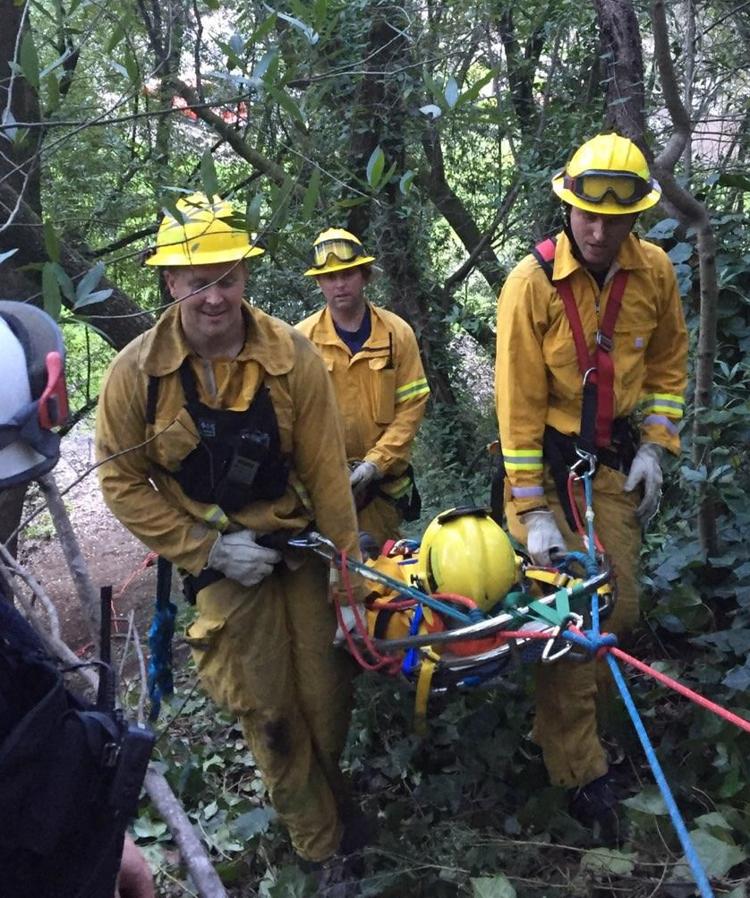 City of Napa firefighters and paramedics took to the hills – that is, Westwood Hills – last week to practice what to do when encountered with a low-angle rescue. That is, how they would rescue someone who was hiking and fell down a ravine.
They chose to conduct their training in Westwood Hills Park on Browns Valley Road because that's one of the most frequent places where they need to use such rescue skills, Capt. Ty Becerra said last week.
"Over the years, we've had numerous low-angle rescues in Westwood Hills Park," Becerra said. The most recent, he said, was just a few months ago when firefighters had to use a rope system to get down to a hiker who had fallen into a ravine.
In another incident two years ago, fire personnel used the rope system to rescue a teenage girl who sustained major injuries after rolling 100 feet into one of the park's gullies. She was carried to a fire department 4-wheel drive utility vehicle, then driven to the top of Westwood Hills Park where she was loaded aboard a California Highway Patrol helicopter and taken to a hospital.
Rescues there can be difficult not only because the area is so large – 106 acres — but also because it's heavily shaded, meaning that moisture can stay inside the park, causing hills to be slippery, he said.
"Even the area that we were working in (on the perimeter), some of the members in our department were slipping because it was kind of muddy and slick," Becerra said. "It was more difficult than some of the other trainings we've done in the past."
Overall, though, the training was a success, he said.
Firefighters needed to engineer a rope system that would allow help them to rappel down the hill to the patient, hoist the patient onto a Stokes basket and carry them back up the hill.
Although the firefighters/paramedics train a few times a year on low-angle rescues, this time they had new equipment they needed to get used to and, Becerra said, there are a lot of new people who needed to be trained. On top of that, they all need to know how to work together as a team, he said.
"Whether you're on a football team or a baseball team, we need to be able to work together," he said.
The firefighters/paramedics trained in shifts to ensure that everyone was able to participate in the training and to make sure there was coverage in case anything happened elsewhere in the city during those hours.
In a real-life scenario, the first thing that first responders must do is locate the patient, Becerra said, which isn't always easy to do in Westwood Hills.
When someone falls in the park, they can usually tell dispatchers where they entered the park, but not their exact location, Becerra said. That information is helpful since there are multiple accesses into the park, but, he said, many times first responders spend a lot of time just searching. Sometimes Napa Police and/or a California Highway Patrol helicopter is called in to assist in locating the patient, he said.
The incident commander decides what resources are needed and then a paramedic is sent down to the patient to assess their condition.
"The paramedic gives a general synopsis of what they're going to need to extract that victim out," Becerra said. That paramedic will establish communication with the patient and begin treatment. Meanwhile, at the top of the hill, other fire personnel will set up a pulley system using trees as anchors before sending a Stokes basket – and few more people – down the hill. Then the patient is put on the basket and pulled up on the rope system along with the firefighters/paramedics.
Anyone hiking in the park should try to get familiar with its layout and trails so that if anything happens, they can better communicate their location to dispatchers, Becerra said. People shouldn't go alone when hiking in Westwood Hills, either, he said.
"It's always good, if you can, to hike with somebody," Becerra said. Hikers should also be sure to have a charged cellphone with them as well as appropriate clothing and shoes, he said. And, he said, remember that there are wild animals, including mountain lions, in the park.
Get local news delivered to your inbox!
Subscribe to our Daily Headlines newsletter.