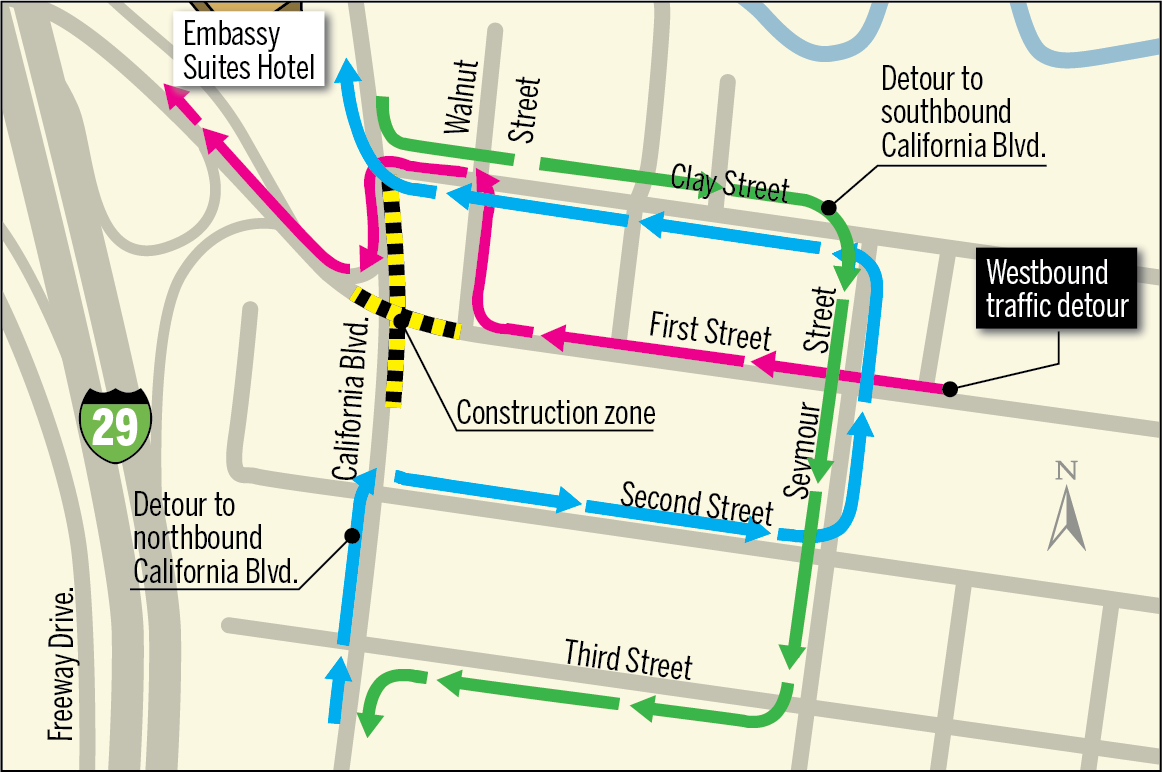 Come Tuesday morning, the 15,000 motorists who go through the First Street connection with California Boulevard and Highway 29 will notice something major missing.
The deadending of First at California due to construction will complicate the lives of motorists who want to go west on First toward the freeway and west Napa, as well as drivers on California accustomed to driving north and south through the intersection, Caltrans said.
Some traffic movements will continue without interruption with the light gone, said John Ferons, a senior civil engineer with the City of Napa. Vehicles going eastbound over the freeway will free-flow down to California, then left onto Second Street, he said.
Vehicles going southbound on California that want to turn west toward the freeway and Browns Valley will also have uninterrupted flow, he said.
This is important, since westbound vehicles on First will be encouraged to detour over to California by way of Walnut and Clay streets, to get back to First at the freeway, he said.
"Time will tell what the backup will be at Clay. I don't anticipate too much of a backup," Ferons said.
Ferons urged motorists to be patient as everyone adjusts to new driving patterns until the First Street roundabout is operating in late December, weather permitting.
Ferons noted that Caltrans and its contractor are trying to accomplish many construction phases simultaneously.
"It's shortening the construction timeline," Ferons said. "We're trying to shorten the overall length that people are inconvenienced."
Many motorists may decide to find alternative routes over the freeway to avoid the traffic disruptions at First, Caltrans said.
Caltrans is suggesting the following detours:
— Eastbound vehicles on First Street that want to go northbound on California will have to detour off Second onto Seymour Street, then over to Clay, and back to California.
— Southbound vehicles on California that want to continue south will have to turn left at Clay, then right at Seymour, then right at Third Street to get back to California.
— Northbound vehicles on California that want to continue northbound will turn right at Second, then left at Seymour, then left at Clay back to California.
Get local news delivered to your inbox!
Subscribe to our Daily Headlines newsletter.