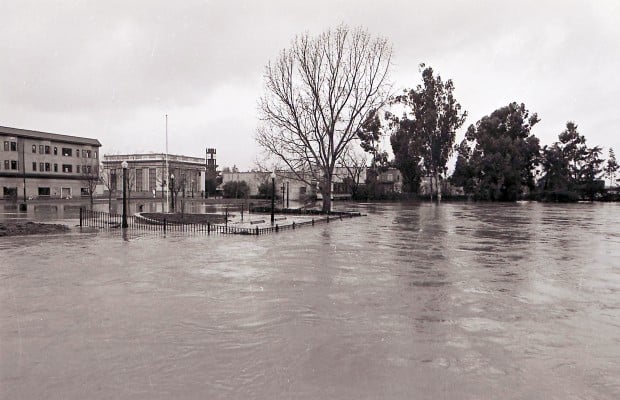 Twenty-five years ago this month, a flood of unexpected intensity left a swath of destruction through the Napa Valley that exceeded anything in living memory.
Overnight, the Napa River swelled from a modest tributary of San Francisco Bay to a wrathful Amazon. In Napa, the swath of devastation stretched more than half a mile from Silverado Trail across Soscol Avenue and into downtown.
The flood was so deep along Soscol that rescue boats left scrape marks on the roofs of submerged cars. Some 2,500 residences were damaged, forcing 5,000 people into shelters, hotels and the homes of friends.
The Flood of '86 took three lives, wiped out store inventories, destroyed 250 homes. Some 1,500 people were left at least temporarily without jobs.
When all the mayhem was tallied, officials put the  damage estimate at $100 million.
"It was unbelievable," said Sue Dee Shenk, a Napa council member who flew over her water-logged city in an army helicopter. "It was a wall of water from Silverado Trail deep into downtown."
The brunt of the flood hit after midnight on Feb. 17 after a week of rain that dumped 12 inches at Napa State Hospital. That morning, flood waters came up higher and faster than anyone had predicted, leaving many businesses and homes without sandbag protection, Shenk said.
On Soscol's Auto Row, hundreds of cars were swamped before they could be moved to higher ground. When surging flood water hit a Pacific Gas & Electric station near the fairgrounds, downtown was left without power for more than a day. Some 25,000 county residents lost power for shorter periods.
Churches and gyms opened as emergency shelters. Forced out of their mobile homes, many elderly arrived clutching dogs and cats and satchels of meager possessions.
Old-timers had experienced many floods in past decades, but none had left behind such documented devastation. Residents were stunned that the Napa River had turned so malevolent.
"When you see this sort of thing, you always feel sorry for the people. You never think you'll be the one on TV," said a Napa woman forced to find shelter at the Napa High School gym.
The storm claimed three lives. A 17-year-old died in St. Helena while rafting down Sulphur Springs Creek. An 86-year-old St. Helena man drowned when he drove into a swollen drainage ditch along Solano Avenue south of Yountville. In Napa, a 55-year-old man suffered a fatal heart attack while shoveling mud.
Most of the 250 destroyed residences were mobile homes parked in low-lying areas in St. Helena, Yountville and Napa. Because the decades before the '86 flood had been relatively flood-free, developers had forgotten how risky this could be, said Dave Dickson, then a county official.
Even agriculture got clobbered. An estimated 20 percent of the valley's vineyards were damaged. Repairs were put at $15 million.
Soon after flood waters receded, Gov. George Deukmejian flew over to examine the damage. A short time later, President Ronald Reagan declared Napa and eight other counties a federal disaster area.
When the brown water receded, leaving a coating of stinking muck on everything it touched, The Register said the Napa Valley had experienced the "flood of the century."
And so it seemed. No one could remember a flood causing so much mayhem.
In fact, this wasn't the flood of the century at all, said Julie Lucido, manager of the Napa flood control district. Statistically, a flood comparable to '86 is expected to occur about every 35 years — or three times a century, she said.
A true "flood of the century" would have been 15 to 20 percent more powerful, Lucido said.
The Napa River flood control project, now under construction in downtown, is designed to defend against a so-called 100-year flood, Lucido said.
Because of flood control, much has changed along the river in Napa since 1986, Lucido said. With wider and higher bridges now at Imola Avenue, Third Street and First Street, the river has fewer choke points and can carry more water, she said.
The east bank between Imola and Third has been cleared of industrial buildings and terraced, enlarging the river's flood capacity even more, Lucido said.
If a carbon copy of the '86 flood were to occur today, there would be less damage, Lucido said. Flood waters along Soscol would be two to three feet lower.
Last year, citing flood control improvements to date, the Federal Emergency Management Agency removed 1,336 Napa homes and businesses from the flood zone.
Another 3,100 properties will come out of the flood hazard area when the flood project finishes work on Napa Creek and builds a bypass channel next to downtown and floodwalls along the Oxbow District and further north to beyond Lincoln Avenue, Lucido said.
Upvalley, flood money raised from a 1998 voter-approved sales tax increase has paid for levees to protect the mobile home parks in Yountville and St. Helena that were nearly wiped out by the Flood of '86. 
Residents of both towns are now protected, said Dave Dickson, a former county official who worked for the passage of a local flood tax.
When will flood control in the city of Napa be finished? That depends on Congress continuing to allocate money to build the remaining flood defenses, Lucido said.
County residents have already done their part, approving a half-cent flood sales tax in 1998 that has paid for local responsibilities: property acquisition, the construction of new bridges and the relocation of utilities, Lucido said.
Despite all the flood work done so far, Lucido cautions that residents should not imagine that the worst flood risk is behind them. Every time it rains hard, "We are absolutely at risk of flooding and big damage. It's a health and safety issue that will remain until we finish the project."
Every new bridge and river terrace brings protection against a 100-year storm closer, "But until we get them all in place, the system doesn't function as designed," she said.