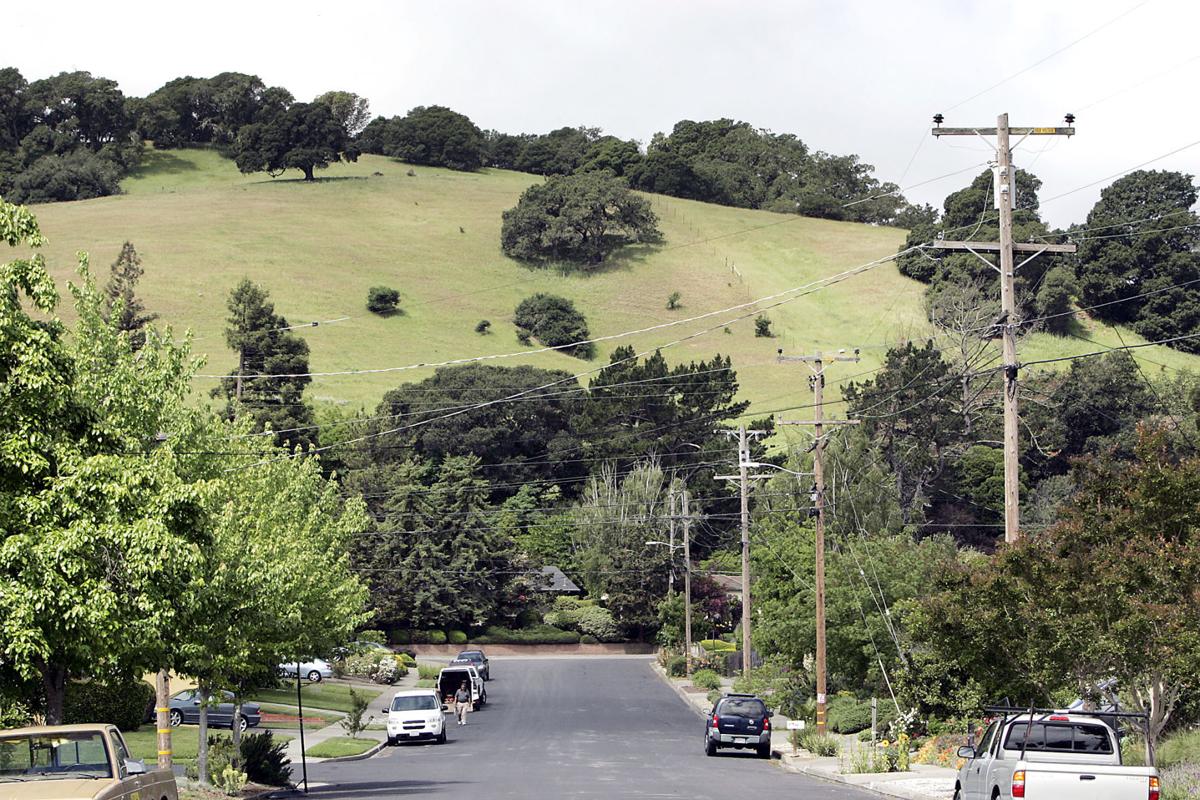 Napa homeowners who have battled for years against studding a nearby hill with 51 homes made their presence known Thursday night – not only in their words but in their numbers.
Their ranks filled nearly every seat of Napa City Hall as the City of Napa Planning Commission again took up the long-planned, long-fought Napa Oaks II housing subdivision slated for 80 acres of the heights overlooking Old Sonoma Road, Casswall Street and the vineyards of Congress Valley.
Their words – mostly in unyielding opposition – from more than 40 nearby residents and other supporters were so numerous as to force Napa's land-use authority to save its verdict for another day.
After five hours and 44 minutes packed with neighbors' warnings about traffic congestion, storm runoff and a spoiled landscape should the Walnut Creek-based developer Davidon Homes build houses in the area, planners delayed a decision on recommending the project to the City Council, which will have the final say. The commission will take up the issue again at a special meeting at 5:30 p.m. Dec. 21.
It was a community show of force that demonstrated passions about Napa Oaks II that have scarcely cooled since 2002, when an earlier, larger version of the development fell to a City Council veto and eventually triggered an unsuccessful lawsuit by Davidon to gain the right to build.
"I moved here in 2015 and I've talked to many people about this since – probably hundreds – and when you mention Napa Oaks, people have this dread about it," said Carol Barge, one more than 100 people in an audience that spread into rows of folding chairs in the back.
Urging the city to look instead to denser, more affordable housing that would not occupy a major gateway into Napa, Barge told planners: "It's probably the easiest no vote you'll ever have in your tenure."
Giving the green light to Napa Oaks II will leave the city in a weaker position against those whose developments would erode Napa's rural character, predicted another nearby resident, Robert Ross.
"Do we want to turn Napa into Orange County? Because that's what you're going to get," he said. "Because developers will ask to do the same thing, and the same thing, and the same thing."
Those and similar replies appeared to show the limits of Davidon vice president Steve Abbs' effort to win neighbors over to the latest form Napa Oaks II, which has shrunk from 83 homes to 51 in various revisions over more than two decades. Abbs earlier pitched the housing plan Nov. 27 at Harvest Middle School during a public forum visited by some of the same homeowners – and skeptics – who attended Thursday's meeting.
The current plan, with the company filed two years ago and which Napa presented for public review in 2016, has received further changes meant to conserve woodlands, create open space and smooth the traffic flow on Old Sonoma Road.
Two miles of trails would put parts of the site's northeast, southeast and southwest corners to public use, including an east-facing trailhead that would double as a small park. The builder would grant Napa forest protection easements to protect lands on the grounds and on the north side of Old Sonoma Road, Abbs told city leaders.
In addition to replacing uprooted oaks at a 3-to-1 ratio and leaving other trees in place to screen homes from view, Davidon has announced plans to hold youth nature programs – which would include oak plantings – in partnership with the Napa County Resource Conservation District.
The most visible change in the layout would be a roundabout that would link Old Sonoma Road with Lilienthal Avenue and form the main entrance south into the development. A 15 mph speed limit in the circle is meant to quell speeding, especially from eastbound vehicles rolling downhill into Napa from Congress Valley.
To some, however, such features were merely baubles to distract planners from the incompatibility of so many homes with their surroundings – and so close to the grape growing that dominates the Napa Valley economy.
"They've now put it in a nice little package with their alleged community benefits," said Suzanne Truchard, whose family owns 400 acres of vineyards just beyond the city limits near the Napa Oaks II site. "They're throwing shiny new objects to everyone, trying to upsell the project to us. They forgot the most important thing – that people don't want it."
"It's a perfect gateway between town and country, and it makes me sad to think it could be ruined by too much housing," added Elizabeth McKinne. "They're trying to give you all the things it would take for you to vote us. And now it's, 'We're gonna help little children to plant oak acorns!'" she added tartly, to the laughs of other audience members.
Davidon has estimated that Napa Oaks II's houses will range from $1.2 million to $2 million. However, Kevin Teague, a Napa lawyer advising the firm, also presented to planners an alternative layout raising the number of homes to 70, but on smaller floor plans below 2,400 square feet instead of the current house designs' 3,400 feet and up.
"It's an offer; it's a way to show you, here is a way we can be a part of the community and try to help," he said … "Whether you are a housekeeper or a hotel general manager, a bartender or the restaurant owner, (the shortage) is at all levels," he said. "I think it is in our interest to provide more housing, at every level."