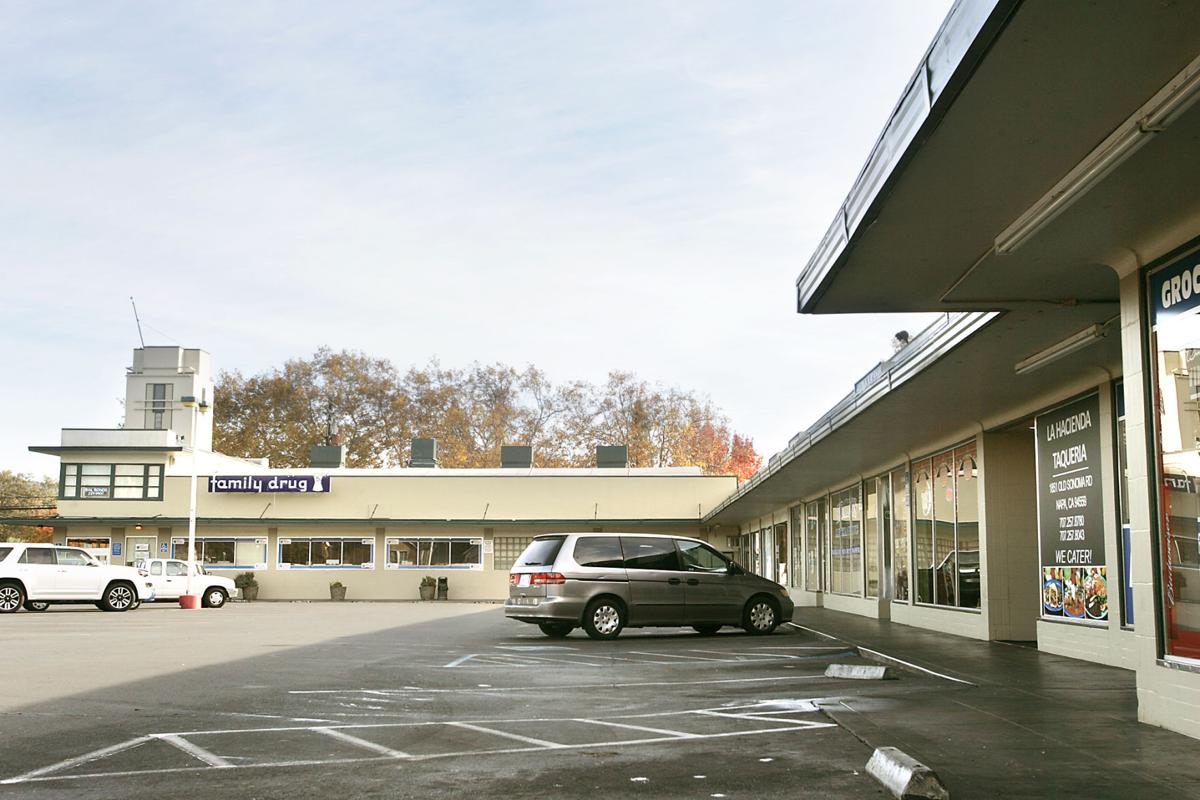 One of Napa's oldest shopping centers – previously known as the Food City complex — has been listed for sale for $6.5 million. Located at the corner of Jefferson Street and Old Sonoma Road, the shopping center is anchored today by Family Drug.
"It's a great little shopping center," said property co-owner Glen Loban. "We hope some local investors would be interested in taking it on."
Costs to maintain the center have risen, Loban said. After he and partners first bought the mall in 2003, they spent more than $400,000 on improvements, including heating, air conditioning, roofing and the parking lot.
Compared to larger centers such as those located on Imola Avenue or Soscol Avenue, "We're off the beaten path," said Loban.
However, the complex is fully occupied, he said. When a space does open up, it's quickly leased. Rates range from about $1.65 to $2.25 a square foot, he estimated.
Built in 1948, the property includes more than 25,000 square feet of retail and storage space. A residence next door on Jefferson Street is included with the listing.
To increase the value of the property, the center likely needs to be repositioned and some of the buildings and parking reconfigured, said listing agent Burt Polson with ACRES Real Estate Services Inc.
"There are not many centers like this in Napa that have the potential," said Polson. "The area could support an improved property."
"It's a neighborhood center that serves that area of town well," said Michael J. Moffett of Coldwell Banker Commercial Brokers of the Valley. Besides the drug store, tenants include a restaurant, liquor store, hair salon and a smoke shop.
One key to any development is the future use of the nearby Napa County Health and Human Services agency campus, Moffett said.
After those workers relocate to new offices in south Napa, "What's the neighborhood going to become? That's an interesting thing to understand and evaluate," said Moffett.
Regardless of the future use of the Health and Human Services Agency complex on Old Sonoma Road, there will still be people in the area, Polson said.
Family Drug owner Tom Gracia said that he hadn't heard that the mall was for sale. If a new owner were to take over, "hopefully it would not mean a change for us," he said.
"We've been here for 62 years now and we like it," said Gracia, who hopes for a buyer that is community-friendly because "this is definitely a community center."
Would he consider buying the center? Gracia demurred. "I'm going to continue to be a pharmacist and help take care of the health of the community rather than be a landlord," he said.
Another tenant, Joseph Aldridge of Aldridge Bail Bonds, said Loban had been a good landlord. He's not overly concerned about a possible sale. "Whatever they feel they have to do, I understand," he said of the current owners.
Loban suggested the best future use of the property is possibly building up and adding residential units. After he and partners bought the center, such a project was proposed to the owners, "but we were more interested in getting it full and generating revenue," Loban said. "The other probable investment would be to condominiumize the units."
The L-shaped center is also on the city's Historic Resources Inventory Properties list, meaning it has historic significance to the city, but it is not currently designated as a Landmark Property.
That could impact any future use, said Loban, but he's not sure to what extent.
Polson said Monday that he was reviewing 22 inquires on the property, but nothing had been finalized.