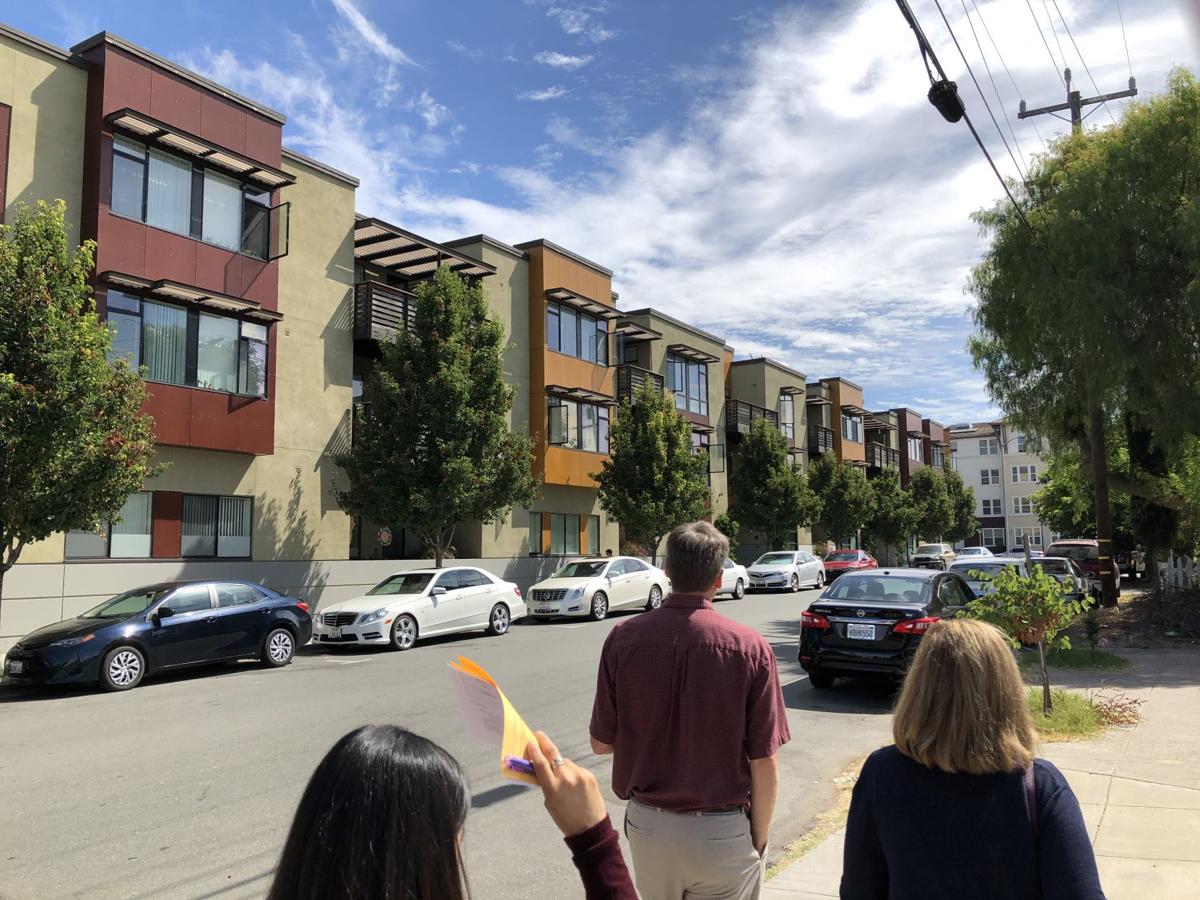 To garner some ideas about how to shelter – and lend a hand to – some of Napa's most vulnerable citizens, a group of city leaders recently explored two examples of supportive housing 70 miles to the south.
A tour of the East Bay city of Fremont gave a delegation from Napa's City Council and Planning Commission an up-close look at two housing developments designed to protect those emerging from homelessness, substance abuse and other problems.
The visits to Fremont's Main Street Village Apartments and the Laguna Commons – 64-unit supportive-housing centers built over the past eight years – proved an eye-opener for some members of the tour, who not only complimented the design of the apartments but also the social services offered there, from computer rooms to counseling to job training.
"The biggest thing I learned and saw was the community aspect of (each) facility," said Beth Painter, one of three planning commissioners on their tour last week. "It's not like a (conventional) apartment where you can become very isolated; here there's a very strong sense of community. I was really impressed with the programming, what they do multiple times a week to bring in all kinds of resources for the residents."
The Napa delegation included Painter and her fellow commissioners Paul Kelley and Gordon Huether, as well as Mayor Jill Techel and Councilmember Liz Alessio.
Following the visit, Kelley suggested he would invite staff from the Fremont homes to share their experiences with Napa councilmembers and planners, to help demystify a housing effort that has aroused some local pushback – most recently around the site of a vacant senior living center on Valle Verde Drive.
Heritage House would replace the former Sunrise Assisted Living home and include 66 single-room-occupancy units. Half would be reserved for homeless and at-risk tenants, who would receive social services on the premises from Abode staff, while the remainder would be rented to low-income tenants.
The commission was scheduled to review the project's draft environmental impact report at 5:30 p.m. Thursday, Aug. 15, at City Hall.
The Heritage House project has faced resistance from neighbors who have predicted such housing will threaten public safety in the area. An earlier, 57-unit apartment plan for the Sunrise property won city approval in 2012 but was stymied by a lawsuit, filed by opponents alleging a risk to fish populations in nearby Salvador Creek, that led a Napa County judge to cancel the approval and require a full environmental study. Bridge Housing, the apartments' would-be developer, canceled the project and sold the property in 2016.
"It wouldn't necessarily change the minds of neighbors, but hopefully, seen in a larger context, a dialogue could change opinions on a citywide basis," Kelley said of supportive housing's possible future in Napa. "I would be fine if I lived next door to one of these projects. The people living there are so grateful to have a place to live."
Both Main Street Village, which opened in 2011, and Laguna Commons, completed in 2016, are reserved for lower-income renters, with some units set aside for the formerly homeless and 25 units at Laguna Commons earmarked for military veterans.
At both sites, the first impression for Commissioner Kelley was of an architectural look – marked by clean styling, varied rooflines, solar power panels and energy-efficient appliances – that left little impression of cost-cutting.
"These look like regular apartment buildings; they were designed well, have nice windows and balconies, have articulation in the façade," said Kelley, a Napa architect and one of the commission's two appointed design professionals. "You wouldn't know it was housing that's dedicated to hardship cases. That was impressive to me, that the architecture was very contemporary."
Most central to the success of the Fremont apartments, Napa visitors said, may be the partnership between the operators of the properties and the social service groups checking in on their residents. Abode Services, the nonprofit agency that oversees services to Napa County's homeless community, also operates support programs for tenants at Laguna Commons and Main Street Village, with a full-time manager at each location.
Through partnerships with Abode and Alameda County, all residents at the Fremont complexes have access to programs that include parenting, life skills and financial training, job counseling and placement, as well as mental health services and academic support for youth residents, according to MidPen Housing Corp., which co-developed both facilities. A Veterans Affairs counselor also visits Laguna Commons.
"The worst thing possible is to have someone just sitting alone in his apartment," Kelley said. "They try to get people involved in employment, volunteering, whatever can make an impact in the community."
"The notion is if we provide housing, we can tackle so many other issues of disability or mental health, if we can first make sure that people have a roof over their heads," Painter said Monday.
Kelley pointed to other elements of the Fremont homes, including the reduced parking footprint made possible by public transportation links and the use of key fobs to keep out uninvited people.
Get local news delivered to your inbox!
Subscribe to our Daily Headlines newsletter.