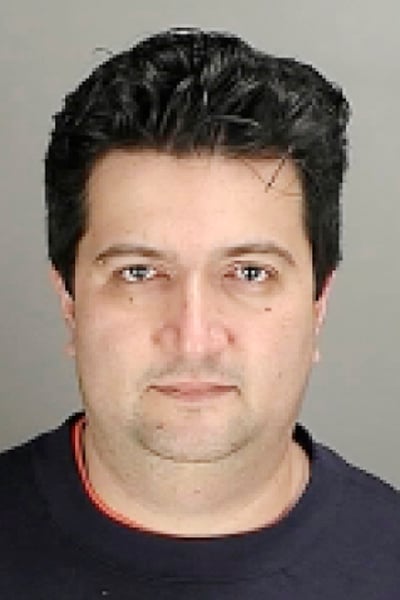 A Napa County jury took only an hour Friday to find a former Culinary Institute of America student guilty of raping a classmate last January in St. Helena.
Steven Braslaw, 43, of Riverside, was immediately remanded into the Napa County jail after the jury of 11 women and one man found him guilty of rape by intoxication following a one-week trail in Napa Superior Court. Braslaw, who faces up to eight years in state prison, had been out on bail since his arrest last January.
Prosecutor Allison Haley told the jury that the openly gay victim, known only as Jane Doe, was raped after she became drunk at a party held for her 19th birthday last January. The party was at a house Braslaw rented with other male students on Hollis Lane.
At the party, Jane Doe threw up and blacked out, according to court testimony. A former roommate, Melissa Hemphill, testified she and a male housemate of Braslaw's helped Jane Doe take a shower and that she was shocked when Braslaw walked in, wrapped in a towel.
Jane Doe told the jury she found herself in the shower with Braslaw. "I was really confused why he was in there," she said.
Hemphill said she was "fooling around" with one of Braslaw's housemates in an upstairs bedroom when Jane Doe returned from the shower crying, cold, wet and naked to the second floor. She gave Jane Doe a sweater after leading her to a bed in the same room.
Hemphill testified that Braslaw then entered the bedroom and flopped next to Jane Doe. When the male friend Hemphill was with got up to find a condom, they both laughed when Braslaw, a married man with children, asked for one too, she said.
Jane Doe, who is now 20, testified Tuesday she remembered waking up to find Braslaw on top of her, penetrating her. Hemphill, who was with the male friend about 6 feet away, said she heard Jane Doe scream, "No, no, no!" before Braslaw left the room. She first thought Braslaw had bumped into Jane Doe, she said.
Jane Doe was confused, crying, unable to understand what was going on, according to court testimony. Hemphill, whom prosecutor said was then a naive, 19-year-old woman who trusted Braslaw, told Jane Doe to go back to sleep.
A nurse who examined Jane Doe at Queen of the Valley Medical Center the next day said the injuries were consistent with intercourse.
Braslaw's attorney, Brian Getz of San Francisco, argued his client did not rape Jane Doe. "Mr. Braslaw did not do the crime he's accused of," he told the jury Friday. While Jane Doe was completely honest in her testimony, "that's not the same as being correct," he said.
Getz told the jury Jane Doe did not say to her then-fiancee, a police officer in Las Vegas, she had been raped during a 29-minute phone conversation the morning after the party.
"We accept as we must the verdict of the Napa County jury," Getz said Friday afternoon.  "We are preparing for sentencing and will consider our options after that."
Prosecutor Haley said, "I am grateful to this jury who had to listen to days of difficult testimony and make the hard decisions in this case. I am satisfied that they told Mr. Braslaw the truth: he is a rapist."
Judge Mark Boessenecker scheduled sentencing for Feb. 20.