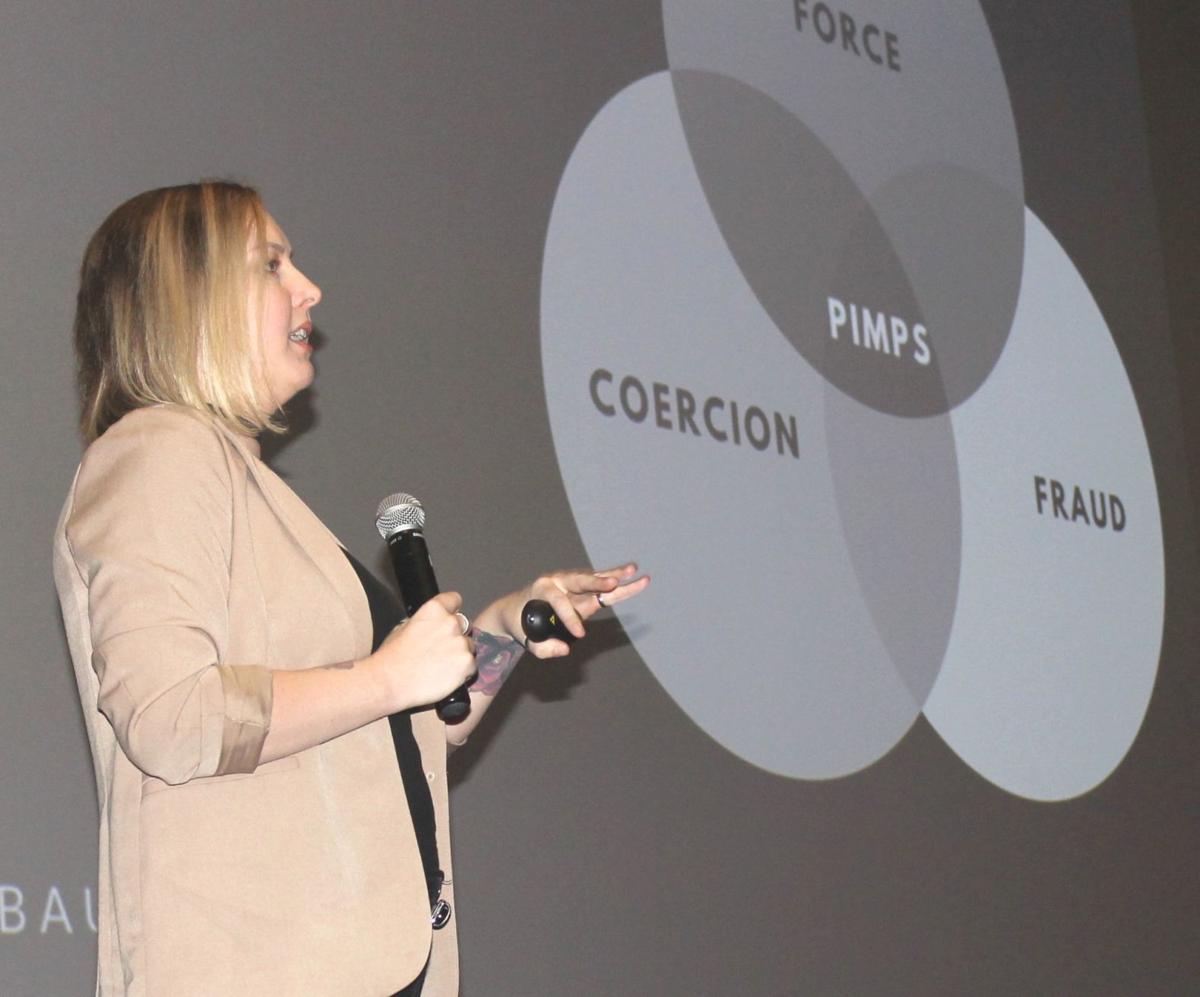 ST. HELENA — For eight months in 2004, Elle Snow was trafficked throughout the Bay Area against her will as a prostitute. She worked in a brothel in Walnut Creek, where every half-hour there was another man, willing to pay for sex. Three women were lined up and the man would pick one of them, Snow said during a St. Helena presentation.
The pimp told Snow that prostitution was just what she was made for, that she was oversexualized and that's why her uncle sexually abused her when she was young. After that first day in the brothel, Snow said, "I believed him." And then the pimp broke her in, "just like a horse," Snow added.
Eventually, she escaped the brothel and contacted law enforcement. She testified against the pimp in 2014 and he was sentenced to 10½ years in prison. He served four years and was released earlier this year. She didn't realize it at the time, but the pimp targeted her, romanced her and then, on a three-day vacation turned her into a prostitute. She was physically and mentally abused.
Soroptimist International of St. Helena and St. Helena Sunrise sponsored a panel on human trafficking a week ago at the St. Helena High School Performing Art Center. It included a panel discussion, "How to Keep Napa Valley Safe," with Lt. Gary Pitkin with the Napa Special Investigations Bureau and Laurel Botsford, founder and president of Wisdom International; an update of Congressional action by Rep. Mike Thompson, D-St. Helena; and Snow as the keynote speaker.
Today Snow is a survivor and is fighting sex trafficking through her nonprofit, "Game Over," whose mission is to provide education on how to prevent, identify and assist those who have been sex trafficked. She provides training to youth groups, community members, service providers, social workers, foster parents, medical staff and law enforcement agencies throughout the nation.
- The federal Violence Against Women Act that Congress authorized in 1994 is temporarily funded until Dec. 8. Earlier this fall, the U.S. Senate extended the VAWA with a continuing resolution with the same level of funding as is in 2018. Thompson said more funding is needed. "We need to make sure to adapt to the needs of the issue and provide the adequate funding to ensure these victims get the help they need," he said.
- Congress recently passed and the president signed a bill, "Allow States and Victims to Fight Online Sex Trafficking Act of 2017," Thompson said. The bill allows states and survivors to sue websites for anything they do to facilitate sex trafficking. "As you know, the best ways to get to an issue is through the pocketbook," Thompson said. "So hopefully, that will bear some fruit."
- Sex trafficking is definitely here, Botsford said. "With all the bridges it is really easy to transport victims to other areas, from Napa to Bay Area cities." Pitkin agreed, saying that Napa County victims are being transported to the Bay Area and out-of-county pimps are coming to Napa County. "Modern-day kidnapping is happening through the internet."
- The Napa Special Investigations Bureau was formed in 1976 and over the years, it morphed into a drug task force, Pitkin said. At the end of 2016, its members started to hear about human trafficking and commercial sex workers. "We started sending our folks to training," Pitkin said, and found out the sex workers use the internet for advertising. "We were blown away by the commercial sex workers offering services in Napa County," he said. In the North Bay, hundreds of people were advertising their services. Recently, NSIB detectives posted a fake ad telling of their services online and within hours, 185 people texted and another 100 people called, Pitkin said.
- Trainers were sent to a briefing of night-shift patrol officers, who didn't believe sex trafficking was happening in Napa County. They received training for 15 to 20 minutes and about four hours later, at midnight, Pitkin said the patrol officers got a report of a pimp and a victim. "They rescued her, put the pimp in jail, then went to the victim's best friend, rescued her and arrested the pimp," Pitkin said.
- Of the cases the NSIB detectives have prosecuted, every one of the pimps has pleaded guilty and were sentenced to three years, six years or 20 years in state prison, Pitkin said.
- In April, the Justice Department announced the seizure of Backpage.com, the Internet's leading forum for prostitution ads, and seven people were charged in a 93-count federal indictment. Snow, who works for Erik Bauer, the lawyer who helped shut down Backpage.com, said the site made half a billion dollars in 10 years. Trafficking will not stop, she predicts, but will move overseas, back into the streets, in brothels and deeper into the web.
- Snow is co-creator and one of the playwrights for "Jane Doe in Wonderland," Theater Against Sex Trafficking. She is a two-time Soroptimist Ruby Award winner and has been recognized by Congress and the Senate for her work in the anti-trafficking movement.