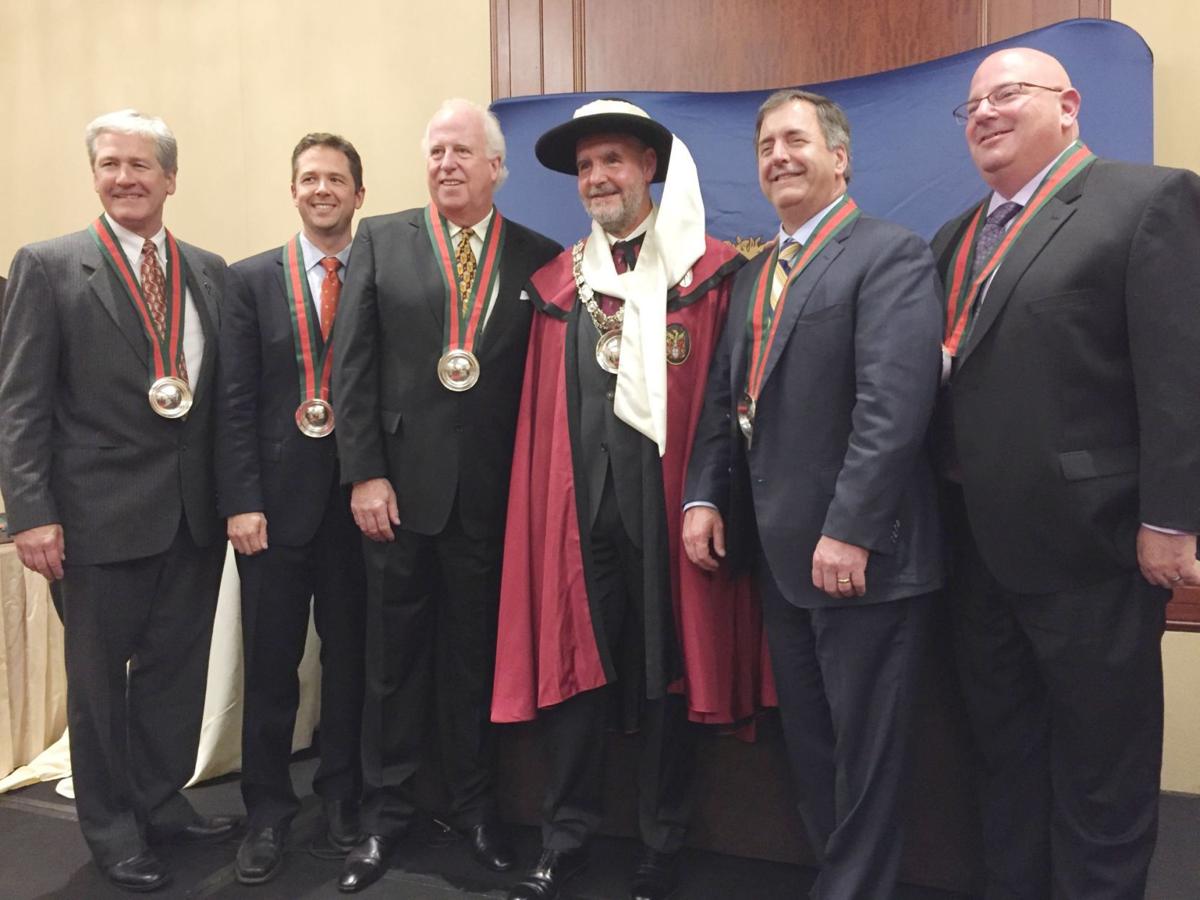 Since 1997, Andy Schweiger, winemaker at the family's Schweiger Vineyards on Spring Mountain, has produced a fortified dessert wine and called it "port."
Come May, that's going to change. "We have a legal right to produce it and call it 'port,'" Schweiger said. But his cork supplier, M.A. Silva, took Schweiger to Portugal in 2015 and he fell in love with the region and the passion of those who grow grapes on steep slopes and produce wines there. "It didn't feel right to call our dessert wines 'port,'" he said, since Portugal is a protected place name, much like the Napa Valley is.
An ongoing issue with the Napa Valley Vintners, the nonprofit trade association based in St. Helena, is protecting the Napa Valley name and the other regions in the world where wines are produced.
Champagne, for example, is produced only in Champagne, France. If you produce a Champagne-style wine in the Napa Valley, as Schramsberg and Mumm do, its proper name is "sparkling wine." Same with fortified dessert wines, they can be called "Port" only if they are produced in "Portugal." And, by the same token, you can produce a Napa Valley wine and label it as such only with grapes grown in the Napa Valley.
In late October, Portuguese wine industry leaders officially recognized four NVV members for voluntarily discontinuing the use of the term "port" for their fortified dessert wines.
Inducted into the Confraria do Vinho do Porto were Boyd Family Vineyards, Freemark Abbey, Jessup Cellars and Schweiger Vineyards. The Confraria's mission is to communicate, promote and reinforce the worldwide reputation of Port wine.
"Boyd Family, Freemark Abbey, Jessup Cellars and Schweiger Vineyards personify the shared belief among the NVV and my colleagues in Porto that all winegrowing place names should be respected and protected," said Confraria Chancellor George Sandeman. "We salute those esteemed Napa Valley winemakers."
Schweiger said he decided to stop calling his dessert wines "port" about a year ago and after the current vintage of Schweiger ports are sold, they will be called another name. He asked his Wine Club members for suggestions, started a blog to start a conversation and got about 200 suggestions.
He's not releasing the names of either the red, cabernet sauvignon-based dessert wine or the unique chardonnay-based dessert wine, because he's still getting trademark approval for those names.
The red dessert wine is a solera-style wine, with vintages from 1997 to 2016 mixed. The base wine stays in barrels and half of it is bottled each year for release.
Schweiger said his white dessert wine is an experiment, made with 100 percent chardonnay grapes from Spring Mountain. It was picked the same time as the winery's other chardonnay grapes but halfway through fermentation, brandy was added, which stopped the fermentation and made it a fortified wine. Schweiger estimates he will make 70 cases, which will be released to Wine Club members in the fall.
Another experiment is his 2009 cabernet sauvignon dessert wine, which is still in a barrel. He will bottle half of it in 2019 and release it the following year; and keep the other half for another 10 years, making it a 20-year, barrel aged, red dessert wine.
At the other NVV wineries, Stan Boyd, owner and winemaker of Boyd Family Vineyards, said he is planning to call his fortified dessert wine Liberty or (Libertad) for freedom. He said the name "relates to a poem recited while stomping port grapes. Of course, it's pending TTB approval."
Instead of "port," Michael Maher, senior vice president and general counsel, said Freemark Abbey will be calling their wine "Cask 86" Dessert Wine.
Jessup Cellars' Judd Wallenbrock, president and managing partner, said , "The wine will be Tawny. But our real focus is on the proprietary name 'Infinite Recursion.'"
In an email, he writes, "I can explain that a bit — it is a blend of multiple vintages much like a solera or balsamic vinegar or sourdough starter. A little bit of the 'mother' barrel is in every bottling. Infinite recursion is what that experience is when you have two mirrors facing each other and it reflects to infinity back and forth."
The "8th Reflection," (the first release made up of the first eight years) will be bottled in March and released in the fall. The wine is cab-based and he said, "It will be in a very cool 500 ml bottle with a silk screened label." He adds it is expected to retail for $75.
The NVV began working with Porto in 2005, with the signing of the Joint Declaration to Protect Wine Place and Origin. Other founding members of the Declaration include Champagne, Sherry, Willamette Valley, Ore., Walla Walla and Washington state. Today, the partnership features 20 famous wine regions, collaborating to promote the belief that place of origin is important to the production of quality wine.