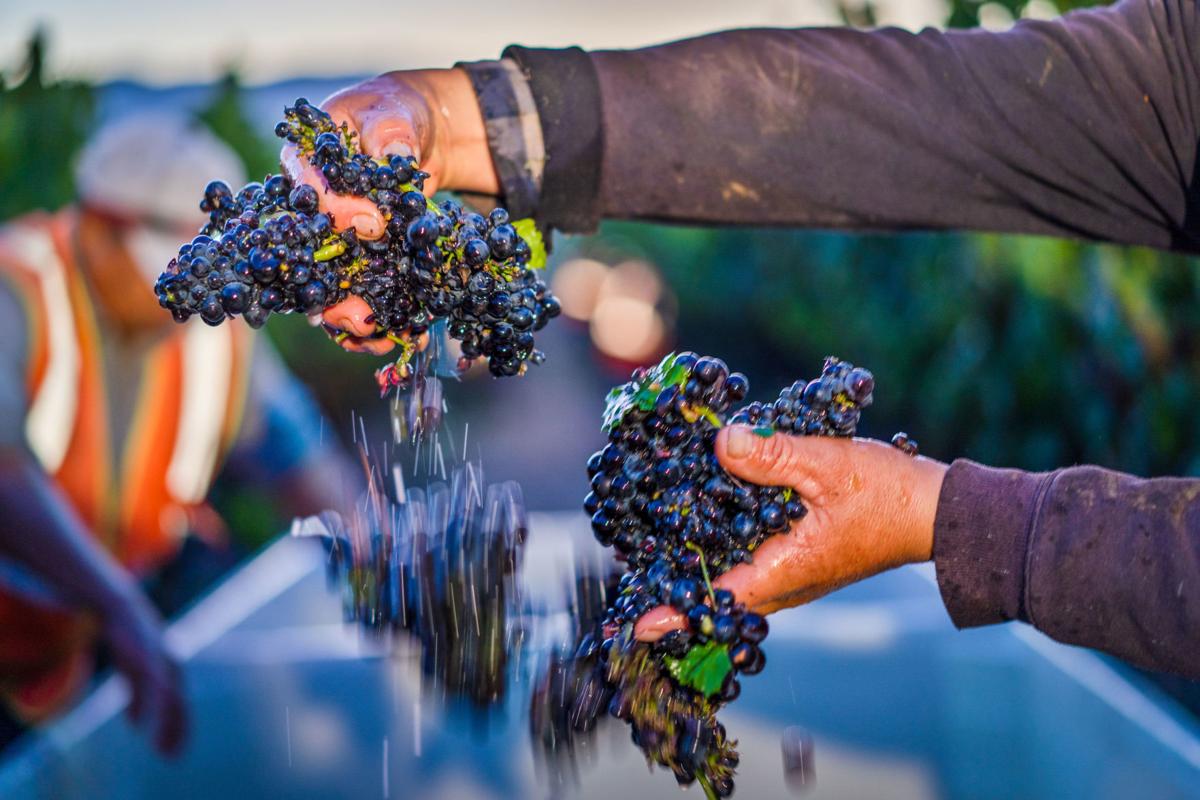 E. & J. Gallo Winery is suing Amourvino Winery over an alleged failure to pay almost $80,000 for five and a half tons of Cabernet Sauvignon grapes harvested from Gallo's Stagecoach Vineyards, according to a lawsuit filed in Napa County Superior Court.
Gallo is suing Amourvino for breach of contract, among other things. Amourvino, which operates out of the city of Napa in an industrial area, is "a Chinese-owned private winery, sourcing California wines to mainland China," according to an informational video posted by a woman who appears to have been working with the winery on its brand recognition.
Amourvino did not respond to repeated requests for a comment.
Amourvino entered into a grape purchase agreement with Stagecoach Vineyards in April of 2016, when the vineyard was still owned by Dr. Jan Krupp, who established Stagecoach in 1995.
Gallo purchased the Pritchard Hill property from Krupp in March of 2017, two years after its purchase of Cypress Ranch and Palisades Vineyard, both in Pope Valley, in 2015. The purchase was widely seen as part of Gallo's continuing efforts to invest in the luxury wine sector. Several Gallo properties, including Louis M. Martini Winery and William Hill Estate, were already making wine with grapes that had been purchased from Stagecoach under Krupp, according to a statement from a Gallo spokesperson in 2017.
An attorney for Gallo did not respond to repeated requests for a comment.
At the time it purchased the vineyard, Gallo said it would honor existing contracts with outside wineries, but expressed its intent to eventually use Stagecoach's grapes exclusively for its own brands.
Amourvino entered into what was to be a 10-season contract with Stagecoach Vineyards, according to the filing, agreeing to purchase grapes from the vineyard "between the harvest years 2018 and 2027." The terms of the contract required payment for the grapes within 30 days of the last delivery, according to the suit.
Contracts typically establish both the quantity of grapes to be purchased and the price per ton at which the grapes will be purchased. Some contracts include per ton, year-over-year price increases. At $14,431 per ton, the contract price between Amourvino and Stagecoach for 2019 is well above the market average of $7,941 per ton for Napa Valley Cabernet grapes — a nod most likely to the storied reputation of Stagecoach's Cabernet vines.
Gallo delivered the last of the five and a half tons of grapes from Stagecoach to Amourvino on Oct. 25, 2019, according to the complaint. As of the filing of the lawsuit in early June, Gallo had still not received payment for the grapes, the lawsuit says.
Amourvino "never objected to the quantity, quality or delivery" of the grapes, according to the suit, which notes that payment for the grapes is now well past due.
The lawsuit also describes Gallo's intention to claim a "producer's lien" on the grapes it delivered to Amourvino. Producer's liens in California serve as protection for farmers and can be placed upon any agricultural product under contract – including wine grapes and wine. The lien, then, acts as a mandate, according to the filing: Amourvino must use any profit made by selling wine made from the grapes in question to pay its debt to Gallo.
Gallo is suing for the outright payment for the grapes as well as the accumulated interest at a rate of 10% per year and additional costs, including attorney's fees, the suit says.
Get local news delivered to your inbox!
Subscribe to our Daily Headlines newsletter.